By the time the quarterfinals of the 2011 edition roll around on Saturday afternoon, both CONCACAF participants – Costa Rica and Mexico – will have flown back home, their bodies slouched against the airplane seat belt as they doze fitfully, carried away from an unsuccessful Copa America.
Of course, that's not always the case for North and Central America's representatives. Mexico frequently qualifies for the semifinal round and has finished in second twice. And, uninvited this time around, the United States finished fourth in 1995.
As the the current U.S. team continues to carve out its place in world soccer, it's easy to forget that the generation prior had some pretty special moments as well. One of the most precious was that tournament, eventually won by host Uruguay, back in 1995, as an unaware U.S. public pulled on pump-up high tops and whitewashed jeans and dreamed of dunking like Michael Jordan.
Soccer frenzy had spread over the nation a year earlier. Following a successful hosting of the 1994 World Cup, in which the U.S. advanced to the knockout rounds for the first time since 1930 and the event posted record attendances, American players parlayed their performances into contracts with professional clubs. Prior to that, nearly every U.S. international came through the U.S. Soccer residency program.
"People forget that many of us that played in the 1994 WC had little to no club experience," central defender Alexi Lalas told Goal.com. "I stepped on the field in the '93 Copa and '94 WC and I had never played a single club game. The residency program had advantages and certainly helped us grow together but it was simply out of necessity."
Coach Steve Sampson, who stepped up from an assistant role after the departure of Bora Milutinovic, agreed, calling it "synthetic but necessary." However, with MLS just around the corner (the league kicked off in 1996) and a Round of 16 finish in the 1994 World Cup landing players gigs in foreign leagues – including Mexico, England, Germany and Italy – the U.S. squad added professionalism to the team spirit culled while training together consistently in residency.
"In '95 all the team was playing with clubs and it brought an added dimension," Lalas said. "We maintained our team grit, spirit and character, but we weren't as naive. We developed an improved depth that comes from new individual experiences."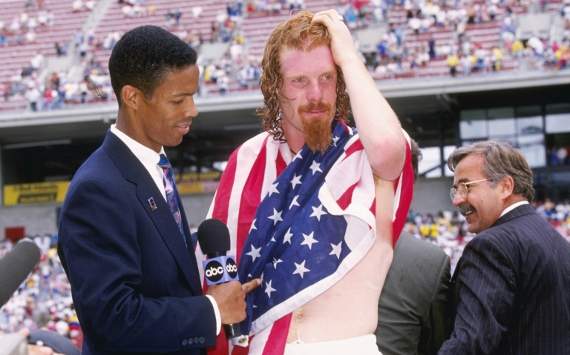 Alexi Lalas | What's more patriotic – the flag or the hairdo?
However, the U.S. run started on rocky footing. After landing in South America, the players went on strike, refusing to train or play.
"After a very successful U.S. Cup, beating Nigeria 3-2, Mexico 4-0, and tying Colombia 0-0, we were feeling quite good about ourselves," Sampson said via email to Goal.com. "Upon our arrival in Paysandu, Uurguay, the players decided to strike and negotiate increased bonuses and appearance fees, among other issues.
"The strike ended the day of our first match against Chile and was in part the motivating factor which led to our success in the Copa America."
Lalas describes it as the team "flying high and feeling our oats." But against the backdrop of an intense hotel showdown hours before the opening match, the U.S. ran out 2-1 winner over Chile, with Eric Wynalda scoring a brace.
"We were strangers in a strange land and had nothing to lose," Lalas explained. "There was next to no interest back home and we were underdogs. It was another example of a U.S. team being very comfortable in the underdog role and using it to our advantage. Teams underestimated us and by the time they came to their senses the damage was done."
A narrow 1-0 loss to Bolivia (Marco Etcheverry scored the goal just a year before he joined D.C. United) followed, setting up a must-win game with Argentina to finish the group stages. Not given a shot, unnoticed back home (Copa games weren't on U.S. television) – none of that mattered to the gutsy team. Sampson couldn't have been prouder.
"I remember a team that wanted to attack, and did. The wanted to put opponents on their heels, and did," Sampson said. "It was a team that wanted to prove their success in the 1994 World Cup was not a fluke. Beating Chile set the tone. Playing positive soccer against Bolivia but losing did not discourage the U.S. national team, even in the face of playing Argentina in our third match, 50 miles from the Argentinian border."
Argentina, which has won a record-tying 14 Copa Americas, fielded a slightly weakened team, but still put out 1995 Copa joint-top scorer Gabriel Batistuta. It didn't matter. The U.S. won 3-0, with Lalas, current Chicago Fire coach Frank Klopas and Wynalda scoring the goals.
"I may be a defender, but I know that when Cobi Jones gets the ball wide one-v-one there is a good chance a cross is coming," Lalas said of his lone goal in the tournament. "I made the near-post run, beat my man and got enough of a touch to redirect it in.
"The best part was, after scoring the goal, running back to the center circle to resume my job of defending one of the greatest goalscorers in history: Gabriel Batistuta."
Through to the knockout round, the Americans beat Mexico 4-1 in penalties after a scoreless draw. Those two matches formed a watershed moment for U.S. soccer, according to Sampson.
"Beating Argentina so convincingly marked the USA's arrival as a team worthy of respect on the world stage," he said. "Beating Mexico in the quarterfinals for the second time in a month raised the ire of a country not accustomed to competition in the CONCACAF region. What Bora began in his tenure was echoed in 1995 and beyond – that the United States was no longer the step-child to Mexico in our region."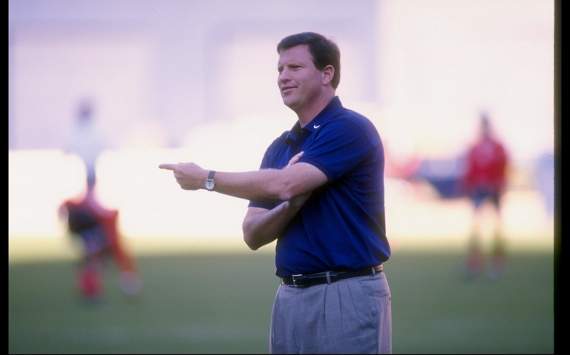 Steve Sampson | The bemused coach shows the U.S. the way forward
Up until that point, goalkeepers Kasey Keller and Brad Friedel had alternated starting, with Keller getting the nod in the first and third group stage matches and Friedel seeing time in the middle group stage match and quarterfinal. However, with his penalty heroics against El Tri, Friedel started against Brazil in the semifinal.
"I had two exceptional goalkeepers," Sampson, who was still coaching on an interim basis, explained. "I alternated them because they both deserved to play. If I got the job as head coach I wanted to see which one would be better prepared for the [1998 World Cup] qualifying phase."
Tony Meola had started in the 1994 World Cup, but had since retired to pursue his luck as an NFL placekicker. His luck wasn't very good and he eventually joined MLS, but by then he was third choice behind Keller and Friedel.
There wasn't much between Keller and Friedel even in 1995, and they seem deadlocked even when it comes to longevity, with both lasting professionally past the age of 40. Keller started in the 1998 World Cup, Friedel in 2002, then Keller again in 2006. Lalas considers them a tossup.
"Honestly, they were interchangeable," Lalas said, indicating the changes didn't disrupt the defense. "They are very similar in style. They are both great shot-stoppers and communicators. They both like to stay on their line and don't venture very far out for crosses. So I don't think there was ever a predominate feeling amongst the team as to a preference. Ultimately, both came up big at times and provided a positive presence/confidence that helped the team."
So with Friedel starting consecutive matches, the USA took on Brazil in the semifinal, in which an early Aldair goal settled it for the reigning World Cup champion. Asked to explain the loss, Lalas cites the move away from intimate Paysandu ("they adopted our team and we felt very comfortable there") whereas Sampson held his hand up to Brazil's "qualities throughout each position."
But both agree that the match for third place was wasted. "To be honest, we were all ready to go home after the semifinal," Sampson admited.
"Looking back, I think the third-place game against Colombia was a wasted opportunity," Lalas said. "We considered the tournament over after the loss to Brazil in the semifinal and didn't approach the Colombia game with the zeal needed. Too bad, because a third place finish would look much better in history. Although we had matured as a team, we were still naive with regards to certain aspects of the game."
The overall performance in the tournament earned Sampson the full-time gig as U.S. coach. Internal strife scuppered the 1998 World Cup, where the team lost all three group stage games and Lalas didn't see the field. The U.S. team didn't experience anything near the heights of the 1995 Copa until 2002, when Bruce Arena led a young generation of American players to the quarterfinal stage of the World Cup.
By now the former cycle has all retired, moved up into management or other roles. Lalas serves as an ESPN analyst, after stints as a general manager of three MLS clubs. Sampson led the LA Galaxy to the 2005 MLS Cup and briefly coached Costa Rica. He's currently in Brazil working with the Global Sports Institute to train U.S. youth. But the 1995 Copa America plays a huge part in their legacy.
"Even today, when I get together with the guys from my era," Lalas said, "many of the stories that are told come from that summer in Paysandu, Uruguay."
Follow ZAC LEE RIGG on


Follow Goal.com on

to get the latest soccer news directly. Check out Goal.com's

page; be part of the best soccer fan community in the world!