Jermaine Jones made his much-anticipated debut for the U.S. National Team Saturday against Poland at Soldier Field. The six-foot midfielder impressed in his 90 minute introduction, putting in a solid two-way performance, and adding an assist for good measure.
After the match, in the bowels of the stadium, a U.S. Soccer representative called out his name, indicating his imminent availability for interviews. Jones slowly emerged from the locker room as a throng of reporters rushed the scene, eager to get a quote from the match's most alluring figure, one that many were interviewing for the first time.
Who is Jermaine Jones?
Jermaine Jones was born in Frankfurt, Germany on November 3, 1981. His father is an African-American soldier who was stationed in Germany; his mother is German. He lived in the United States between Chicago and Mississippi until his parents divorced when he was seven. He then returned to Germany with his mother, where he's lived ever since.
Known as one of the best holding midfielders in the Bundesliga, Jones made three appearances for Germany in friendlies and was one of the team's final roster cuts for the 2008 European Championship. Due to a new FIFA rule, Jones was ruled eligible to play for the country of his father, because he had only represented Germany in exhibition matches.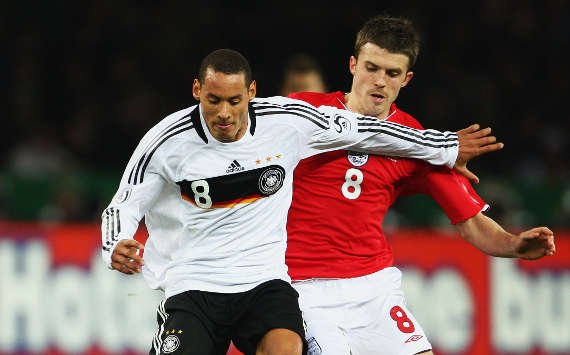 As the media horde crowded around, Jones answered questions in pragmatic and frankly, rather dull fashion, speaking softly and in German. His translator rehashed his tepid responses to each inquiry (happy with the first game, unfortunate they didn't win, happy the coach gave him an opportunity, hopes he gets another opportunity to come back).
Is this Jermaine Jones?
Flashback to 2004: Jones is asked a relatively innocuous question (are there gay footballers in the Bundesliga?) and gives a relatively contentious response (hopefully not), stirring up major controversy in the process.
Flashback to 2007: Jones enrages fans of his then-employer Eintracht Frankfurt when he declares his intentions to leave the club on the team's official bulletin board three months before the season ends.
Flashback to 2009: Now playing for Schalke, Jones is dismissive of his team's fans in an interview published in
The Guardian
. The British newspaper mistranslates comments by Jones in German, printing that Jones said it didn't really "make any f---ing difference" what the fans thought "at the end of the day." His words in German are a several shades milder, though still unflattering towards his team's supporters.
Is this Jermaine Jones?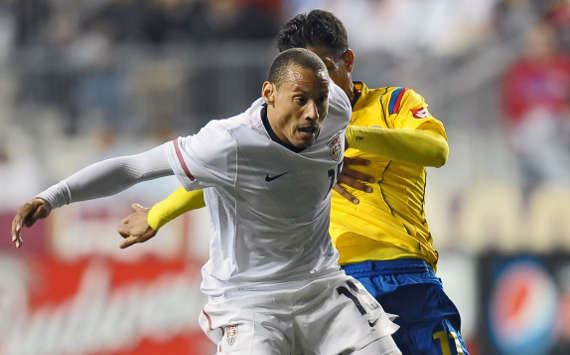 An important fact to bear in mind with Jones is that despite his use of a translator, he does speak English. Not perfect English, mind you, but Stuart Holden told me after the game Saturday that Jones' English was better than everybody on the team thought it would be.
He's given interviews in English before too, most notably to Jack Bell of the
New York Times
in June 2009- an interview which may explain why over a year later, Jones used a translator after his USA debut.
According to Bell, Jones spoke "halting but passable English," and whether he fully realized it or not, Jones really opened up a vein. To wit:
"I have tattoos and in Germany the people maybe don't like that stuff," he said. "When I want to say something, then I say it. In Germany, it is all about the team and now there are more players who say nothing. Maybe this is the problem with me."
Jones then played, as we say in the USA, the race card:
"When somebody looks at me, I'm not the perfect German. When I look at people in the States, they look more like me. In Germany with my tattoos people say, 'Oh, he's not a good man.' But look at Beckham, he has tattoos and no one says that. Maybe because I don't have blue eyes and blond hair. But that is not a problem for me. I don't have a good feeling about stuff in Germany."
The damage control began immediately, as the next day a Jones representative issued a statement saying:
"Jermaine was misinterpreted because of his inability at this point to express himself in English. Jermaine was trying to convey that his style and personality is different from the majority of players' on the German national team and he feels a large part of this difference comes from his American heritage."
Was Jones misinterpreted? I am skeptical, mostly because the Jermaine Jones we've repeatedly seen in the past is outspoken, brash, opinionated and doesn't pull any punches.
There does seem to be a new Jermaine Jones now though- one that has learned the harsh lessons of what happens when he is a little
too
outspoken, a little
too
brash, a little
too
opinionated.
And so, Jones uses a translator for now (he used German-based Steve Cherundolo in training last week). The beauty of a translator, from Jones' perspective, is that anything he says has a filter. If something controversial comes out of the translator's mouth, it's due to the translator's faulty interpretation of what Jones said, as opposed to what Jones actually said.
Voilá, problem solved.
And it's too bad, really, because there is a dearth of edginess and irreverence in American soccer at the moment. When was the last time an American player said something the least bit objectionable, something that got non-soccer fans talking, something that got some run in national media outlets? This could really be a column of its own, but suffice it to say that the answer lies somewhere between "a long time" and "a really, really long time."
I'm not saying American players should go spouting off any and every opinion they have, but somewhere within the phrase "there is no such thing as bad publicity," there does exist a modicum of truth.
For those subscribing to the aforementioned theory, the problem is that Jones is back in Germany now. There will be precious few opportunities for him to speak English there, so his Anglo-abilities could get stuck in a holding pattern. It would be a shame if this becomes reality though, because Jones could potentially become the polarizing figure that U.S. soccer needs.
Who is Jermaine Jones? Hopefully soon, Americans will learn the answer.
Seth Vertelney is an associate editor of Goal.com. Follow him on Twitter, you know you want to.
Click here to follow the Goal.com Twitter feed and join Goal.com USA's Facebook fan page!