If you're Michael Bradley in the 2010 FIFA World Cup, quite a lot.


The central midfielder for the United States Men's National Team was the squad's best player during their undefeated run to the top of Group C. (Apologies to Landon Donovan and Steve Cherundolo, but it's true.) He's been indefatigable, helping the backline defend and contributing to the attack.

Considering the negative comments Bradley's play drew in the past, his breakthrough in South Africa is surprising.


Except it's not.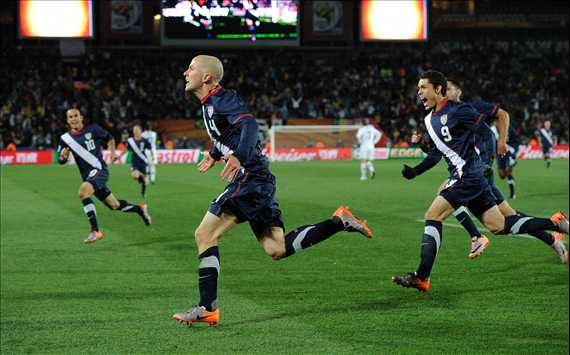 Here's the thing about Bradley: He's much more impressive in person. The general viewing audience only sees the Bradley ESPN offers. When you watch him play on television, you can't see the little things he does: his positioning, his smart footwork, his defensive effort, and his ability to transition into offense quickly and effectively.



Being at a match and watching how he relates to the entire field and all 21 men on it gives you a sense of his true worth to the U.S. side. You could see his importance against the Netherlands and Turkey. You can see it even more dramatically during the World Cup.



The statistics back up the eyes. Through three matches, Bradley is third in the tournament according to distance covered. He's run 35.56 kilometers (more than 21 miles), behind only Germany's Sami Khedira and Mexico's Gerrado Torrado. (Landon Donovan is 12th at 33.29k.)

He's not only a workhorse. His passing is much improved. Bradley's completed 73 percent, not yet world class but he's moving up the ranks. The midfielder ranks second to Steve Cherundolo on the team in terms of both passes and number completed. If there's an area he could improve, it's long balls where he's only six for 12.



The New Jersey native sits near the top of the World Cup in terms of tackles, tackles made that gained possession, and recovered balls. According to FIFA, he hasn't lost a ball in possession in three matches. He's also stopped committing dumb fouls as he learns to focus his energy into positive moments. Referees have only whistled him four times.



Bradley is demonstrating his versatility during the tournament. So far he has partnered with three different central midfielders: Ricardo Clark, Jose Torres, and Maurice Edu. In the first match, Borussia Monchengladbach's midfielder played in a more forward role, letting Eintracht Frankfurt's recent acquisition star in a defensive position. (Bradley also helped shut down Steven Gerrard and Frank Lampard.) When the creative Pachuca midfilelder took the pitch, his partner dropped back and focused more on breaking up Slovenia's attack. With Edu, Bradley plays both roles. Landon Donovan credited him with disrupting Algeria's counterattack and helping the Americans play an attacking style.



The 22 year old came to the '10 World Cup as an underrated component to a strong team. He will leave as a man coveted by the biggest clubs around the world.



Not that anyone should be shocked. If you watched him in person, you'd know the kid's a star. You don't need a picture to see so.



Noah Davis (@noahedavis) covers the United States Men's National Team for Goal.com and is reporting from the World Cup in South Africa.


The 2010 World Cup is finally here, so keep up to date with all the news at Goal.com's World Cup homepage and join Goal.com USA's Facebook fan page!

PRETORIA, South Africa -- If a picture is worth one thousand words, what is the value of three, 90-minute matches?