While other squads at the World Cup have fallen apart due to controversy and infighting, the USA players in South Africa see a chance to put the sport they play on the radar of a nation that is often watching other sports.
"I used to see this game we play as just a game," Landon Donovan told reporters after striking for the game-winning goal versus Algeria. "I realized, particularly at this tournament, that it's more than that. It's an opportunity to inspire, not only to inspire other people, but to inspire yourself, your teammates, or to be inspired."
Donovan claimed that the close calls and the fightback from goals against the USA had only made the team stronger and more resiliant in overcoming obstacles.
"Our ability to get something out of the Slovenia game was so important," Donovan noted. "We've learned a lot. We still have things to work on, but we're getting better."
For the USA, the reward for the victory was the leadership of Group C, allowing the Americans to avoid a showdown with Germany.
"We finished ahead of England in a World Cup group," Donovan said. "That's really cool."
The togetherness of the American team has been especially evident in contrast to the bickering among other squads, most notably the French team, which exited the tournament in disgrace.
"The spirit has always been really good in this team," Donovan explained. "We do a good job of policing each other if guys are getting out of hand or egos are getting out of hand. We do a good job of keeping us in check. We're a team, first of all. As much as tonight was about the goal, there were a lot of things besides the goal that made tonight possible."
The American players were thrilled by the show of support for the USA team in the stands in South Africa.
"It's about time, baby," said an elated Donovan. "We've been waiting a long time for that. We want to do our part to grow the sport and I think tonight has done a lot for that."
With their never-quit attitude and lively play around the goal, the USA squad has won a few more fans at the tournament.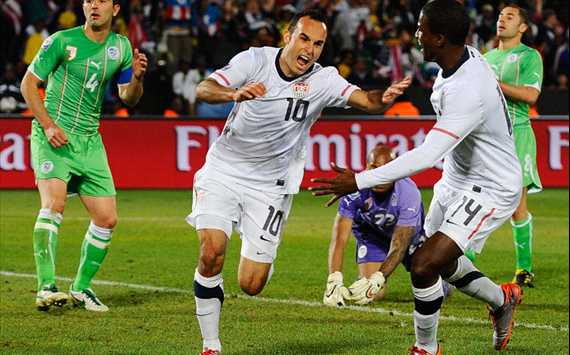 "There's not many games we play in where we have an advantage in the crowd and we have that atmosphere," Donovan noted. "We had that tonight and we felt it, we could see how many people stayed after the game ended. I think the South African people have taken to us. My guess is that we're going to have quite a few fans on Saturday, too."
The USA face Ghana in their first game of knockout action.
The 2010 World Cup is finally upon us, so keep up to date with all the news at Goal.com's World Cup homepage and join Goal.com USA's Facebook fan page!