The only way the USA can be sure of advancing to the next round of the World Cup tournament is to defeat Algeria, their final group match opponent.
American striker Jozy Altidore didn't put upon himself the personal responsibility to get the goals for the squad against Algeria.
"I think the moment we put individual wants or needs over what we're doing as a team is when we crash," Altidore explained at the U.S. team's recent press conference. "In the locker room before the game, you can see that everybody cares how we do as a team. That's all that matters. It doesn't matter who scores or how we score as long as we get the results."
One strike option who will not be able to score, due to yellow card accumulation, is Robbie Findley, yet Altidore didn't expect the team to miss a beat, since other capable players could step in.
"Everybody in camp is prepared for what's ahead and what's at stake," Altidore said. "Whether it's Edson [Buddle] or even Clint [Dempsey], I think we all understand what this game means so I think everyone has done a good job of getting involved."
Dempsey in particular seemed focused on facing the USA's upcoming opponent. Algeria, like the USA, need a winning result to have any hope of advancing.
"I think it's a game that's going to be tight, but as the game goes on it's going to have to open up," Dempsey explained. "We're going to have to take risks because we know a draw may not get us through. We'll just have to manage the game and see how it goes, and I think they're going to do the same. They're going to stay compact defensively, pick and choose moments when to go forward; but if it's 0-0 in the 65th minute, you're going to see the game open up."
After struggling versus Slovenia, coming back from two goals down, the USA wasn't inclined to take Algeria lightly.
"Algeria is a good team," Dempsey clarified. "They're athletic, they're good defensively, they made some big tackles during that game against England. We just have to play our game, keep moving the ball and trying different things, take our opportunities when we can. The positive that we're taking from this World Cup is that we've scored in each game that we've played in so far, so on that front, we're doing well. We're just going to go out and play our game and I think our game is good enough to win if we play our best."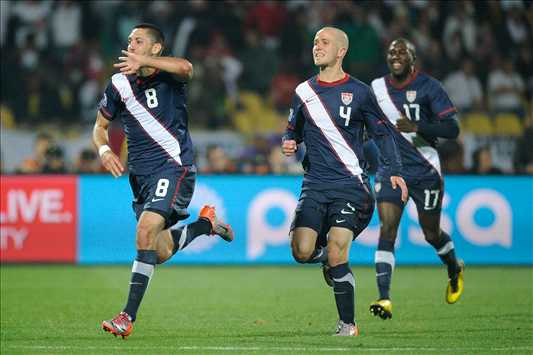 Though he scored in the 2006 World Cup, that tournament was a disappointment for Dempsey and the whole USA team because they fell short in their final group match of the win they needed against Ghana to advance. Dempsey saw that as extra motivation for the squad this year.
"We're in a good position right now, just like we were in 2006, where a win would have moved us on," Dempsey recalled. "We didn't succeed then, so now we're trying to right the wrongs. We're not going to show any signs of fatigue, I can tell you that. We're going to leave our lungs and our hearts on the field."
The 2010 World Cup is finally here, so keep up to date with all the news at Goal.com's World Cup homepage and join Goal.com USA's Facebook fan page!