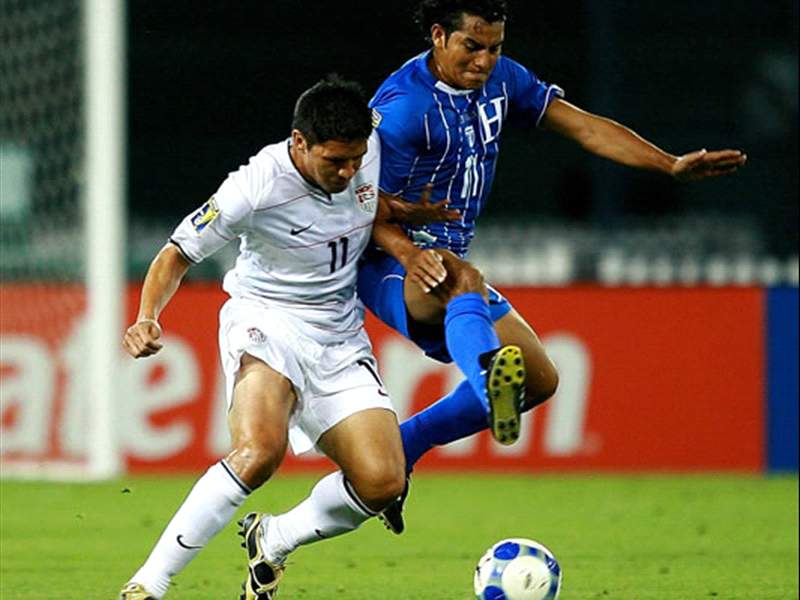 USA



Nick Rimando – 6
Hardly tested, but looked solid enough in the few occasions he was. Little he could do on the goal.
Brad Evans – 4
A perfectly competent midfielder, Bob Bradley insists on trying to make a subpar fullback out of him. His naive header into the path of Corrales provided the assist for El Salvador's goal.
Clarence Goodson – 6
Didn't let anyone behind him and popped up menacingly for a few attacking set pieces.
Jonathan Bornstein – 5.5
Composed enough from the captain, though he really hardly had a thing to do all game.
Heath Pearce – 6
Curved in a well-flighted ball to assist Ching's equalizer.
Robbie Rogers – 6
Active. Looked lively in attack, played most consistently for the USA, though his final ball frequently let him down.
Sacha Kljestan – 6
An injury-time game-winning goal helped salvage what was an entirely too quiet performance
Brad Davis – 5
Went off injured at halftime. Solid free kick delivery didn't mask a subdued game for the Houston winger.
Conor Casey – 5
No coincidence that the U.S. attack became more incisive once the Colorado forward made way at half. Clumsy and blunt.
Robbie Findley – 5
Let himself be marshaled into containable areas too easily and never let his pace tell against a deep Salvadorian backline.
Substitutes
Brian Ching – 7.5
Feel free to cash in your goal and assist in at the counter. I believe that's enough to earn you one plane ticket to South Africa.
Eddie Gaven – 7
Created everything positive for the USA in the second half. Should have finished better on a long drive from outside the box and a close-range effort later on, but the spark he provided is undeniable.
Jeff Cunningham – N/A
Hardly had a whiff.
Dax McCarty – N/A
Slotted into the midfield quietly.
Geoff Cameron – N/A
Earned his first cap. Slammed an impressive effort narrowly high in the dying minutes.
El Salvador



Miguel Montes – 8
Rarely will a goalkeeper this hot lose a match. Singlehandedly kept La Azul in this one for most of it.
Manuel Salazar – 4
Let Pearce dish in the assist for the equalizer unopposed and coughed up the ball to Rogers inside the box for a chance Rogers should have scored.
Marvin Gonzalez – 4.5
Allowed Kljestan to strip him cheaply for the game-winning goal. Really, he just stopped paying attention, maybe thinking a draw was already in the books.
Alexander Escober – 6
Stood firm and powerful in the middle of the defense.
Deris Umanzor – 5
Struggled mightily once Gaven came on at the half.
Ramon Flores – 5
Couldn't stamp his influence on the game and didn't help cover the pace of Rogers when the Crew winger switched to Flores' flank.
Ramon Sanchez – 5
A few composed touches in the middle couldn't kick-start the El Salvador possession game, and the San Jose Earthquake ended up getting drowned out in a busy midfield.
Osael Romero – 4
Invisible.
Juan Moscoso – 5
His shift on the left ended up pitting him on the defensive side of the ball for most of the game.
Arturo Alvarez – 6
The brightest of a dull group of attackers, the former American youth international injected pace and creativity on the rare occasions he found the ball at his feet.
Rudis Corrales – 6
Finished the one chance that fell to him.
Substitutes

Dennis Alas – N/A

Josue Flores – N/A
Visit the U.S. national team page on Goal.com for more