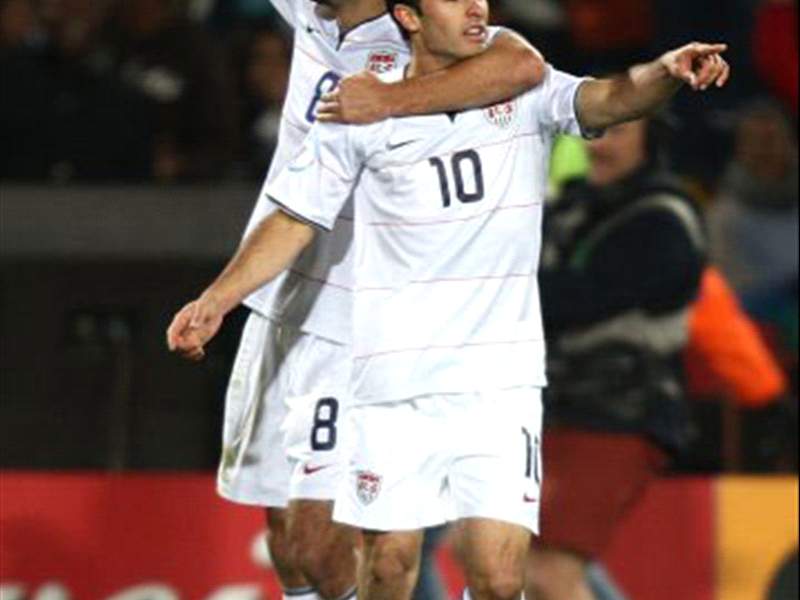 By Noah Davis
It was dicey for a bit, but eventually the United States Men's National Team settled down in Utah and defeated El Salvador 2-1 in CONCACF World Cup qualifying. After letting up a goal against the run of play, Bob Bradley's side struck twice in the five minutes before halftime and held on for the win. The victory moves the Americans, who now sit tied for the first place in the six-team final group, three points closer to qualifying for South Africa.
Winners
Landon Donovan

On the night he earned his record-breaking 32nd qualifying cap, the 27-year-old offensive force was excellent. After a poor service on the U.S.'s first set piece, Donovan rarely missed again. He delivered seeing-eye crosses on both goals: a measured ball from the right that Jozy Altidore put in the back of the net and an equally beautiful strike to Clint Dempsey from the other side of the field. When No. 10 wasn't playing helper, he was urging his mates forward, leading the American attack with the football at his feet. Let's just call Donovan what he is: the best player ever to don the Red, White, and Blue.
Michael Bradley
With first-choice centerbacks Oguchi Onyewu (suspended) and Jay DeMerit (injured) watching from the sidelines, the elder Bradley was forced to trot out a back four that had little experience playing together. The manager relied upon his son to focus on his defensive responsibilities, and he came through with timely tackles and quality distribution. Although Bradley did have some bad giveaways in the second half, they didn't prove to be costly. The central midfielder's defensive role freed up his partner Benny Feilhaber to show off his offensive prowess and creativity. The combination didn't always work, but the duo showed enough to earn another chance together. Expect them to line up next to each other on Wednesday in Trinidad.
Charlie Davies
The striker didn't score but he was the U.S.'s most potent attacker, terrorizing El Salvador's backline all night. If a couple of bounces go differently, Davies could easily have been man of the match. He's not afraid to attack in one-on-one situations, and showed the skills, speed, and confidence to win those battles.
But Davies does more than simply put his head down and charge toward the goal. After repeatedly beating his man to the touchline, he slotted a number of wonderful balls along the ground that just missed the feet of American attackers. He and Altidore are developing an understanding that's only going to grow with more time together. Ladies and gentlemen, meet your starting strikers in South Africa.
Losers
Brian Ching
The Houston Dynamo is the odd man out of the new-look U.S. frontline. I suspect he'll continue to get spot starts in matches where Bradley opts to take a more defensive formation -- in Honduras on October 10th, perhaps -- but given the persistent brilliance of Davies and the shocking strike-rate of Altidore, who leads the team in scoring during this qualifying cycle, Ching's days as a fixture in the Starting XI are done. Some (most?) U.S. fans would argue this move should have happened months ago, but the big Hawaiian was the best option until very recently. He had a nice run in with Stars and Stripes first team, but it's rapidly coming to an end.
Jonathan Bornstein
The entire U.S. backline looked shaky on Saturday night, but its left back suffered most. Bornstein, who lost his starting slot when Carlos Bocanegra slid over, didn't do himself any favors in his return to the American formation. His backwards, over-the-head "clearance" fell directly to Rodolfo Zelaya in the U. S. box and gave El Salvador its early lead. Bornstein did improve slightly -- making a couple of one-on-one stops -- but he was also consistently beaten down El Salvador's right flank. The Chivas USA jack-of-all-trades worked his way up field on occasion, but lacks the crossing acumen of Jonathan Spector, his foil on the other side of the pitch. Quite simply, Bornstein struggles to compete at the international level.
Kyle Beckerman

Both Gold Cup standouts Beckerman and Stuart Holden entered Saturday night's match as second half substitutes. While the Dynamo midfielder looked dangerous on his fresh legs, the dreadlocked Real Salt Lake star struggled in front of his home crowd. He played just 10 minutes, but seemed to turn the ball over every time he touched it. Given the U.S.'s depth at central midfield, Beckerman might not get too many more opportunities to impress. Against El Salvador, he did not.
Noah Davis covers the United States Men's National Team for Goal.com.