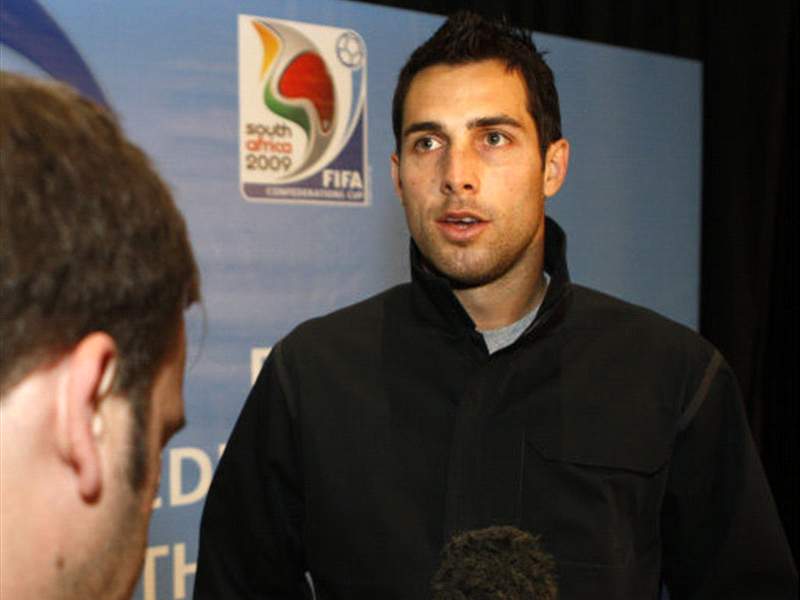 MEXICO CITY—United States captain Carlos Bocanegra was out of breath just from walking up the ramp to the mixed zone. So you can imagine how the altitude affected the players in Wednesday's loss to Mexico in a World Cup qualifier.
But regardless of the environment, the U.S. centerback thought the side was going to escape Azteca Stadium with a share of the points.
"Yeah, it's a bit of a heartbreak for us," Bocanegra told
Goal.com
after the game. "They had a lot of possession today, but we had good shape. We weren't giving up big gaps. It's frustrating."
The U.S. took a lead in the 9th minute through Charlie Davies, but relinquished the equalizer in the 19th minute and then conceded the match-winner in the 82nd minute to Miguel Sabah. Losing late recalled the Confederations Cup final loss to Brazil, when the U.S. failed to hold a 2-0 lead, and raised questions about the side's inability to hold a lead against a good opponent.
"We need to do better with our concentration levels when the ball turns over," Bocanegra told
Goal.com
. "We need to possess it better for ourselves. Obviously [we need to improve] the concentration toward the end of the game."
The U.S. did not force Mexico goalkeeper Guillermo Ochoa into a single save on the afternoon. In the second half, Mexico dominated possession and the Americans rarely crossed the midfield stripe.
"We went up early and then we kind of sat back," midfielder Clint Dempsey said after the game. "That's kind of been a pattern with us. We just didn't keep the ball and we got more and more tired and it gets frustrating."
The win puts Mexico into third place in the CONCACAF Hexagonal, sitting on nine points. The U.S. remains in second place on ten points, two points behind leaders Costa Rica.
Greg Lalas, Goal.comIf you follow the U.S. Men's National Team, you'll love their dedicated page on Goal.com