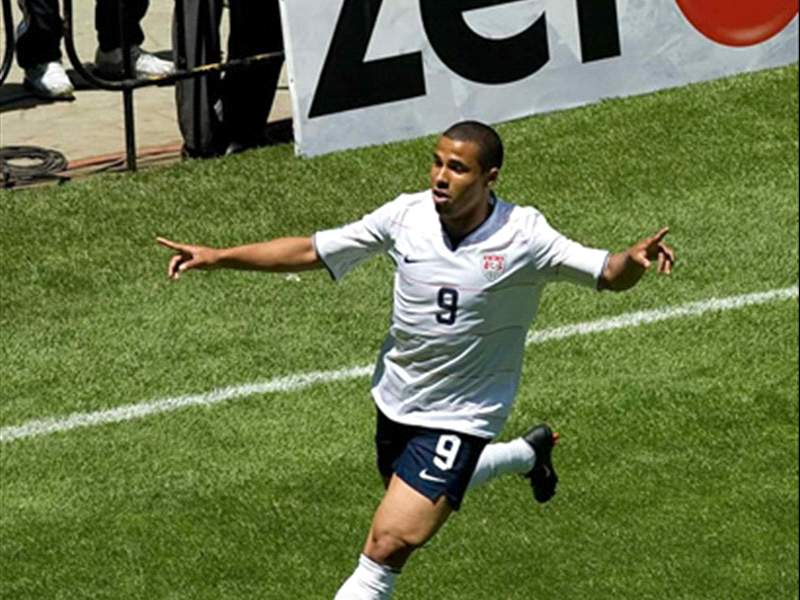 MEXICO CITY, Mexico --Though he scored a goal, it was hard for USA striker Charlie Davies to celebrate after the 2-1 loss to Mexico in Azteca stadium.
"It's difficult," he admitted. "We wanted to come here and not only play well, but we wanted to make history."
A long, leading pass by Landon Donovan was met by the quick pace of Davies, who raced into the penalty area and finished well past goalkeeper Guillermo Ochoa.
"I was able to get in a good position between the center back and the outside back," Davies said of his goal. "Landon obviously made a great pass and I was able to get a good first touch and put it around Ochoa."
The fans hushed after the goal, fearing Mexico's World Cup hopes were in jeopardy, while the U.S. players celebrated.
"It's amazing," Davies said. "This is what you live for, as a striker, to score big-time goals so hopefully there are more to come."
However, his effort was for naught as Mexico rallied to score twice.
"We have what it takes to win here, but today we were a little bit unlucky," maintained Davies.
The striker was starved of service for much of the game.
"They were able to control most of the possession in the game and I think that's what hurt us," observed Davies.
Ultimately, Davies noted that the Americans have some important progress to make.
"To be considered a great team, you have to be able to hold a lead," Davies pointed out. "Unfortunately, we were unable to do that."
Circumstances also played a role, Davies believed.
"We were unfortunate today to have some bad calls go against us," Davies said.
It was while Davies was on the turf late in the game, with the U.S. still clinging to a draw, that some of Mexico's players got physical with the striker, initiating a shoving match that somehow ended with no ejections.
Davies was optimistic that the United States would improve.
"We have a long way to go before the World Cup," Davies stated. "I'm pretty hopeful that we'll be able to correct all of our mistakes."
Such progress would be key to reaching the next level.
"The great teams learn how to deal with that type of stuff," Davies said. "It's a learning experience definitely, but I think we're just going to grow from this as a team."

Luis Bueno, Goal.com
--Additional contribution by Andrea Canales in Los AngelesIf you follow the U.S. Men's National Team, you'll love their dedicated page on Goal.com