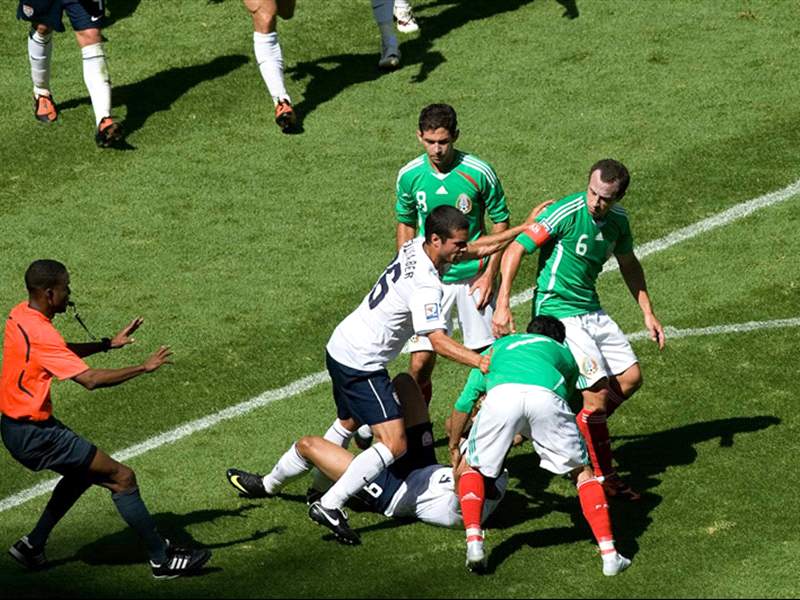 MEXICO CITY—If anyone staked a claim during the Gold Cup that he deserved more chances with the United States national team, it was Stuart Holden. Two weeks after his strong performance in that tournament, Holden made his World Cup qualifying debut for the U.S., coming on in 56th minute of the 2-1 loss to Mexico on Wednesday afternoon.
Most observers agree he accounted well for himself, as did Benny Feilhaber, who was introduced at the same time.
"We wanted to provide a spark, bring some energy" he said after the game. "I think we created a chance or two that gave us a little bit of a lift. If the bounce goes our way, we come out of here with a result and feeling pretty good."
Holden created the best chance of the second half for the U.S., whipping in a cross from the right side that narrowly missed connecting with Charlie Davies. The striker lunged for the header but the ball sailed just by him.
"The ball moves a little bit weird here," Holden said. "I think it might've knuckled at the last second and thrown [Davies] off. It would've been nice if that one had gone in."
Holden, like most of his teammates, felt they had a golden chance to get a result. They were tied 1-1 with seven minutes left to play, before Miguel Sabah scored the match-winner. And although Holden, as an individual, relishes the opportunity to play at Azteca, in the end he focused on the team and the loss.
"We wanted to come in here and get a result, so obviously we're disappointed," he concluded.
Greg Lalas, Goal.comIf you follow the U.S. Men's National Team, you'll love their dedicated page on Goal.com