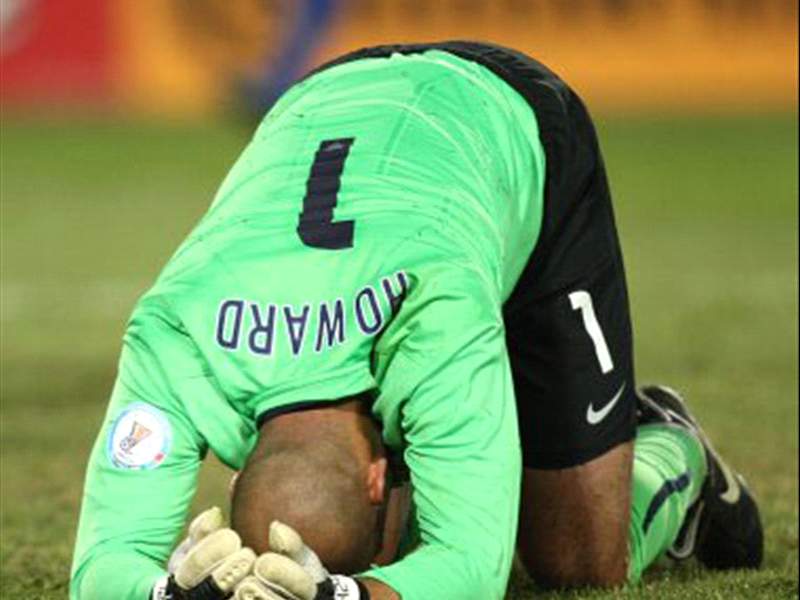 JOHANNESBURG—There is an obvious temptation to criticize any team that relinquishes a two-goal halftime lead. But in the Confederations Cup final, which Brazil won 3-2 over the United States, that temptation is negated by the scintillating play of Brazil in the second half. Kaka' and Co. raised their level, and after the game the U.S. players, disappointed though they were by the result, couldn't help but applaud Brazil's success.
"Sometimes you have to take your hat off to the other team and tonight is one of those nights," said U.S. goalkeeper Tim Howard. "They wore us down. They created so many chances. They never got desperate. The law of averages says they're going to hurt you."
Being up 2-0 at halftime against the five-time World Champions Brazil is a rare occurrence, of course, and Howard expressed some frustration at not being able to close the game out.
"One of the things I said inside was, 'If we were down 2-0, we would never have gotten a sniff to get back in the game,'" Howard said. "Those are the things that we need to get better at. That's the thing we need to take from this game."
The U.S.'s win against Spain last week was seen by many as a watershed moment for U.S. soccer. This loss—and the way it occurred—puts things back into a better perspective. Still, there are plenty of lessons learned from the team's up-and–down adventure in South Africa, mainly, that the U.S. is approaching the point where it can compete on the world's stage regularly.
But according to striker Jozy Altidore, the U.S. side will improve only if the players can find regular playing time at European clubs.
"We learned that we can play with the best teams," he said. "I think it's also important that we know wherever we're going, whatever environment we're in that we get playing time. When you play teams like this, these guys are in season form. You can't have guys coming in who haven't played, like myself. We have to be ready to play. That was a bit tough towards the end of the tournament. But we learned a lot."
Greg Lalas, Goal.com

For more on the Confederations Cup visit Goal.com's Confederations Cup page.