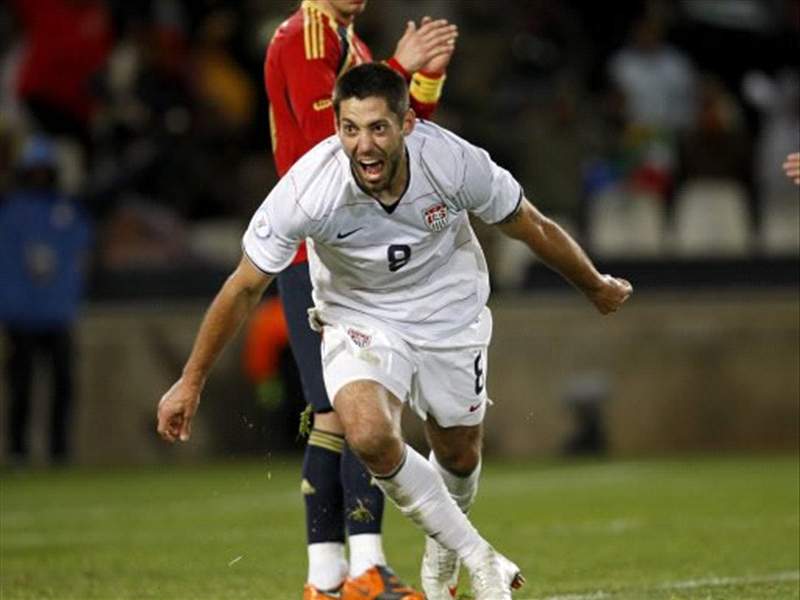 BLOEMFONTEIN, South Africa—US coach Bob Bradley remained his usual even-keeled self following his side's incredible 2-0 victory over Spain in the Confederations Cup final. In his postgame press conference, he stoically reiterated his praise for the team's overall effort here in South Africa. But even Bradley couldn't help but acknowledge the momentousness of the win.
"For us it's a big night," he admitted after the game. "The players have worked hard. When you play Spain, have to work hard as a group to defend. We made a point to close down Xavi when we could. We did a good job sealing down the middle of the field. Most they could get would just come through the flanks."
Tactically, emotionally, and physically, the US were the better side for most of the match. Unlike in the group game against Brazil, in which the US looked overwhelmed and timid in a 3-0 loss, the win over Spain was a complete performance. The US played Spain head to head rather than trying to kill the game with negativity, as some would've expected. It marks a new way of doing things for the US team, mainly, because the tactics worked.
"We constantly talk about reaching higher and accomplishing new things," Bradley said.
Still, the boss was reluctant to rate this victory in comparison to any other in US history, including the legendary 1-0 win over England in Belo Horizonte, Brazil, during the 1950 World Cup. The 59th anniversary of that game, as it happens, falls on Thursday.
"It's important to look at all the victories along the way," Bradley said. "It began with the famous one against England, but there have been many since. We're proud to add this one to the best."
This one, which no one expected, sees the US team into its first ever major tournament final. It marks an unexpected turn of events, considering the US were on the verge of elimination with no points heading into their third group game.
"This win is huge for American soccer," midfielder Clint Dempsey said. "It's sweeter because were down and out going into the game against Egypt. No one picked us. But we fought hard, stayed compact defensively, got the goals when we went forward."
On Sunday, the US will face the winner of Thursday's Brazil-South Africa semifinal. However, Dempsey seemed to have already written South Africa off when asked about the upcoming match.
"We realize there's another game to play against Brazil," he said, before correcting himself. "Look, I just did to South Africa what people did to us. Sorry about that."
Greg Lalas, Goal.com
For more on the U.S. National Team visit Goal.com's U.S. National Team page.