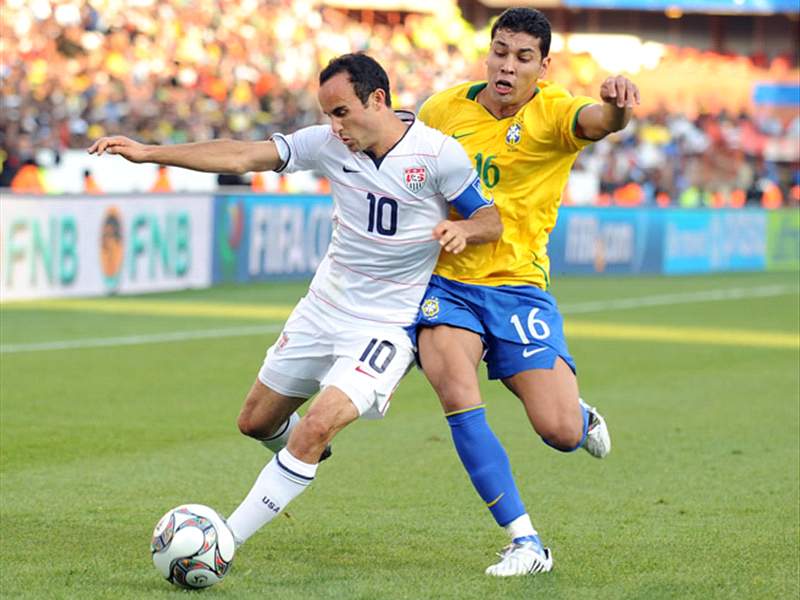 By Greg Lalas
JOHANNESBURG, South Africa -- So you're saying there's a chance?
Yes, there is indeed a sliver of hope that the US team will get through to the semifinals of the Confederations Cup despite losing both of their group games so far. Egypt's upset of Italy kept the US in play mathematically. Alhamdulillah, Pharaohs.
Don't get too excited. It's not a big burning beacon of hope. For the US to get through to the semis, as I understand it, they need to beat Egypt and hope that Brazil takes care of Italy. Plus, they need to make up a six-goal deficit to Italy in goal differential. Good luck with that.
Tactics Matter...
US coach Bob Bradley was forced again—by injuries and Ricardo Clark's suspension—to shuffle his lineup, but this time he also adjusted the actual formation. The US came out in a 4-1-4-1. Clint Dempsey slotted into the middle for the first time in recent memory, alongside Sacha Kljestan, with Landon Donovan on the right and Damarcus Beasley on the left.
The aim, according to Bradley, was to let Michael Bradley lie deeper in the midfield and help the backline with Kaká, and allow Dempsey to roam in the channels (do channels ever open up against Brazil's defense?). Bradley also explained that he felt Beasley would be able to give width and help defend against Maicon.
That was a strange decision, if you ask me. Beasley is a small, fragile winger who has been robbed of his speed by injuries and who can't get a game with his club. Maicon is a 6'1" fire-breathing thoroughbred who is arguably the best defender in Serie A. It couldn't have come as a surprise that Maicon made mincemeat of Beasley from the word Go.

...then again, Tactics Don't Matter
Regardless of the personnel on the field, regardless of where they lineup, if the players don't come out to play, you're going to pay the piper. I'll let Jozy Altidore take it from here:
"I don't know what it was today. We all, as a whole, didn't come here to play. We knew what the game was, we knew it was a must-win game, and the guys came out flat. When you come out flat against these guys, that's what happens."

Pointing the Finger at Himself
So who's responsible? Well, the players, obviously, have to be mature enough to motivate themselves. But the ultimate responsibility for a team's mentality, I think, falls to the manager. It's his job to prepare his team—tactically, mentally, and emotionally—to play to the best of their abilities and give their all for the shirt they wear. No one will question a manager if his team puts in the effort and does its best but still falls short against superior competition. Everyone will question him if the team comes out the US team did on Thursday night.
In his press conference after the game, Bradley did the honorable thing: He shouldered the blame for the side's limp performance.
"You look at every factor," he said. "It could be anything from the coaching side, to decisions you make about who you put on the field. It could be tactical details about how you start the match."
Now, the question is: How well can Bradley motivate the team for the Egypt game? And more important, how well can he motivate them for the World Cup qualifier in August?

¿Dónde Estaba Jose?
What must have gone through Jose Francisco Torres's mind in the second half when he was sitting on the bench, the team was down to ten men for the second game in three days, and Bradley didn't use his third sub? I'm sure it was some Tex-Mex obscenity that would freeze a hot tamale's heart.
Leaving the third sub unused could be interpreted as a deliberate snub to the guys on the bench. Too bad. To my mind (and I know I'm not alone here), Torres is one of the few players on the US squad with the technique and the composure to handle the ball under pressure. His presence may not have made much difference to the final result, but I doubt he would've coughed up the ball in the middle of the field the way others did repeatedly.

The Problem with Beasley
No one can deny Damarcus Beasley has struggled of late for the national team. He's not fit and not sharp, thanks mainly, I think, to his lack of playing time for Rangers.
Is it time for Beasley to bow out of the national team? Honestly, I don't know. He's only 27 and he has two World Cups under his belt. I'd like to think he still has something in the tank. But maybe the best thing for him would be a forced exile from the national team. He's received many opportunities to rehabilitate his reputation with the US team, and fallen short each time. Maybe a good old-fashioned banishment until he starts playing regularly and well for his club team will refocus him.
In fact, maybe several players could benefit from a little in-team pressure. For example, Clint Dempsey hasn't looked the like Clint Dempsey we all know. Let the guys know their places aren't guaranteed, no matter who they are.

"Brazil Doesn't Make You Fail to Trap a Short Corner"
In the comments after the game, players included a lot of caveats when responding to the media's questions about what went wrong.
"You can't gift goals early to
teams like that
," Donovan said.
"When you come out flat against
these guys
, that's what happens," Altidore said.
But the truth is, you can't gift early goals to just about any team and if you come out flat against just about any team, a similar fate befalls you. In other words, the "But it was Brazil" defense only holds so much sway. As my Goal.com colleague Allen Ramsey pointed out after the game, "Brazil doesn't make you fail to trap a short corner, or fail to mark on a set play."
Granted, there is no shame in losing to Brazil or Italy. But at some point, if the US team is ever going to reach the level it aspires to, it will have to learn how to get results against better teams. If they are going to advance from the group at next year's World Cup, they must figure out a way to punch above their weight. Otherwise, we will all have to suffer through more caveats.

End It On A Good Note
Well done,
Jay DeMerit
. He did his job defensively, was not to blame for any of the goals, and rarely lost possession.
Greg Lalas is editor of Goal.com Magazine.