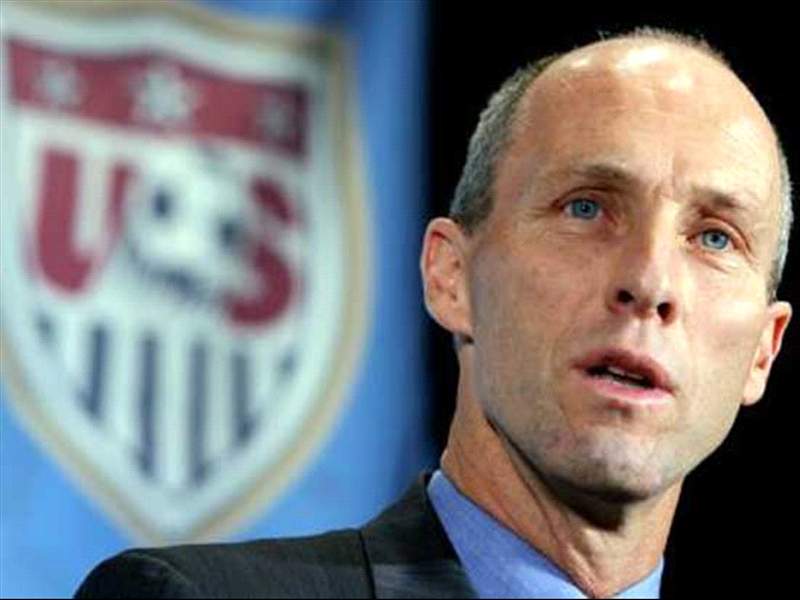 By Noah Davis
United States Men's National Team coach Bob Bradley called 22 players into training in advance of the squad's World Cup 2010 qualification matches against El Salvador and Trinidad and Tobago on March 28 and April 1, respectively. It's a mixed group of veterans including Landon Donovan, DaMarcus Beasley, and Clint Dempsey, and the younger generation such as Freddy Adu, Michael Bradley, and Jozy Altidore. The t camp also features the familiar faces of Eddie Johnson, Jonathan Spector, and Marcus Hahnemann who have seen time with the Nats but not in recent months.
In its last match, the U.S. dispatched Mexico 2-0 on a brutally windy night in Columbus, Ohio. After one game, the Americans are tied with Costa Rica for first place in the Hexagonal Round, with its next two opponents sit deadlocked for third place on one point apiece. If the Red, White, and Blue comes out victorious in both affairs -- anything less would be a disappointment -- it will be well positioned to qualify for the World Cup in South Africa. Below, Goal.com breaks down the strengths and weaknesses of the American team.

Strengths
Without a doubt, the 22-man roster boasts wonderful experience. Over half of the team has earned 22 or more caps (10 have 34 or more), led by Donovan (106), Beasley (83), and Frankie Hedjuk (82). Moreover, all 11 players who started in the American's defeat of Mexico are back, and you can make a strong case that all 10 field players will again feature on the pitch at kickoff. If nothing else, this is a group that's becoming intimately familiar with each other's tendencies and it's beginning to show. (For proof, watch to see how well wing players such as Dempsey and Hedjuk covered for each against El Tri.)
The bench can plug any hole, particularly in the midfield. With Adu and Jose Francisco Torres, Bradley has attacking options, while Pablo Mastroeni and Maurice Edu play the type of disruptive, shutdown defense the U.S. might need if it's up a goal in the late going. Altidore and (yes, haters) Eddie Johnson provide quite possibly the most athletic tandem that the Americans have ever possessed at striker.
Weaknesses
Ironically, goalkeeper -- typically the U.S.'s strongest position -- could be a troublesome spot at least in the first match. Tim Howard drew a silly yellow card for stalling after Rafael Marquez was shown off in Columbus and will miss the game in El Salvador. The starting nod will go to Brad Guzan, although at 37-years-old Reading's Marcus Hahnemann boasts a wealth of experience between the pipes.
Elsewhere, the typical concerns about the flanking defenders continue to haunt the Americans. It's an old plotline, but no less relevant. Hedjuk will start in place of the oft-injured Steve Cherundolo, while Heath Pearce -- finally finding time at Hansa Rostock -- will serve as his opposite number. Neither is brilliant, although the Columbus Crew surfer remains a joy to watch on his 34-year-old legs, but both are serviceable. Oguchi Onyewu and Carlos Bocanegra, while adventures when running with a defender towards their own goal, have become adept at supporting the flanks and should provide the necessary support. (It's all about familiarity, remember?)
Other Determining Factors
Bradley has faults as coach -- this discussion is for another time -- but his U.S. team wins in CONCACAF. On the morning of April 2, the Red, White, and Blue should be standing atop the Hex on nine points, well on its way to qualifying for South Africa. (Eighteen points will assure one of the three spots.) El Salvador and T and T represent two of the weaker opponents in the six-team tournament, and the Nats couldn't have asked for a better slate of opening matches. Nothing is guaranteed in the region, however, so the games will (of course) be played.
Noah Davis covers the United States National Team for Goal.com.