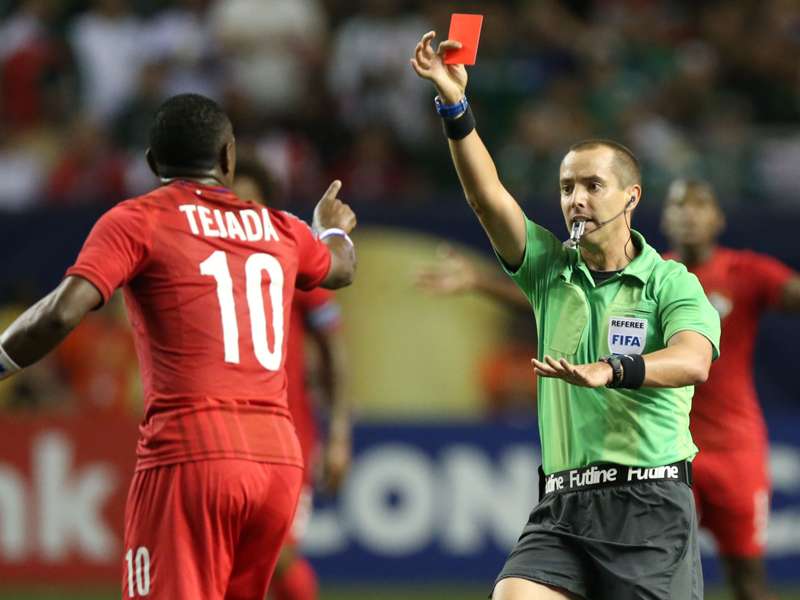 The General Secretary of Honduras' FA formally requested a change of referee for Tuesday's World Cup qualification match against Mexico, a change that FIFA declined to make.
Jorge Ernesto Mejia sent a letter dated Aug. 29 to Gordon Savic, who is the head of FIFA's World Cup qualifiers, requesting that American referee Mark Geiger be replaced by a different official after Geiger's performance in Mexico's 2015 Gold Cup semifinal win. In that game, Geiger gave a dubious red card to Panama's Luis Tejada in the 25th minute, awarded El Tri a controversial penalty late in stoppage time and again called a spot kick in their favor in extra time.
But FIFA responded that Geiger makes up part of the list of referees eligible to officiate this match and has declined to make a change.
FIFA confirma a Mark Geiger. Señalan que este árbitro forma parte del listado de árbitros para la eliminatoria a Rusia 2018 @FenafuthOrg

— Jose Ernesto Mejía P (@PepeMejiaP) September 5, 2016
Mejia's letter references that contest as a reason the referee is not fit to call a qualifier involving Mexico at Mexico City's Estadio Acteca
"Mr. Geiger committed major errors that favored the Mexican national team and meant the elimination of a Central American team," the letter said. "The pressure that will be put on a central official in a stadium with a capacity of more than 100,000 people will be much greater than that from Mexican fans in the United States who were at the Mexico vs. Panama game."
Tuesday's contest could determine whether Honduras advances to the final round of CONCACAF qualification.
"We're not putting into doubt the knowledge, the honesty or the talent of the designated official, however for the reasons expressed we ask that Mr. Geiger might be substituted by a referee who might be able to bear the pressure that will be put upon him," Mejia wrote.