Editor's Note: CONCACAF hipster Jon Arnold brings Goal readers stories and opinions from around the region in a weekly column.
The name Haiti originates from a word meaning "land of high mountains," but the women's national team is preparing for the penultimate round of World Cup qualifying in a less rocky setting - Indiana, USA.
Topography isn't the only difference between the Haiti squad's native country and its Indiana training location where coach Shek Borkowski oversees the team for several months each summer.
"A huge challenge is to overcome the cultural differences," Borkowski told
Goal USA.
"The way players approach training, discipline, punctuality, you almost have to tinker with their DNA and try to do it in the Caribbean countries. It's pretty difficult because of the influences of family, friends and other individuals who always will try to convince the players not to be on time, not to go to practice, that it's not important, something else is more important.
"So by having them here in the United States there are certain things that we can immediately impact like punctuality, arriving for training on time. Taking training in as professional a manner as you can. The discipline to do things."
The Polish-born coach agreed to take over the Caribbean team after a chat with FHF president Yves Jean-Bart in 2012 and convinced Jean-Bart the team would be well-served training in Indiana where Borkowski runs a successful WPSL team, FC Indiana. That allows the team to play games against college teams, other WPSL sides and the odd national team that would never fly into Port-au-Prince. The coach believes the experiment will pay dividends.
"The first time we came here, we were a national team, but we really performed at a level psychologically, physically, technically, tactically of a good U-15 girls club team in the United States," he said. "It's been a challenge, it's been a growing process for the players, it's been a growing process for me to a certain degree. But it's been a pretty enjoyable experience for me overall to see the progress the players have made."

"The first time we came here, we were a national team, but we really performed at a level psychologically, physically, technically, tactically of a good U-15 girls club team in the United States."





- Shek Borkowski, Haiti women's national team coach

Another of the eight teams fighting for one of the region's four spots in the final round of CONCACAF qualifying is also hoping a camp in the U.S. will result in an uptick. Houston Dash coach Randy Waldrum was handed the reins of the Trinidad and Tobago team in July. The majority of the team has joined up in Houston for a training camp. While the coach says he has a good foundation, he noted he faced a different challenge than Borkowski since he takes over much later in the cycle. But with the team coming to him, rather than him going to the team, the ex-Notre Dame coach is confident he can have a positive impact on the hosts.
"Being able to get the Trinidadians here to Houston to train, then that didn't make it difficult," he told
Goal USA.
"It would've been almost impossible for me to get back and forth; I couldn't have done it. But since Trinidad and the federation made a commitment to send the players in, that was a big help, so that part's worked out nicely."
Waldrum coached one of the nation's youth sides several years ago and says quality of play and federation support has increased exponentially - especially the new administration in charge of the Trinidad and Tobago Football Association. Still, though, there are many hurdles to clear before the region is able to compete regularly with the powerhouse teams in North America.
"I think the Caribbean has got to make its commitment to the women's game strong from top to bottom both in the grassroots and also in the national team programs," Waldrum said. "And I think the other piece of it is just finances are always going to be an issue. More money has to be poured in the women's side."
With the need for funding in mind, Cedella Marley, daughter of legendary musician Bob Marley, spearheaded an IndieGoGo campaign that raised more than $50,000 for Jamaica's team, the Reggae Girlz, to put toward their qualification efforts.
Coaching and financial backing aren't the only arenas where the U.S. gives a boost. Nearly every team in the region benefits from a fair share of players who represent American colleges, whether they attend school from abroad or grew up in the U.S. and qualify because of their parents' heritage.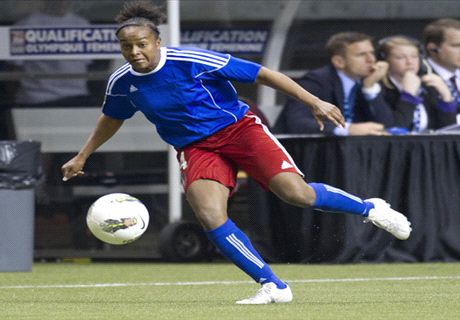 AMERICAN ASSIST |
Former USF star Samantha Brand is one of many Caribbean internationals who played in the U.S.
"Getting players who have played at American college is huge because the level of intensity they bring into practice, the approach to training is different and they serve as great role models for Haitian players who are making big strides to narrow the gap," Borkowski said. "Obviously, it's not realistic for us to expect to get on the field and compete against the U.S. because obviously the human resources, the financial resources, the infrastructure and everything that's available, but we're making progress."
Just how much progress will be measured August 19 when the women's Caribbean Cup takes place with the top four advancing to the CONCACAF women's championship. From there, the top three qualify directly for Canda 2015, with the United States and Mexico seen as locks but the other spots up for grabs. The fourth-place finisher will earn a spot in a playoff against a South American team.
In the mountains of Haiti or the gentle slopes of Indiana, all the region's women's teams are after is a level playing field.


Quickly
taken
:
-
Wanchope calls roster
- After Costa Rica's run to the World Cup quarterfinals, there was a nasty falling out with manager Jorge Luis Pinto.
It's up to Costa Rican legend Paulo Wanchope and assistant Luis Antonio Marin to make sure the success isn't short-lived.
Like other Central American coaches, he has called a domestic-based roster for a training camp ahead of September's Copa Centroamericana, saying those players will form the base of the squad.
-
CCL Surprises -
The CONCACAF Champions League got underway last week, and there were a few surprises to be had. Cruz Azul didn't look too interested in defending its title with Alajuelense nipping a road draw thanks to a standout performance from Armando Alonso. Jamaica's Waterhouse rode a hot start to a road win at Tauro, which responded by axing coach Rolando Palma in favor of Jorge Dely Valdes. And neither of El Salvador's teams did much to inspire confidence, though Hector Ramos of Metapan's double against Leon surely got the attention of the region's scouts - if the 24-year-old wasn't already there after his international hat tricks.
Follow JON ARNOLD
on