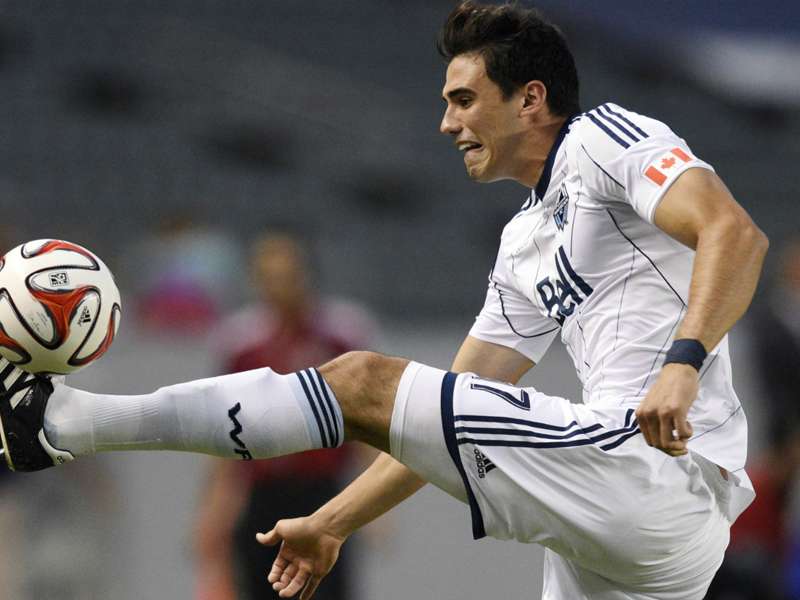 When Omar Salgado put the finishing touches on his contract with Liga MX side UANL Tigres, the young American forward felt a sense of pride at accomplishing a goal he had set out to reach several years ago. He also felt an equal strong sense of relief after finally closing a disappointing opening chapter to his career.
To say Salgado hated his time with the Vancouver Whitecaps is an understatement. As much as he grew to love the city itself, and established connections with teammates, the four disappointing - and at times painful - years with the MLS club saw him go from a happy-go-lucky teenager to jaded 21-year-old who couldn't wait to leave the team that made him the No. 1 overall pick in the 2011 MLS Draft.
"I can really say that it was a nightmare," Salgado told Goal USA of his time in Vancouver. "I came away from that experience feeling like I was lied to and never really given a fair chance to succeed."
Drafted as a 17-year-old with bags of potential as a tall and highly-skilled attacking forward seen as a potential star of the U.S. Under-20 national team, Salgado played just 504 minutes as a rookie, showing occasional glimpses of being something special, but still needing to develop physically.
A year later, Salgado suffered a broken foot that cost him the bulk of the 2012 season. His surgically-repaired foot failed to heal properly and he suffered a similar break less than a year later that not only cost him the 2013 season, but also his chance at the 2013 Under-20 World Cup.
"There were times where I wondered if my career was going to be over, and if I was ever going to be able to play again," Salgado said. "It was just a miserable experience and it definitely tested me mentally and physically."
Though he wasn't seeing time on the field, Salgado began to mature physically, developing muscle and going from skinny to strong. Those gains gave him confidence that he would be able to make an impact with the Whitecaps once he finally regained full health heading into the 2014 season.
The Whitecaps had other plans though, and head coach Carl Robinson used Salgado sparingly, leaving him off the gameday roster on several occasions. After managing just three brief substitute appearances through the first half of the season, Salgado played in a stretch of five straight matches that included his only two starts of the season. The fifth of those matches was a start against Chivas USA that saw him pulled after 65 minutes. Salgado refused to shake Robinson's hand on his way off the field.
He never played another minute for the Whitecaps.
"Did I make mistakes during my time in Vancouver? I can be man enough to admit that, I made mistakes and let my emotions get the better of me," Salgado said. "But I also feel like I did enough to deserve more of a chance than I got, and after a while it just wasn't a place I wanted to be anymore."
The Whitecaps grew tired of Salgado as well, and after a dust-up at training in late September that saw Salgado and Vancouver assistant Martyn Pert nearly come to blows. Salgado was effectively banished from the team, and was eventually allowed to join Liga MX side Tigres on a trial.
Salgado showed enough during that trial to generate a transfer offer from Tigres, which MLS accepted. Salgado's time with Vancouver officially ended even before that transfer though, as the Whitecaps traded his rights to New York City FC before the transfer in order to avoid having to protect him ahead of the MLS expansion draft. Part of the trade included Vancouver securing a significant portion of the transfer fee, a small one that includes escalators based on the number of appearances Salgado makes for Tigres.
With the Vancouver ordeal behind him, Salgado is overjoyed at the chance for a fresh start in Mexico.
"It's a big confidence boost having a club like Tigres showing this kind of confidence in me," Salgado told Goal USA. "After what I've been through, it means the world to me and I can't wait to work hard and show that I can play and prove that I'm still a player who can one day play for the U.S. national team, and hopefully next year be a part of the Olympic qualifying team."
Salgado acknowledges that earning first-team minutes at Tigres won't come easy at first, but after what he has endured, he believes he has matured enough to handle what lies ahead.
As for the past, and his time in Vancouver, as much as it was an ordeal for him, Salgado admits he would do it all over again if given the chance.
"It was a tough experience, no question about it, but I learned so much from it, and it forced me to grow up and helped make me who I am now," Salgado said. "So it just feels like all of this needed to happen for me to get to this point.
"I'm done looking back. I just want to focus on what's in front of me, and this great opportunity with Tigres."