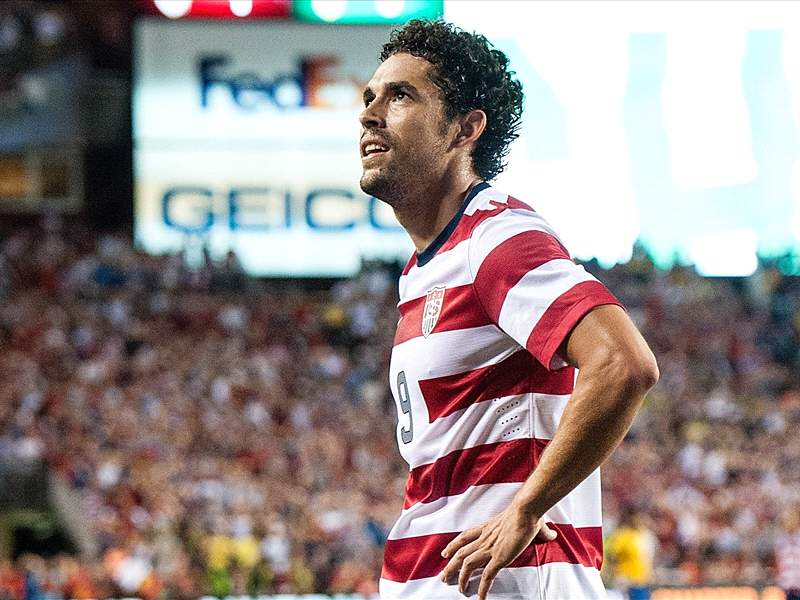 Four years ago, Herculez Gomez was set to embark on a career-changing run that saw him go from MLS outcast to Liga MX Golden Boot winner and World Cup participant. For all that has happened in his career since, Gomez finds himself in a similar situation to the one he faced back in 2010.

At that time, Gomez was playing for a new coach, trying to prove himself with a new team (then Puebla). A World Cup was looming and he was looking like a long shot to make the U.S. squad. He was coming off a knee injury that had cost him dearly.

Gomez is facing this very same set of challenges as he rolls into a new year, and much like 2010, he is entering 2014 feeling healthy and ready to prove himself all over again.
"I've been here before," Gomez told Goal USA. "It's a funny thing to me and I can't help but wonder, 'How many times can lightning strike?'"

It might seem strange that a player who has played in a World Cup, and won a scoring crown and league title in Mexico, is still having to prove himself. But an injury-hit 2013 dropped him off the radar for club and country. Last summer, while the USA was embarking on a record-setting winning streak and successful World Cup qualification, Gomez was busy battling a knee injury that eventually required surgery.

This all took place while Gomez made a well-publicized summer transfer from Santos Laguna to Club Tijuana. When he returned from that knee surgery and scored a hat trick in his first appearance for the Xolos in September, it looked as though he was ready for a dream run with his new club.

As it turns out, the hat trick might have been the worst thing that could have happened to him.

Gomez had just been cleared to play when he dropped three goals on Honduran club Victoria as a second-half substitute in their CONCACAF Champions League clash, but his hat trick led coach Jorge Almiron to believe Gomez was ready for a bigger role faster than he really was. Rushing Gomez set back his recovery, and before long he was being plagued by knee issues again.

The result was a disappointing Apertura campaign that saw Gomez score no league goals for the Xolos, and Almiron was eventually fired as Tijuana missed the playoffs.

"That all happened so fast that before you know it you're pushing yourself and putting your health on the back-burner," Gomez said. "I wasn't strong enough when I came back and it just snowballed.

"This year, having that preseason under my belt, and just knowing I'm healthy and physically fit, has boosted my confidence."

New Xolos manager Cesar Farias has also boosted Gomez's confidence by making him Tijuana's first-choice striker during the early part of the Clausura campaign, with the American starting all three matches thus far.

"I knew it wasn't going to be easy with a new coach, and new players coming in," Gomez said. "But these last three games, I've been running around and feeling like my old self."

Despite the rough time during the Apertura season, Gomez calls the switch to Tijuana a dream move. Having the chance to live in the United States again (he commutes to Tijuana from his home in San Diego) has been refreshing.

"I'm home, I really am," Gomez said. "You talk about the Americans we have on the team. That's great, but the rest of our team is so accepting, so welcoming.

"I don't think people realize just how special this team is, and what we're doing here," Gomez added. "We're holding our own in a very tough league. They've already won a league title, they've competed in Copa Libertadores, and we're competing in the CONCACAF Champions League."

The Champions League will loom large for Gomez and the Xolos soon as they prepare to take on the Los Angeles Galaxy in the tournament's quarterfinal stage in March. Gomez has become an MLS killer in the competition, scoring eight goals for Santos Laguna against the league's Champions League representatives.

"It's going to be fun playing against LA, and not that we're looking past LA in any way, but it would be great to beat LA and to have Sporting KC win its series so we could face them in the semifinals," said Gomez, who played for Kansas City before moving to Mexico in 2010. "Getting to face two teams I played for during my time in MLS would be pretty special."

Along with presenting him with another chance at the CONCACAF Champions League, going to Club Tijuana has allowed him to join a team stacked with American players, particularly young ones who help remind the 31-year-old forward that he is now the veteran of the group.

Nothing reminds Gomez of that more than his roommate on the road with Tijuana, American midfielder Paul Arriola. Gomez was no stranger to Arriola when he joined the Xolos, having coached him when Arriola was a 7-year old and Gomez was playing for the San Diego Gauchos of the USL D-3 Pro League. He supplemented his income back then, in 2002, by coaching youth soccer, and Arriola was one of the young stars of the team he mentored in Chula Vista, Calif.

"I remember coming up as a young player and having older players tell stories in the locker room and what now, and now I'm the one telling the stories," Gomez said. "It's a great group of guys. (With) someone like Paul, who is so talented and is miles ahead of where I was at that same age from a maturity standpoint, it's still funny to see these young players adapting to being pros."

Though he is older, Gomez isn't ready to count himself out as a serious candidate to fight his way back into the U.S. national team mix ahead of next summer's World Cup. He has stiff competition in an deeper forward pool that has seen the emergence of Aron Johannsson, the continued improvement of Terrence Boyd, and the presence of veterans like Eddie Johnson and Chris Wondolowski.

While that may be the case, Gomez knows that a strong Clausura with Tijuana could earn him another look from Klinsmann, who made Gomez one of his regulars in 2012.

"I know that any chance I have of making the World Cup comes down to playing well for Club Tijuana, which is why I'm focused strictly on that, on playing well for my club and helping us win," Gomez said. "If I can do that, the rest will take care of itself."

It is a path Gomez knows well. In early 2010, Gomez wasn't considered a legitimate candidate to make the U.S. World Cup team. But as he kept on scoring more and more goals for Puebla, he forced himself onto Bob Bradley's radar, and eventually earned a place on the squad that went to South Africa.

Gomez now is four years older, but confident he'll prove that he still has plenty to offer.

"I enjoy proving myself," Gomez said. "I enjoy shutting people up and proving people wrong."