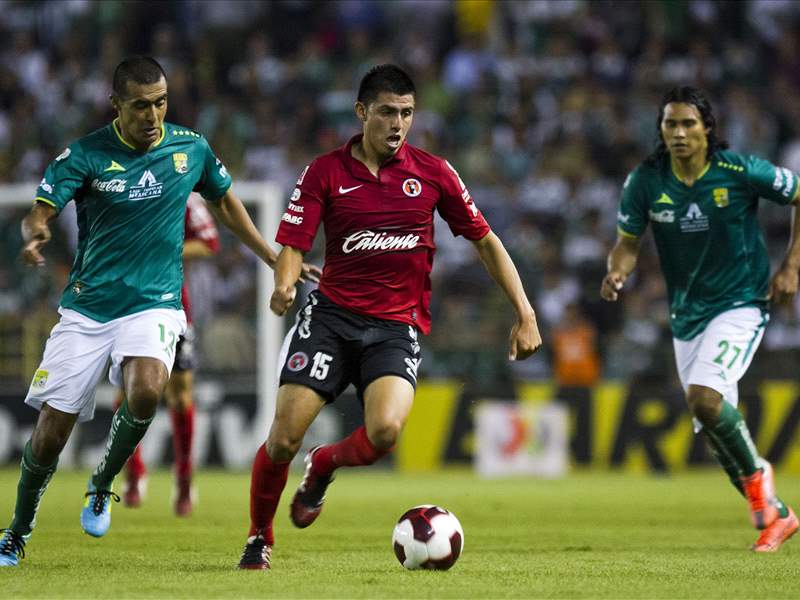 What a difference two months have made for American midfielder Joe Corona.
Back in June, Corona was starting in the Gold Cup final for the U.S. national team, capping a solid tournament with a championship medal and encouraging signs about his standing on Jurgen Klinsmann's squad.
Two months later, Corona finds himself on the end of the bench at Club Tijuana, with his playing time having vanished and his standing with the national team suddenly in jeopardy.
Corona has gone five straight Liga MX matches without playing a single minute, having been reduced to playing time in CONCACAF Champions League matches. He has fallen behind 18-year-old American prospect Paul Arriola on the Xolos depth chart, and even further behind regular starter Javier Guernez in the plans of Club Tijuana head coach Jorge Almiron.
As a result, Corona's future with the club appears to be on shaky ground, and the player whose goal helped Club Tijuana gain promotion in 2011, and who scored Club Tijuana's first goal in Liga MX, just might be making a move away from the club in the near future.
"We have a very good line of communication with the club and over the next few weeks we'll evaluate Joe's position with the club," said Corona's agent, Chris Megaloudis. "If things don't change, we'll have discussions with the club and figure out where he needs to go.
"Joe wants to just put his head down and work hard and see where it goes," Megaloudis said. "He has taken a good look at himself, and is trying to focus on working hard enough to convince the coaches to play him in the league."
Almiron's defensive approach to the game is a far cry from former Club Tijuana manager Antonio Mohamed, and the difference has directly affected Corona's opportunities for playing time. Just a year ago, Corona was a regular starter on the Xolos title-winning squad, and just a few months ago, he was a key starter in Club Tijuana's run through Copa Libertadores.
Corona's quality is well known in Mexico, which is why, according to Goal sources, there are already clubs in Liga MX ready to make a move for the 23-year-old midfielder if Club Tijuana puts him up for sale.
This season is a crucial one for Corona, who has aspirations of being a part of the U.S. World Cup team next summer. If he doesn't start to earn regular minutes for Tijuana, Corona may have no choice but to make a January transfer move in order to help keep himself in the U.S. national team conversation.
"The Club Tijuana people have taken great care of Joe, and he knows he owes them a lot," Megaloudis said. "He's from the area, and he's happy there, but if he isn't playing he has to think about his career and about the possibility of making a move in January."


Follow IVES GALARCEP on