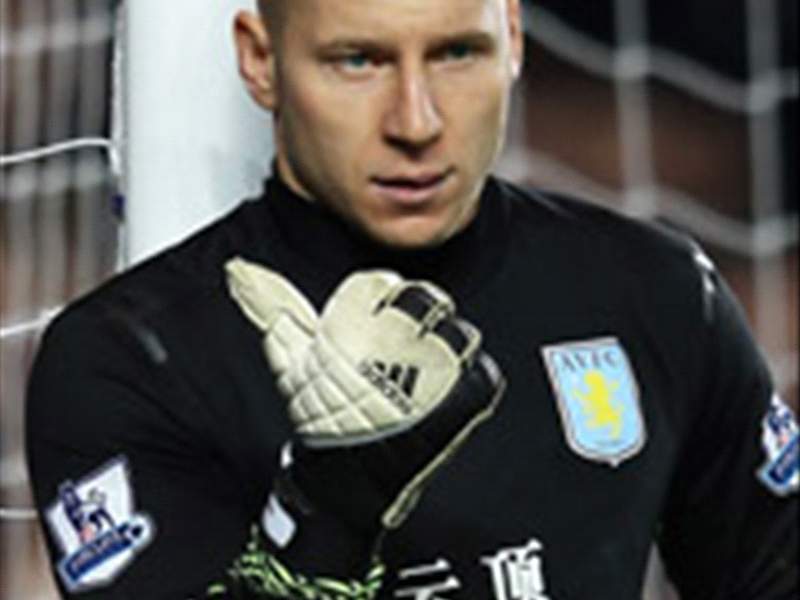 Aston Villa got its first league win since November and moved out of the bottom three on Sunday after defeating West Ham United 2-1 at Villa Park. Brad Guzan played a vital role and his strong keeping helped the rest of the squad power ahead.

Guzan kept out four shots, as the Birmingham outfit went up 2-0 before an own goal allowed the Hammers back into the contest. However, the U.S. international was clutch late, stopping shots from Kevin Nolan and Carlton Cole to secure the win. Eric Lichaj was not in the 18 for Villa.

Everton outclassed by United

Tim Howard made four saves on Sunday but was beaten twice as Manchester United bested Everton 2-0. Ryan Giggs tallied from short range early while Robin van Persie scored on a breakaway as Howard made his move too early. The keeper did well to keep out in a third goal in the 65th minute when he instinctively blocked a shot with his foot. He later halted a few Johnny Evans attempts. The loss allowed Arsenal to leapfrog Everton in the league table.

Dempsey aids Bale in big day

Gareth Bale continued his strong play for Tottenham, leading the squad to a 2-1 win over Newcastle on Saturday. Clint Dempsey started and played a big part in contributing to Bale's productive day. Dempsey drew a foul 25 yards out in the fifth minute which allowed Bale the opportunity to convert the opening goal. As the match carried on, the U.S. international stayed aggressive, nearly scoring on one occasion. Bale tallied late to give the hosts a victory.

Bradley has an off day

Michael Bradley played 67 relatively quiet minutes on Sunday as Roma lost 3-1 to Sampdoria. The entire squad looked out of sorts under new coach Aurelio Andreazzoli. There will certainly be an adjustment period but right now, Roma's European aspirations look shaky.

Cameron makes cameo appearance

Geoff Cameron came on for the final six minutes on Saturday as Stoke defeated Reading 2-1. Newly signed Brek Shea did not dress for the affair.

Altidore finally cools off

Jozy Altidore started on Sunday but was stifled, picking up a yellow card in the process as Feyenoord Rotterdam beat AZ 3-1.

Jones struggles for Schalke 04

Jermaine Jones started on Saturday but did not play particularly well. The squad couldn't get anything going against Bayern Munich, losing 4-0.

Hoffenheim remains in drop zone

Both Fabian Johnson and Danny Williams played on Saturday. Johnson started and played a solid match while Williams came on in the 78th minute. Unfortunately, TSG couldn't find the net and fell 1-0 at Hannover. With the loss, Hoffenheim continues to drown in the relegation zone, eight points back of 17th placed Fortuna Dusseldorf.

Parkhurst debuts

Defender Michael Parkhurst made his first appearance for new club Augsburg, coming on in the 43rd minute of the Bundesliga outfit's 1-1 draw against Mainz. Parkhurst recently moved to Germany from Danish club FC Nordsjælland.

Cherundolo out of action due to knee surgey

Hannover 96 defender Steve Cherundolo underwent arthroscopic surgery on his left knee last week. The injury has been bothering him for some time and he has been out of action for nearly two months. The estimated recovery time is unknown at this point but it's safe to assume he will be out for at least a few weeks.

Edu continues strong play for Bursaspor

Maurice Edu started on Saturday and played well, helping his squad to a 3-0 victory over Karabukspor.

Kljestan inks extension

U.S. midfielder Sacha Kljestan signed a new three-year deal with Belgian club Anderlecht last week. The Brussels squad has been good to Kljestan, and in his three years with the club, the midfielder has seen tremendous success. He has made 35 appearances this season and scored two goals.