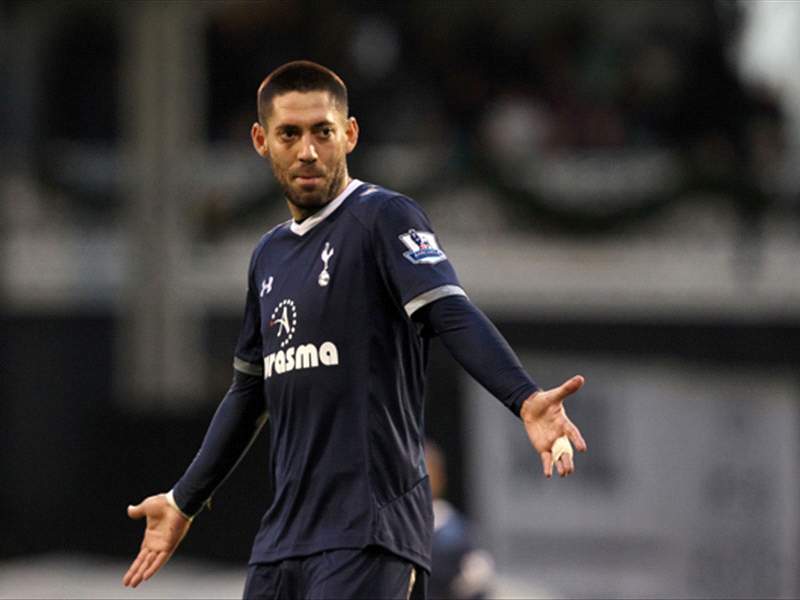 Everton splits two
Tim Howard halted a pair of shots on Wednesday as Everton nabbed a Boxing Day victory over Wigan. The hosts went up 2-0 and held on until late when Wigan halved the lead. The Toffees, however, held on for the 2-1 win. On Sunday, Frank Lampard led a Chelsea comeback to defeat Everton 2-1. The Toffees went up 1-0 early through Steven Pienaar but Lampard scored on each side of halftime to sink the hosts. Tim Howard made three stops.
Dempsey back in action
Cint Dempsey was not included in Wednesday's lineup for Tottenham due to a groin injury, as Spurs smacked Aston Villa 4-0 at Villa Park.
He returned from the injury on Saturday, making a substitute appearance as Tottenham bested Sunderland 2-1. The versatile American came on for the final 14 minutes and was lively, setting up Emmanuel Adebayor for a breakaway that he couldn't finish.
Friedel re-ups with Tottenham
In a bit of a shocking turn of events, goalkeeper Brad Friedel resigned with the London club last week. The new deal with keep him at White Hart Lane until 2014. Although Friedel has fallen behind Hugo Lloris in the pecking order, the 41-year-old seems content to remain a backup option going forward.
Cameron helps Stoke defeat Liverpool
Geoff Cameron started on Wednesday and played aggressively, picking up a yellow card as Stoke grabbed a big Boxing Day victory over Liverpool. Despite going down 1-0 within the first two minutes, Stoke rebounded and triumphed 3-1. The victory bumped Stoke up to eighth. On Saturday, Cameron did not play as he served his one match suspension due to yellow card accumulation. Stoke drew with Southampton 3-3, as the defense certainly suffered in Cameron's absence.
Villa duo continues to crumble
Brad Guzan started on Wednesday but was battered by a relentless Spurs attack en route to a 4-0 loss. Eric Lichaj was dressed but did not get on the field. On Saturday, both players started but it was a similar result as Wigan took Villa to task and prevailed 3-0. The Villains have now dropped three straight while giving up a whopping 15 goals without replay. The club sits in 17th, just one point above the relegation zone.