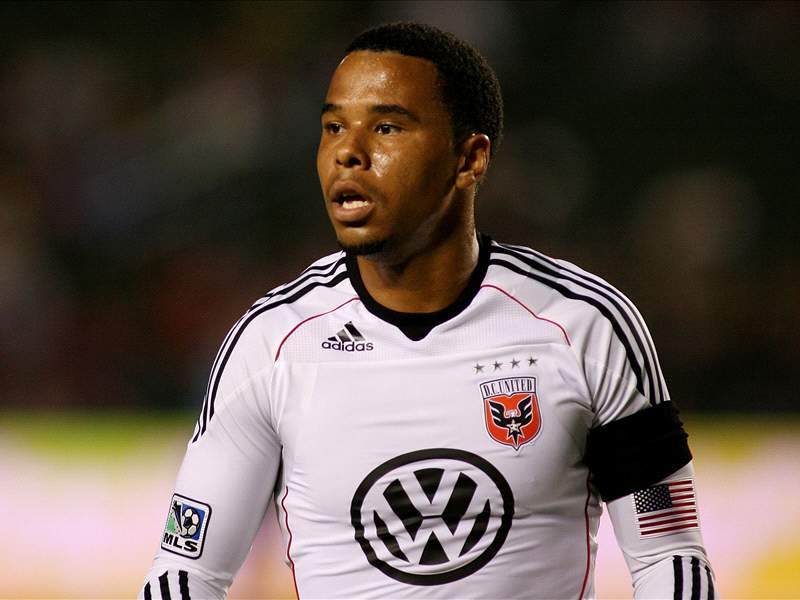 A transaction came across the wire Friday afternoon, causing a minor ripple on the American soccer radar.
Charlie Davies, of French club Sochaux, and on loan at D.C. United before that, was headed to Danish Superliga club Randers FC on a two-year deal.
Back before his fatal October 2009 car crash, most figured that by now, a Charlie Davies transfer story would necessitate major headlines. By age 26, he would've been just about ready for a big-time move, ala former U.S. teammate Michael Bradley's transfer to Italian power Roma.
Instead, Davies is making a backwards transfer, leaving France's Ligue 1 for Denmark and newly-promoted Randers. Five years after his professional career began with Hammarby in Sweden, he's back at square one.
If Davies really is desperate to reemerge as a national team option, he'd be wise to consider cultivating a more positive working relationship with Randers than he has with his previous two clubs.
Davies was a rising star at Sochaux before the catastrophic accident that left his body in shambles. Just a few months later, his relationship with the French club was in a similar state of ill-repair.
Following his omission from the U.S. World Cup squad, Davies could not accept that he wasn't ready to return to the soccer field just eight months after the accident. Instead, he blamed his club.
In an explosive interview with French radio station RMC, Davies claimed Sochaux president Alexandre Lacombe told U.S. officials he would not medically clear the striker for the tournament, which resulted in his omission from the team.
"It's a very strange situation, I feel hurt because I feel like I've been let down by my club," Davies said. "I'm very angry because I feel FC Sochaux has denied me a chance at playing in the World Cup."
Davies continued: "Of course I'm not at 100 percent now but I feel that by the time our World Cup camp starts next week I would be at a level where I can compete for one of the forward spots."
Those comments were made in May 2010. Davies did not make a game-day roster for Sochaux until Dec. 19, 2010. He didn't appear in a professional game until March 2011, which was with D.C. United.
Davies wasn't ready to play in June 2010. Not even close. With the benefit of hindsight, his comments become even more ill-advised than they were when he made them.
During his year-long loan with D.C. United in 2011, Davies started brightly, but his season eventually devolved into a pattern of underachieving on the pitch, and finger-pointing off of it.
After scoring six times in his first seven games with United, Davies scored just three times in the team's final 19 games. By season's end, he found himself on the bench more than on the pitch.
"I'm healthy. It's disappointing when you want to get the playing time to help the team win, and you only get 20, 15 minutes," Davies said late in the season. "I'm not getting a lot of time to really go out there and help the team."
Following the season, after it became apparent that the relationship – on and off the pitch – between Davies and D.C. United was untenable, the team declined to renew his loan, and sent him back to parent club Sochaux. Again, Davies couldn't keep quiet.
"I didn't understand how I go from being one of the main guys on the team for creating and scoring goals to, when the team really needs points, I was on the bench," Davies told MLSsoccer.com's ExtraTime Radio following the season.
Davies also claimed head coach Ben Olsen failed to communicate with him, which made the issue worse.
"It made it harder for me to accept the role I was presented with because there wasn't too much communication," Davies said. "It's a stinger to me when the coach doesn't think you're a player that can get you results and points, especially when I feel like I was exactly what the team was missing - putting the ball in the back of the net."
Though it's becoming increasingly clear that Davies won't blossom into the world-beater many thought he would be pre-accident, he still has the ability to be a useful player on a high level. His blistering start with D.C. proved that.
What he still appears to lack, however, is humility. His comeback from the edge of life has been remarkable, but Davies has yet to recognize his own limitations. Rather than point the finger at others, Davies only needs to look within to see where he's gone wrong in the past.
With a clean slate at a new club, a new attitude might mean the next Charlie Davies transfer story will be able to generate a few more headlines than his last one.
Follow SETH VERTELNEY on

or shoot him an

email.