EXCLUSIVE
Describing what life is like as Egypt's head coach, Bob Bradley points to a typical day of walking the streets in Cairo.
It could be any street in the massive historical city, but the scene is usually the same. Eyes from pedestrians dart toward the 53-year-old coach and, yes, traffic literally stops.
"Bradley, [Mohamed] Aboutrika," a cab driver screams as he spots Bradley walking, abruptly stopping his car in the middle of the road. "You must have Aboutrika!"
The player's name might change depending on the street but the expectations from each person he meets are always the same: Lead us to the World Cup, Bob.
In a country that is still in a revolution that started a year ago over rights such as free elections, freedom of speech and military control, soccer is the country's unifying sport. It is a vital part of the national morale. Yet, despite being the most successful team in the African Cup of Nations, winning seven times, Egypt hasn't been to the world's top soccer competition since 1990.
"Everywhere you go, every person you meet, this is the dream," Bradley explains to Goal.com in a phone interview. "That's what brings you here, the idea that we will work and do everything we can to make that happen."
Living in Egypt
Bradley and his wife, Lindsay, live in the Zamalek neighborhood of Greater Cairo. It is an affluent center-city area that has views of the Nile river and hosts museums and a spectacular opera house. It also houses one of the country's two biggest club teams, Zamalek SC (the other team being cross-city rival Al-Ahly S.C.) and the Egyptian FA.
As desirable as the location might appear, in a country that is still unstable on a political level, safety is never 100 percent assured. Bradley was not required to move to Egypt and could have lived in a remote location or in a gated community in Cairo, but the former United States manager believed that experiencing Egypt first-hand was important to acclimate to the country and appreciate its culture.
"A big part of being successful in this job is you've got to be a part of things here," Bradley said. "I didn't think it was the kind of situation that would work if I basically lived somewhere else and just flying in when there was camps or games."
"I wanted to get a sense of how things really work here. How the people are, how they think. You only get that when you totally immerse yourself," the New Jersey native added.
Bradley decided to move to Egypt during an uncertain time, but he took several precautions. It isn't often that a job opportunity requires a full security detail. Bradley had extensive conversations with the United States embassy before making a decision.
"It's always the same message: It is a very important time in Egypt," Bradley said, sharing some of his conversation with the embassy. "There are certainly times where there can be moments of political turmoil."
"That's how you grow. Not being afraid of new challenges," he added.
Follow ALEX LABIDOU on

The protests that would eventually end President Hosni Mubarak's 30-year reign last February continue to be a daily reality for Egyptians. While the country had its first parliamentary election without too many setbacks, there are still concerns about the military control over the country. Over 862 people have been killed from the country-wide protests, with Bradley's adopted city of Cairo recording the most deaths with 232.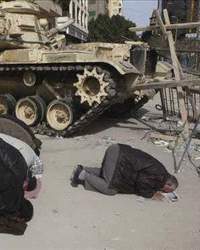 While the protests and political uncertainty continue to be the daily reality for every person living in Egypt, Bradley explained that life is normal for those who aren't directly involved.
"For most of the people who live in Cairo, I've told family and friends that at times it's a little bit like a bigger, more emotional version of some of the Wall Street protests," the coach stated.
"If you lived in a city where there was a Wall Street protest, unless you were in the protests, in the square or wherever it was happening, you would most likely read about in the news or see on TV like anyone else in the world. That's very true of the scene in Cairo."
Since moving to Egypt, Bradley has greatly enjoyed the level of welcome that he and his wife have received. In the United States, perceptions of the Middle Eastern views of Americans are usually negative. Bradley disagrees with a lot of those assumptions.
"There's a difference between the way people at times feel about U.S. policy versus how they feel about Americans," he said.
Leading the Egyptian national team
Bradley's biggest challenge so far has been getting an understanding of the Egyptian Premier League.
The league's two biggest teams are Zamalek S.C. and Al-Ahly S.C. Both sides have historically held a lion's share of the domestic trophy, combining for 47 titles over the league's 55-year history. In comparison, Major League Soccer has seen nine title winners in its 18-year history.
Bradley has spent the past several months interacting with coaches and attending matches in an attempt to gauge the competitiveness of the league. When he was coach of the U.S., Bradley says that his relationships formed from 20 years of experience were very helpful in determining what players would fit well on the international level. With Egypt, Bradley admits that he has to extensively study each game that he attends or watches.
"One of the things that you're doing is you are trying to have a picture of what a player is going to look like when you play against the best teams," he said.
Another challenge with the Premier League has been the league's scheduling. There are lengthy gaps in the fixture list anytime there is an international tournament. Even with the Egyptian Under-20 squad participating with the U-20 World Cup in Columbia, the league went on break for 40 days.
"Things get done differently here," Bradley says.
Due to protests, which forced some match cancellations, Bradley has only coached one game with the Egyptian national team since his hiring last September. It was a 2-0 loss to Brazil in Qatar. For both the coach and his players, there were some noticeable changes from their previous experiences.
For Bradley, adjusting to the language was important. Most of the players and staff speak some English; others only speak Arabic. One person who has aided Bradley greatly in his adjustment to Egypt is former U.S. goalkeeping coach Zaki Abdel Fatah.
Abdel Fatah joined Bradley's staff in Egypt and serves as one of his assistant coaches. While Bradley has learned some phrases and can sometimes understand conversations about soccer, he relies on the Egyptian-born Abdel Fatah to help get his messages across.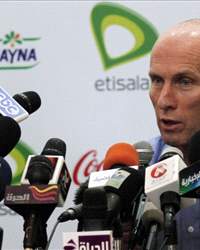 Another aspect that Bradley would have to get acclimated to was the way media organizations are run in the country. Soccer is the country's favorite sport and there is a considerable amount of coverage in all forms of media.
"People here, every move that we make, there's so much media and football is so important here. There's isn't anything that we can do that people won't notice," he revealed.
While that helps when Bradley takes a part of community functions and charities in inspiring others, sometimes the large amount of coverage leads to inaccuracies.
"I've had many situations already where there's been things that come out where I'm quoted for things that I 100 percent never said," Bradley said.
For the players, the transition is more on a personal level. They identified closely with the team's former coach Hassan Shehata, who for many was a father figure. A lot of the players attributed their success in the African Cup of Nations under Shehata in part to his strong observance of the Muslim faith. Islam was a huge part of team meetings as players and the coach prayed together before and during matches.
Whenever the team won, Shehata always made a point to highlight Islam's role in its success. Since Bradley is not Muslim, there were some concerns that he wouldn't be able to relate.
But in his early dealings with the team, Bradley believes that there is a mutual respect from both parties. He talked about how entering into games isn't different from any of his previous experiences but acknowledges that players will take momentary pauses to observe Islam and pray. Bradley has no problem with the practice.
"There is no real issue there," said Bradley. "There is a respect level that this is a part of their lives. It gets fit in but not in any way does that take away from what we're trying to do as a team."

Life after the U.S. national team
Following the 4-2 defeat to Mexico in the Gold Cup final last summer that ultimately led to his firing as head coach of the U.S., Bradley immediately began to evaluate his options.
"After I was let go by the U.S., my mind was where I could find my next challenge," he said. "I've always had an interest to coach in Europe but when you're into the summer already, then that's not the ideal time to be picking up club jobs in Europe."
When Bradley was made aware of the Egyptian FA's interest, there was a lot that went into his thought process. A close colleague of Bradley, Montreal Impact coach Jesse Marsch, remembers speaking to Bradley about the position early on.
"I was trying to encourage him" Marsch said to Goal.com. "For me, the Egypt one, more so than other things he was offered, was a unique challenge and it's a window into the bigger world of soccer. Mostly Europe."
He added: "I think that if he can do well with Egypt, which I know he will, I think what goes on in Northern Africa, Europe pays attention to. If he can now be successful with both the U.S. national team and the Egyptian national team then he'll become a manager in the higher echelons of the football world and more doors will open for him."
Considering Bradley's legacy with the U.S., it is strange that he remains a polarizing figure among soccer fans in America. He won a Gold Cup in 2007 and the U.S. easily qualified for the World Cup in South Africa, where it would finish ahead of soccer powerhouse England in the group stages. He was also the first coach to lead America into a final of a major international tournament, as he brought the team into Confederations Cup final in 2009 fresh off of a shocking 2-0 victory over Spain, ending the eventual World Cup winner's 35-game unbeaten streak.
Yet, despite those successes, Bradley's serious and detail-oriented approach never quite sold itself on some American fans and media. Criticisms grew as the team struggled in the first year of his second cycle with the team.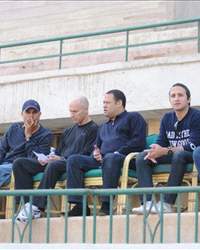 While Marsch found a lot of those assessments to be harsh, he believes that Bradley never took it personally. However, one of Bradley's former players, Chris Armas, acknowledges that if there was anything that gets to Bradley, it's the results on the field. During their time together at the Chicago Fire, Armas praised Bradley as the best coach he ever worked for, but admitted Bradley sometimes internalized losses.
"We'd have to tell him sometimes that a loss wasn't his fault, it's up to the players to succeed," Armas said.
Bradley wouldn't comment on his experiences with the U.S. national team, preferring to focus on his future in Egypt. But as he reflected on his career to date, he explained that he wouldn't have been able to get through any of it without the steadfast support of his wife Lindsay.
She was with him when he had to move several times to advance his career, she was there when he was dismissed by the U.S. and she continues to be there as he takes on the biggest challenge of his career.
"Being the wife of a soccer coach, sometimes isn't easy but she's been my greatest supporter and friend in this whole thing," he said.
He was also happy by the support of his family, including his son Michael Bradley, who was proud and excited for his father.
"Right away, Michael was excited about the opportunity and the challenge. The possibility of doing very good things here, the way we had done with the U.S.," Bradley said, reminiscing about the conversation. "He said, 'I think that's great.'"
If Bradley can carry the success that he found in both MLS and as manager of the U.S. national team to Egypt, he will be become the most ground-breaking coach in American history.
Then it will be hard for anyone to find much to criticize.