Given the next few months off for vacation and rest, many MLS stars are taking full advantage by, well, continuing to train.
Roughly a dozen MLS players will fill the yawning offseason – which stretches from November to March – by training with European clubs.
David Beckham popularized the notion that the MLS season is too truncated to maintain year-long fitness properly. He received stinging criticism for a pair of loan spells at Milan and an attempted loan with Tottenham that only ended up as a training spell.
Either Becks helped removed the stigma or there is more leniency for those not charged with serving as the league's evangelist, because none of the latest crop have received flak. Quite the opposite.
Of course, Beckham didn't invent the offseason foreign foray. Take, for example, the dominant D.C. United that won three of the first four MLS Cups. Marco Etcheverry frequently spent the winters on loan with clubs in Ecuador or Bolivia. Fellow Bolivian Jaime Moreno rejoined his old club Middlesbrough on loan in the opening months of 1998.
January 1999 saw John Harkes secure a loan stint with Nottingham Forest after sufficiently impressing during a two week trial. Nearly two years later, Ben Olsen followed for a trial at the same club. Jeff Agoos went on loan with West Bromwich Albion without making an appearances in 2000. Troy Perkins trained with Bolton in 2005 and Everton in 2006 before eventually joining Norwegian side Valerenga in 2008.
And that's just one club. Plenty of Nike Project-40 players trained in Europe during offseasons. U.S. internationals Roy Lassiter (Genoa, 1996), Alexi Lalas (Emelec, 1997) and Eric Wynalda (Leon, 1999) all went out on loan, sometimes missing chunks of the next MLS season.
Follow ZAC LEE RIGG on

or shoot him an email.
There are two key differences between the deals during the early days of the league and the current spate.
The first is the number of players involved. That'd be the doing of one Jurgen Klinsmann, who pushed players to shorten their vacations.
"U.S. head coach Juergen Klinsmann encouraged his MLS-based players to spend the off-season training overseas to enter January camp in top shape," FC Dallas said in a statement explaining the decision to let Brek Shea train with Arsenal.
New York striker Thierry Henry joined Shea with the Gunners, and cameras caught him chatting with Roger Federer at the latest Champions League match, against Borussia Dortmund. Henry showed up at his former club (he still keeps in contact with Arsene Wenger) of his own volition. Most of the U.S. internationals were either spurred on by Klinsmann or had their stints set up through the German's contacts.
Klinsmann played for Wenger for two years at Monaco. He played at VfB Stuttgart, where Juan Agudelo is. SC Freiburg coach Marcus Sorg played with Klinsmann for two years at Stuttgart, and now Perry Kitchen is at Freiburg. Kyle Beckerman's and Robbie Rogers' time with FC Kaiserslautern came thanks to Klinsmann's extensive Bundesliga contacts.
"In an effort to have USMNT players stay more fit during the MLS offseason, coach Klinsmann arranged for me to train at FC Kaiserslautern for a few weeks," Beckerman said.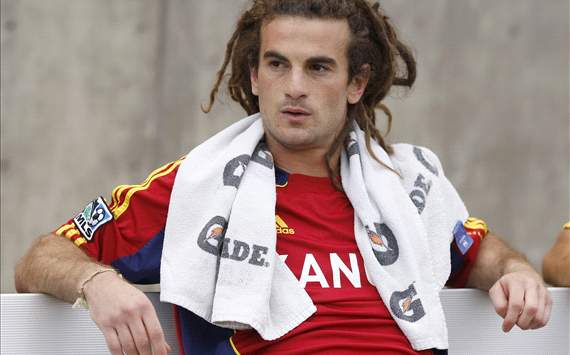 Motivation is the second distinction of the current raft of training stints. For most of the players, keeping in shape appears the sole reason for cross-Atlantic flights. In the past, similar deals had eyes squarely on potential moves. For instance, Carlos Ruiz most certainly would have stayed in England in 2004 if his trial with Wolverhampton Wanderers had become the loan intended. Ditto Mike Petke and his week-long trial with Bayern Munich in 2000.
The players in England (Bill Hamid at West Brom, Omar Salgado at Fulham, Jeff Larentowicz and Teal Bunbury at Bolton, possibly Sean Johnson with Manchester United) likely wouldn't qualify for a work permit anyway. Instead of deals, the players are looking to keep in shape ahead of a January U.S. training camp.
Klinsmann has stressed fitness with the U.S. team, bringing in specialists and monitoring heart rates and other bodily measures to improve his side's physical ability. ("We practically only practiced fitness under Klinsmann," German and Bayern Munich fullback Philipp Lahm said in his autobiography.)
While maintaining fitness, the players will also benefit from a higher standard of play.
"The more I am able to play with players of this caliber the more I learn and improve," Colorado Rapids midfielder Larentowicz said.
Salgado's coach at the Vancouver Whitecaps, Martin Rennie, spoke of how the 18-year-old's professionalism could improve in England.
Of course, the nature of these deals doesn't prevent a deal in the future, and the exposure certainly helps. Rogers is out of contract and would like to return to Europe, where he previously played for Heerenveen in the Netherlands. WBA director Dan Ashworth admitted that the club would look into Hamid's availability in January or the summer transfer window. But the main goal here is development.
"He's starting to see more of the world, a higher level with the national team, and it was important to see how good the goalkeepers of the Premiership are," Chris Megaloudis, Hamid's agent, told
Potomac Soccer Wire
. "I think he's got a new-found appreciation for the level, for his position and for the professionalism that he needs to commit himself to, to make sure he ends up as a top-level goalkeeper."
One improvement needed among national team members that Klinsmann has mentioned in interviews is a focus on a performer's diet.
"This job, if you want to do it right, is a 24/7 job, because you go go home after practice and everything you eat is important and affects how you train the next day," Landon Donovan, who spent three months under Klinsmann on loan with Bayern Munich,
told reporters Wednesday.
Having struggled with a quad injury the past few months, Donovan said he will likely eschew a loan deal during the winter break, despite excelling at Everton two years ago. George John, still on the fringes of the national team, will rest as well. John's agent, Ted Phillipakos, told Major League Soccer's official site that he had offers from Greece and England but turned them down to recharge after a "long, brutal season." The 24-year-old Dallas defender traveled to complete a deal to Blackburn this summer before the deal fell apart.
Aside from those two, nearly any other MLS player involved in the national team setup will spend at least a week in Europe.
Here's a list of players who will train with European teams during the MLS offseason:
Columbus Crew winger Robbie Rogers - FC Kaiserslautern
Real Salt Lake midfielder Kyle Beckerman - FC Kaiserslautern
New York Red Bulls striker Juan Agudelo - VfB Stuttgart
D.C. United defender Perry Kitchen - SC Freiburg
Philadelphia Union midfielder Zach Pfeffer - Hoffenheim
D.C. United goalkeeper Bill Hamid - West Bromwich Albion
FC Dallas winger Brek Shea - Arsenal
Vancouver Whitecaps forward Omar Salgado - Fulham
Colorado Rapids midfielder Jeff Larentowicz - Bolton
Sporting Kansas City forward Teal Bunbury - Bolton
(Sean Johnson could still train with Manchester United, but the details aren't finalized.)