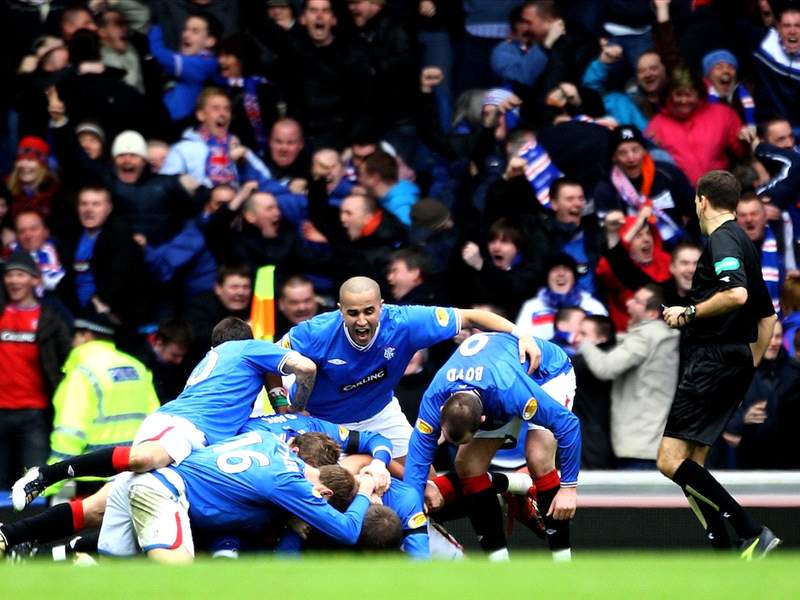 Coming off an embarrassing 4-1 loss against St. Johnstone on Tuesday, Rangers desperately needed to reassert their dominance on Saturday. While the Glasgow outfit certainly didn't overpower Hamilton Academical, they did manage to pull out a win thanks to Maurice Edu.
Edu had it going early, storming out with an attacking sense of purpose. The midfielder nearly scored within the first few minutes, but his 35-yard effort rattled the post. However, in the 11th minute, the American gave Rangers the only goal of the game when he slotted home an effort from seven yards out. Despite the hosts' early exuberance, Rangers could not build on the lead. Rangers are locked in to the Scottish Premier League title, sitting 10 points ahead of second place Celtic.
Premier League: Tim Howard, Everton
Vs. West Ham, 2-2, (90 minutes, 2 goals conceded, 3 saves)
Everton dropped two points on Sunday, blowing a lead twice as the Hammers crawled back late for a 2-2 draw. The Toffees were up early and looked even better after Howard saved Mido's penalty kick in the 37th minute. However, in the 60th minute, Manuel Da Costa leveled the score after a goalmouth scramble. Yakubu score for Everton just six minutes from time with a strong header, but victory was not to be as Aruajo Ilan rushed down the field just a minute later and put a devastating diving header past Howard.
Up Next: Wednesday April 14, away to Aston Villa, and Saturday April 17, away to Blackburn.
Brad Friedel and Brad Guzan, Aston Villa

Vs. Bolton, 0-1, (90 minutes, 0 goals conceded, 5 saves)
Aston Villa recovered from their ghastly 7-1 defeat at the hands of Chelsea last week by winning at Bolton. Ashley Young scored the game winning goal early on, and Friedel made a handful of saves to preserve the win. The 'keeper kept out shots from Tamie Cohen and Ivan Klasnic en route to his 13th clean sheet of the season.
Up Next: Saturday, home for Chelsea (FA Cup).
Clint Dempsey, Fulham

Vs. Vfl Wolfsburg, 2-1, (90 minutes)
Vs. Wigan Athletic, 2-1, (90 minutes)
Fulham continued their storybook European campaign with a win over German powerhouse Wolfsburg Thursday. Dempsey played well during the match as the Cottagers staked a 2-0 lead late until Alexander Madlung grabbed a lifeline for Wolfsburg heading into this week's second leg. On Sunday, Jason Scotland put Wigan up midway through the first half, but Fulham fought back, winning 2-1.
Up Next: Thursday, away to Wolfsburg (Europa), and Sunday, away to Liverpool.
Jonathan Spector, West Ham
Vs. Everton, 2-2, (90 minutes)
Spector aided Everton's first goal after his poor clearance found Tim Cahill, who passed to teammate Diniyar Bilyaletdinov for a short chip in. Spector managed to recover shortly after and played okay the rest of the way as the Hammers grabbed a late draw.
Up Next: Saturday, home for Sunderland.
Marcus Hahnemann, Wolverhampton
Vs. Arsenal, 1-0, (90 minutes, 1 goal conceded, 8 saves)
Hahnemann did everything in his power to keep Arsenal at bay, but eventually the title contenders prevailed 1-0. Despite falling down to 10 men after Karl Henry was sent off in the 66th minute, Wolves stayed afloat. The burley keeper halted shots from Theo Walcott and Bacary Sagna but a point was not in the cards for the visitors. Nicklas Bendtner tallied at the death with a glancing header that sailed past Hahnemann, giving Arsenal a vital win.
Up Next: Sunday, home for Stoke City.
Jozy Altidore, Hull City
Vs. Stoke City, 2-0, (25 minutes)
Altidore played the final 25 minutes on Saturday but did not do much as Stoke handed Hull a tough loss, further denting their Premiership survival hopes. Ricardo Fuller and Liam Lawrence did the damage for Stoke as Hull's attack just couldn't get any shots on target.
Up Next: Saturday, home to Burnley.
Stuart Holden, Bolton Wanderers
Vs. Aston Villa, 0-1, (DNP)
Holden, out with a broken leg, saw Bolton lose to Villa on Saturday. The midfielder is close to returning and should play again before the end of the season.
Up Next: Tuesday April 13, away to Chelsea.
Championship:

Jay DeMerit, Watford
On Tuesday, DeMerit was part of a defense that allowed three goals within a 35 minute span. Watford eventually lost to Crystal Palace 1-3. DeMerit missed Saturday's game with a slight injury but should return Monday. The squad drew 1-1 with Preston North End.
Up Next: Monday, home to WBA, and Saturday, home for Plymouth.
Frank Simek, Sheffield Wednesday
Simek did not get on during Saturday's 1-1 draw with Queens Park Rangers.
Up Next: Monday, home for Bristol City, and Saturday, away to Middlesbrough.
Kenny Cooper, Plymouth
On Tuesday, Plymouth drew 0-0 with Barnsley but Cooper only played the final two minutes of the contest. Plymouth defeated Doncaster Rovers 1-2 on Saturday. Cooper came on for the final nine minutes.
Up Next: Monday, home for Middlesbrough, and Saturday, away to Watford.
League One:

Jemal Johnson, Stockport County
Johnson played the full 90 on Saturday but missed a few chances as Stockport drew 1-1 with Walsall.
Up Next: Monday, away to Norwich City, and Saturday home for Yeovil Town.
Mike Grella, Leeds United
Grella grabbed a surprise start on Saturday, playing 75 minutes of action as Leeds lost 0-3 to Swindon Town. The young striker had a few shots on goal but did not connect. Meanwhile, the team is in serious jeopardy of losing out on automatic promotion. After a hot start to the season, they've now slipped to fourth place in the league.
Up Next: Monday, away to Yeovil Town, and Saturday, home for Southend United.
Jon-Paul Pittman, Wycombe Wanderers
Wycombe lost 1-2 to Huddersfield Town on Sunday but Pittman did show a flash of brilliance to set up his team's only goal of the match. Pittman made some outstanding moves 17 minutes from time when he beat three defenders to set up Dean Keates' goal. Although it was a consolation prize, the set up was very impressive.
Up Next: Monday, away to Walsall, and Saturday, home for Hartlepool United.
Zak Whitbread, Norwich City
Whitbread did not get off the bench on Friday as Norwich fell 3-1 to lowly Tranmere Rovers.
Up Next: Monday, home for Stockport County, and Saturday, home for MK Dons.

Meanwhile Up In Scotland…

DaMarcus Beasley and Maurice Edu, Rangers
Edu came on for the second half on Tuesday but St. Johnstone dominated Rangers 4-1. Beasley did not feature for Rangers last week.
Up Next: Wednesday, home for Aberdeen.
Matthew Braine writes the Americans in the UK piece every Monday. Contact him with your questions or comments at matthew.braine@hotmail.com or follow him on Twitter @MatthewBraine


For more on Americans abroad, visit Goal.com's dedicated page