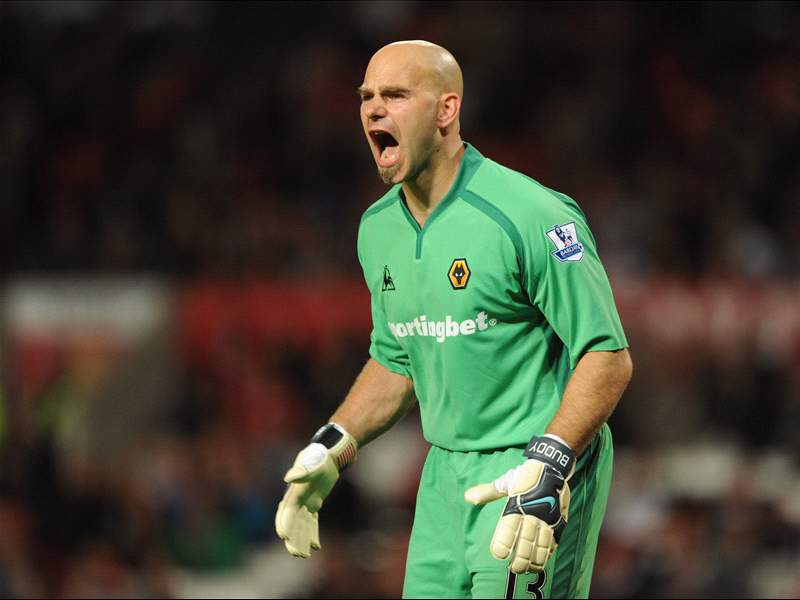 In the midst of a relegation battle, Wolves desperately needed all the points they could get last week. American Marcus Hahnemann came up big for the club at Molineux Stadium on Saturday, halting 10 shots en route to a tough 0-0 draw against Everton. The keeper stopped early efforts from Leon Osman and Louis Saha before controlling a long strike from Leighton Baines. Everton nearly claimed a winner in the end, but Hahnemann boldly dove at the feet of Dan Gosling, smothering the ball to calm the rush.
Wolves' manager Mick McCarthy heaped praise on the Seattle native after game, calling his performance "terrific" and "workmanlike."
Hahnemann was also impressive earlier in the week, producing eight saves as Wolves defeated West Ham United at Upton Park. Alessandro Diamanti tested the stopper with a 25-yard smash but the 37-year-old was equal to it, saving comfortably. The four points for the club proved to be crucial, as they now sit five points clear of the drop zone with six contests remaining.

Premier League:

Tim Howard, Everton

Vs. Manchester City, 0-2, (90 minutes, 0 goals conceded, 4 saves)
Vs. Wolverhampton, 0-0, (90 minutes, 0 goals conceded, 0 saves)
Everton defeated Manchester City on Wednesday behind Howard's strong performance in goal. The Merseyside club wasn't dominant but took advantage of their opportunities, unlike City, which squandered them. Tim Cahill and Mikel Arteta scored on each side of halftime to settle the score line at 0-2. Howard was brave on a few occasions, stopping Carlos Tevez from asserting himself. On Saturday, Everton faced a constant wall in Marcus Hahnemann and could not make the breakthrough, eventually drawing 0-0 with Wolves. Howard did record his 13th clean sheet in all competitions but was not forced into action much.
Up Next: Sunday, home for West Ham United.
Brad Friedel and Brad Guzan, Aston Villa

Vs. Sunderland, 1-1, (90 minutes, 1 goal conceded, 2 saves)
Vs. Chelsea, 7-1, (90 minutes, 7 goals conceded, 2 saves)
Friedel played an average game on Wednesday, stopping a few shots as Villa drew with Sunderland. Frazier Campbell beat Friedel early but John Carew equalized minutes later. The second stanza provided zero goals but the burly American was keen to push away a late Campbell effort in order to preserve the draw. Saturday was a day to forget for Friedel as he gave up seven goals at Stamford Bridge, with Frank Lampard netting four of the lot. It wasn't too bad early on, but a 44th minute penalty from Lampard released the flood gates. The seven goals were the most Friedel has ever given up in England.

Up Next: Saturday, away to Bolton.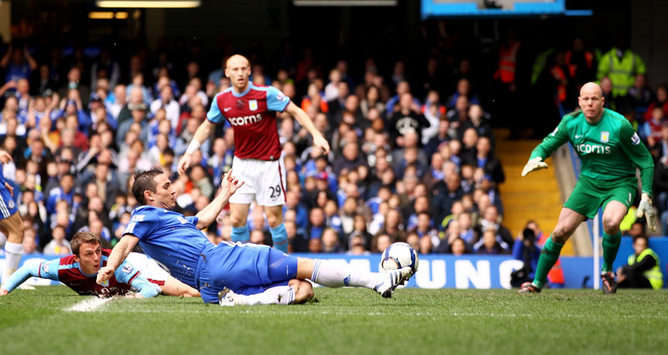 Clint Dempsey, Fulham

Vs. Tottenham, 3-1, (21 minutes)
Vs. Hull City, 2-0, (90 minutes)
Dempsey came on for the final 21 minutes on Wednesday but Spurs were already in control of the fixture, eventually defeating Fulham 3-1. The loss eliminated the Cottagers from the FA Cup. Dempsey started on Saturday, but his club faced an odd loss to Hull City. Former Fulham man Jimmy Bullard scored an early penalty goal before Craig Fagan iced the win early in the second half. Dempsey was very active but the visitors simply could not convert their chances into goals.

Up Next: Thursday, home for Wolfsburg (Europa League), and Sunday, home for Wigan Athletic.
Jonathan Spector, West Ham

Vs. Wolverhampton, 1-3, (45 minutes)
Vs. Stoke City, 0-1, (90 minutes)
Spector came on for the second half on Tuesday but could not stop the bleeding as Wolves added two goals to bury the Hammers. On Saturday, West Ham suffered their sixth straight defeat, falling 0-1 to Stoke City. Spector played the entire contest but once again the team's effort was lacking. Ricardo Fuller scored a brilliant winner in the 69th minute.

Up Next: Sunday, away to Everton.

Marcus Hahnemann, Wolverhampton
Vs. West Ham United, 1-3, (90 minutes, 1 goal conceded, 8 saves)
Vs. Everton, 0-0, (90 minutes, 0 goals conceded, 10 saves)
See above.

Up Next: Saturday, away to Arsenal.
Jozy Altidore, Hull City

Vs. Fulham, 2-0, (79 minutes)
Altidore played well on Saturday as Hull defeated Fulham 2-0. The forward drew a penalty in the 16th minute after a strong move inside the box where he was brought down by Chris Smalling. Bullard scored from the spot. Altidore continued to be aggressive, drawing another foul in the 30th minute. Fagan doubled the Tigers lead shortly after the break to secure a vital win as Hull struggle to remain in the Premiership.
Up Next: Saturday, away to Stoke City.
Stuart Holden, Bolton Wanderers

Vs. Manchester United, 0-4, (DNP)
Holden, out with a broken leg, saw Bolton lose at home to Manchester United.

Up Next: Saturday, home for Aston Villa.

Championship:

Jay DeMerit, Watford

On Wednesday, Watford gave up a late goal from Luke Varney, dropping a point at Sheffield Wednesday 2-1. DeMerit played the entire contest and the full 90 on Saturday but Watford could only muster a point against Middlesbrough as they drew 1-1. Watford is in serious danger of being relegated as they sit just four points clear of the bottom three.
Up Next: Tuesday, home for Crystal Palace, and Saturday, away to Preston North End.


Frank Simek, Sheffield Wednesday
Simek did not get on Wednesday but the Owls still defeated Watford 2-1. On Saturday, the story was the same but the team drew 1-1 with Coventry City.

Up Next: Saturday, away to QPR.

Kenny Cooper, Plymouth
Plymouth defeated Ipswich Town on Tuesday but Cooper was not selected for the bench. On Saturday, Cooper did not get off the pine as Plymouth fell 0-2 against Blackpool.
Up Next: Tuesday, home for Barnsley, and Saturday, away to Doncaster Rovers.

League One:

Jemal Johnson, Stockport County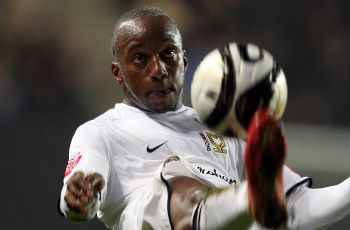 Johnson returned from a hamstring injury on Saturday but it was not a warm welcome as Stockport fell 5-0 at Millwall. The good news is that he played the whole match. The bad is that Stockport are nearly locked a relegation spot at season's end, sitting on just 24 points through 38 games, dead last in the league. Luckily for Johnson, he'll likely return to MK Dons next season.
Up Next: Saturday, home for Walsall.

Mike Grella, Leeds United
On Monday, Leeds fell 0-2 to Millwall but Grella remained planted on the bench. However, on Saturday, Grella was flung into action after just 15 minutes, replacing Luciano Becchio, who was forced off after receiving an accidental kick to the face. The young striker played admirably but wasted a late effort with a weak shot. The visitors were dealt a tough blow late as Chris Martin scored the only goal of the match in the 89th minute for Norwich City.
Up Next: Saturday, home for Swindon Town.

Jon-Paul Pittman, Wycombe Wanderers
Pittman played the final 10 minutes on Saturday as Wycombe drew 1-1 with Colchester United. He nearly scored right after coming on. Teammate Gareth Ainsworth tallied in the 90th to salvage a point.
Up Next: Saturday, home for Huddersfield Town.

Zak Whitbread, Norwich City
Whitbread returned from a calf injury on Saturday but did not get off the bench as Norwich defeated Leeds. The club is now 11 points clear of Leeds at the top of League One.
Up Next: Friday, away to Tranmere Rovers.
Meanwhile Up In Scotland…

DaMarcus Beasley and Maurice Edu, Rangers
Both Edu and Beasley started on Wednesday but Rangers crashed out of the Scottish Cup, losing 1-0 after Dundee United's David Robertson tallied in the 90th minute. On Saturday, Edu played the final 28 minutes as Rangers rebounded with a 1-4 win over Heart of Midlothian. Beasley was on the bench but did not get on.
Up Next: Tuesday, away to St. Johnstone, and Saturday, home for Hamilton Academical.
Extra Time:
** Everton Reserves
Anton Peterlin
and
Cody Arnoux
have received trials at Scottish club Motherwell. The pair played for the Motherwell reserves on Tuesday and impressed Manager Craig Brown during the 2-1 win over Celtic. Both Americans have been unable to break into David Moyes' first team squad so a move to Motherwell would be beneficial.
Matthew Braine writes the Americans in the UK piece every Monday. Contact him with your questions or comments at matthew.braine@hotmail.com or follow him on Twitter @MatthewBraine


For more on Americans abroad, visit Goal.com's dedicated page