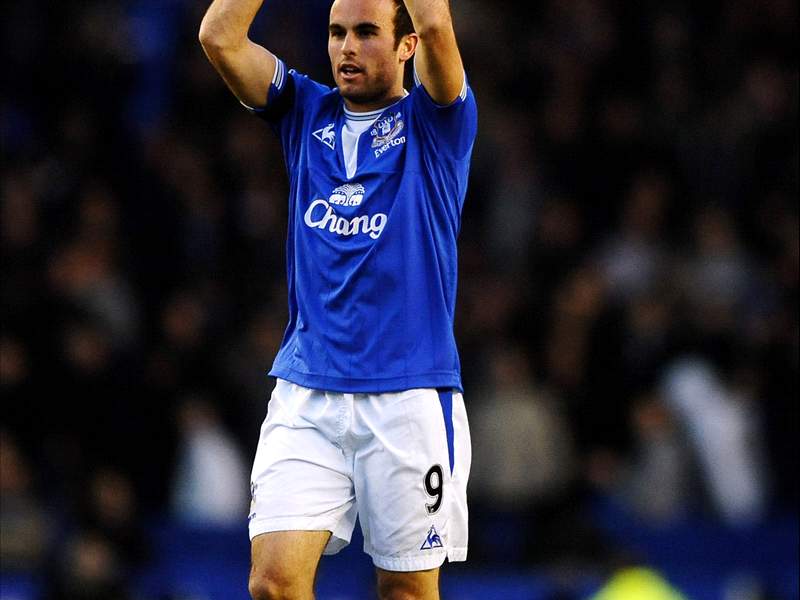 Although Landon Donovan may be just weeks away from returning to MLS, there is no doubt the impact he's had in England has been eye-opening. In just 12 games for the Merseyside club, Donovan has chipped in two goals and three assists. On Sunday, Donovan came on in the 70th minute and scored 12 minutes later with a strong finish after a poor clearance from Hull. Just three minutes later, Donovan teed up Jack Rodwell, who put in Everton's fifth goal of the match.
Tim Howard had a pretty easy time handling the Tigers. Apart from Tom Cairney's first half strike, Howard wasn't troubled too much, keeping out a pair of shots en route to a convincing victory. The Toffees sit seven points out of the sixth spot and with 10 games remaining, can surely push for a European place.

Premiership:

Tim Howard and Landon Donovan, Everton

Vs. Hull City, 5-1, (Howard: 90 minutes, 1 goal conceded, 2 saves. Donovan: 20 minutes, 1 goal, 1 assist)
See above.

Up Next: Saturday, away to Birmingham.

Brad Friedel and Brad Guzan, Aston Villa

Vs. Sunderland, 2-4, (Friedel: 90 minutes, 2 goals conceded, 4 saves)
Aston Villa booked a spot in the FA Cup semi-final on Sunday, defeating Reading at the Madejski Stadium. John Carew netted a second half hat-trick, capping a terrific comeback after the Villains found themselves down 2-0 at halftime.

Up Next: Saturday, away to Stoke City.
Clint Dempsey, Fulham

Vs. Tottenham, 0-0, (DNP)
Dempsey, still injured, was not involved in Saturday's FA Cup tie against Spurs. Keeper Heurelho Gomes made several fine saves, earning Fulham a replay on March 24.
Up Next: Thursday, away to Juventus (Europa), and Sunday, away to Manchester United.
Jonathan Spector, West Ham
Vs. Bolton, 1-2, (90 minutes)
The Hammers dropped a disappointing fixture on Saturday, losing at home to Bolton. Some poor defending left West Ham 0-2 down after just 16 minutes and they never fully recovered.
Up Next: Saturday, away to Chelsea.
Marcus Hahnemann, Wolverhampton

Vs. Manchester United, 0-1, (90 minutes, 1 goal conceded, 3 saves)
Hahnemann did his best to keep Manchester United at bay on Saturday, but eventually the league title-holders prevailed. Paul Scholes tallied his 100th Premiership goal in the 72nd minute, beating both Hahnemann and Wolves in one fell swoop.
Up Next: Saturday, away to Burnley.
Jozy Altidore, Hull City

Vs. Everton, 5-1, (28 minutes)
Altidore came on to play the final 28 minutes against Everton but despite his solid effort, the Tigers were crushed 5-1. The young striker had a few shots on goal but neither troubled Howard much.
Up Next: Tuesday, away to Sunderland, and Saturday, home for Wigan Athletic.
Stuart Holden, Bolton Wanderers

Vs. West Ham, 1-2, (DNP)
Holden was making a strong push for first team action just a week ago but broke his leg against Netherlands midweek and will return to Houston in order to heal. The injury should sideline the midfielder for six weeks, making him eligible to return to Bolton before season's end. With a bit of luck, he should be fully fit for the World Cup. As mentioned above, Bolton defeated the Hammers on Saturday.
Up Next: Saturday, away to West Ham.

Championship Round-Up:

Jay DeMerit, Watford
DeMerit played the full 90 minutes as Derby defeated Watford 2-0. The club is now without an away victory since October.
Up Next: Tuesday, away to Swansea City, and Saturday, home for Peterborough United.
Frank Simek, Sheffield Wednesday
Simek was relegated to the bench on Saturday but came on in the 46th minute as Wednesday defeated Leicester City 2-0 on the strength of a Leon Clarke double.
Up Next: Tuesday, away to WBA, and Saturday, away to Swansea City.

Kenny Cooper, Plymouth
On Saturday, Cooper did not get on as Plymouth drew 1-1 with Preston North End.
Up Next: Tuesday, away to QPR, and Saturday, away to Coventry City.

League One:

Jemal Johnson, Stockport County
Johnson came off with an injury after 39 minutes on Tuesday as Stockport fell 1-0 to Bristol Rovers. On Saturday, Johnson did not feature as Stockport fell 2-0 at Charlton.
Up Next: Saturday, home for Gillingham.

Mike Grella, Leeds United
Grella was not selected as a substitute on Saturday but Leeds still got a point against Brentford thanks to a late goal from Jermaine Beckford that knotted the score at 1-1.
Up Next: Tuesday, away to Tranmere Rovers, and Saturday, away to Southampton.
Jon-Paul Pittman, Wycombe Wanderers
Pittman had a few nice shots on goal against Carlisle United but could not make the breakthrough as both sides came up empty during the 0-0 draw.
Up Next: Saturday, away to Oldham Athletic.
Zak Whitbread, Norwich City
Norwich City easily handled Yeovil Town 3-0 on Saturday but Whitbread did not play due to a lingering calf injury.
Up Next: Saturday, away to Huddersfield Town.

Meanwhile Up In Scotland…




DaMarcus Beasley and Maurice Edu, Rangers
Both Americans were involved in Saturday's 3-1 over St. Mirren. Beasley started, played well, and had a few scoring chances. Edu supplanted him in the 64th minute and played okay as Rangers moved 13 points clear at the top of the SPL table.
Up Next: Tuesday, away to Kilmarnock, and Sunday, home for Dundee United (Scottish Cup).
Extra Time:
**American
Ryan Guy
netted the opening goal for St. Pats Athletic as the Irish club defeated Galway United 2-0.
Matthew Braine writes the Americans in the UK piece every Monday. Contact him with your questions or comments at matthew.braine@hotmail.com or follow him on Twitter @MatthewBraine


For more on Americans abroad, visit Goal.com's dedicated page