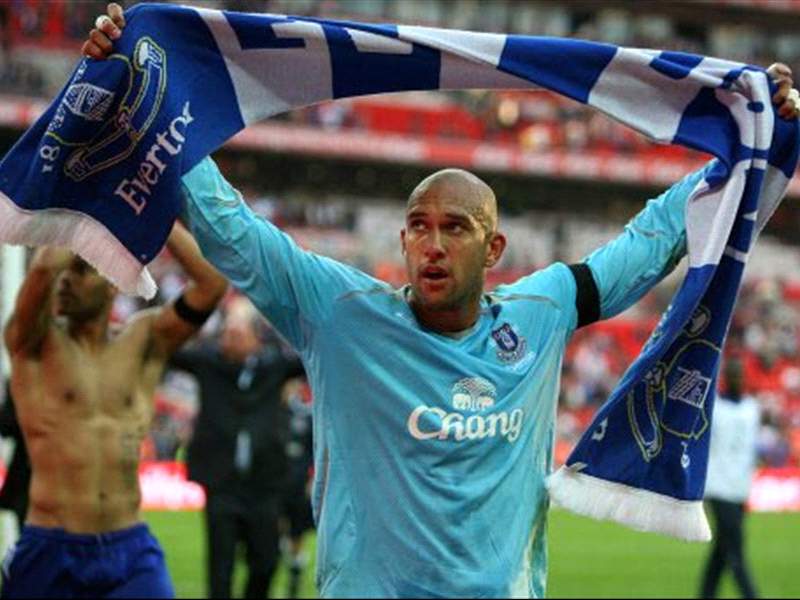 Everton claimed two big victories last week, grabbing a leg up against Sporting Lisbon before downing Manchester United a few days later with some surprisingly good play from a duo of youngsters.
The Toffees earned a victory in its first leg against Sporting, going two up early before a late foul earned the visitors a crucial away goal. Sylvain Distin was shown a red card and penalty try for Miguel Veloso ensued, which he coolly converted past Tim Howard. The return fixture next week is now a bit more challenging given Distin's absence and Lisbon's away goal cushion. Howard was solid throughout, saving six shots while only allowing the penalty strike. Donovan created a few chances but was not really involved in either goal.
On Saturday, the Toffees shocked the boys from Manchester as Dan Gosling and Jack Rodwell proved their mettle, each scoring late to break a 1-1 tie and hand Everton a surprising 3-1 win. Dimitar Berbatov beat Howard early to open the scoring but Everton rebounded strongly, scoring just three minutes later to equalize. Donovan was involved in Everton's second goal of the game when he threaded a ball to Steven Pienaar, who found Gosling for the game winner. Rodwell tallied at the death to seal the victory.
Since acquiring Donovan, the Toffees have six victories against two defeats and one draw. Not too shabby.

Premiership: Tim Howard and Landon Donovan, Everton.

Vs. Sporting Lisbon, 2-1, (Howard: 90 minutes, 1 goal conceded, 6 saves. Donovan: 90 minutes)
Vs. Manchester United, 3-1, (Howard: 90 minutes, 1 goal conceded, 6 saves. Donovan: 90 minutes)
See above.

Up Next: Thursday, away to Sporting Lisbon (Europa League), and Sunday, away to Tottenham.
Brad Friedel and Brad Guzan, Aston Villa

Vs. Burnley, 5-2, (Friedel: 90 minutes, 2 saves, 2 goals conceded)


Steven Fletcher shocked Villa early with a 10th minute goal, but the Birmingham outfit responded with five straight goals including a brace from Stuart Downing as Aston Villa went on to win 5-2. Martin Paterson added a goal in injury time for Burnley when the win was already in hand. The Villains will try and capture their first trophy since winning the League Cup back in 1996 when they take on Manchester United in the Carling Cup finale on Sunday.
Up Next: Wednesday, home for Crystal Palace (FA Cup), and Sunday, vs. Manchester United (Carling Cup Final)
Clint Dempsey, Fulham
Vs. Shahktar Donetsk, 2-1, (DNP)
Vs. Birmingham, 2-1, (DNP)
Fulham took the early lead in their match up against Donetsk, as Zoltan Gera scored inside the first three minutes. Bobby Zamora put in the winner in the second half but the visitors grabbed an important away goal before that. On Sunday, Zamora scored very late to help the Cottagers grab a 2-1 win over Birmingham. Dempsey did not feature in either contest due to injury.
"His progress is good and he is working very hard to recover," coach Roy Hodgson said of Dempsey's recovery. "The medical staff is very happy with him."
Up Next: Thursday, away to Shakhtar Donetsk (Europa League), and Sunday, home for Birmingham.
Jonathan Spector, West Ham
Vs. Hull City, 3-0, (90 minutes)
Spector played a solid game on Saturday, logging 90 minutes as West Ham destroyed Hull City 3-0. It was clinical at times as the Hammers held the possession advantage and scored in the 3rd, 59th, and 90th minute.
Up Next: Tuesday, away to Manchester United.
Marcus Hahnemann, Wolverhampton
Vs. Chelsea, 0-2, (90 minutes, 0 saves, 2 goals conceded)
Hahnemann was undone by Didier Drogba twice on Saturday as Chelsea easily rolled past Wolves. The keeper only saw those two shots on goal but could not stop either as the hosts were simply out of the Wolves' league.
Up Next: Saturday, away to Bolton.
Jozy Altidore, Hull City

Vs. West Ham, 3-0, (35 minutes)
Surprisingly, Amr Zaki started ahead of Altidore, despite the 20-year-old's positive form. Altidore came on for the final 35 minutes but could not get anything going as the Tigers were convincingly outplayed by West Ham.
Up Next: No matches this week, next match Sunday, 3/7 away to Everton.
Stuart Holden, Bolton Wanderers

Vs. Wigan Athletic, 0-0, (DNP)
Vs. Blackburn, 3-0, (DNP)
On Wednesday, Holden was not listed on the subs list as Bolton drew with Wigan 0-0. Come Sunday, it was more of the same as Blackburn easily handled Wanderers 3-0. Holden has been recovering from injury as of late but hopefully he'll see some pitch time in the next few weeks.
Up Next: Wednesday, away to Tottenham (FA Cup), and Saturday, home for Wolverhampton.


Championship Round-Up:

Jay DeMerit, Watford
Tuesday's matchup against QPR was postponed due to a waterlogged pitch, while on Saturday Watford drew 2-2 with Scunthorpe. The Hornets led 2-1 after grabbing a late goal from John Eustace but Jay DeMerit was adjudged to have handled in the penalty area, allowing Gary Cooper to power home the heartbreaking equalizer in injury time.
Up Next: Saturday, home for Newcastle.

Frank Simek, Sheffield Wednesday
Simek played the full 90 in each of last week's fixtures but the Owls dropped both games, losing 0-2 to Doncaster and 0-1 against Ipswich. Wednesday is now dangerously close to the relegation zone after dropping three of their last four.
Up Next: Saturday, away to Reading.

Kenny Cooper, Plymouth

Cooper came on for the final 29 minutes on Tuesday against Swansea and helped the squad grab a late draw. Damien Johnson equalized the score at 1-1 in the 87th minute for Plymouth. On Saturday, the striker came on for the final 14 minutes but did not do much as Plymouth drew 1-1 with Leicester City.

Up Next: Saturday, away to Sheffield United.

Devann Yao, Ipswich Town

Yao played a Reserves fixture on Wednesday, helping Ipswich defeat Southend United 6-1. In league play, Ipswich fell 3-1 to Peterborough and defeated Wednesday 0-1.

Up Next: Tuesday, away to Scunthorpe, and Saturday, home for Bristol City.


League One:

Jemal Johnson, Stockport County
Johnson scored a superb winning goal on Saturday, launching in a 25-yard effort in the 77th minute to give Stockport a 0-1 win over Exeter City. It was the American's second goal of the season and first since September.

Up Next: Tuesday, away to Swindon Town, and Saturday, home for Wycombe Wanderers.

Mike Grella, Leeds United
Grella came on with 30 minutes remaining on Tuesday but Leeds fell to Walsall 1-2. It was Leeds' first home league defeat in 26 matches. On Saturday, Grella did not get on as Leeds drew 1-1 with Brighton.

Up Next: Tuesday, home for Oldham Athletic, and Saturday, away to Huddersfield Town.


Jon-Paul Pittman, Wycombe Wanderers
Pittman came on for the final two minutes on Saturday but the 1-0 win over Millwall was already in the bag.
Up Next: Tuesday, home for Southampton, and Saturday, away to Stockport County.

Zak Whitbread, Norwich City
Whitbread, still hobbled by a calf injury, did not suit up as Norwich fell 0-2 against Southampton.

Up Next: Tuesday, home for Southend United, and Saturday, away to Oldham Athletic.

Meanwhile Up In Scotland…

DaMarcus Beasley and Maurice Edu, Rangers
Rangers' fixture against St. Johnstone on Saturday was postponed due to a frozen pitch. On Wednesday, in Scottish Cup action, the hosts narrowly escaped the Ibrox with a 1-0 win over St. Mirren to progress in the tournament. Edu got the starting nod and played the full 90 minutes while Beasley did not suit up.

Up Next: Saturday, home for Celtic.
Matthew Braine writes the Americans in the UK piece every Monday. Contact him with your questions or comments at matthew.braine@hotmail.com or follow him on Twitter @MatthewBraine


For more on Americans abroad, visit Goal.com's dedicated page