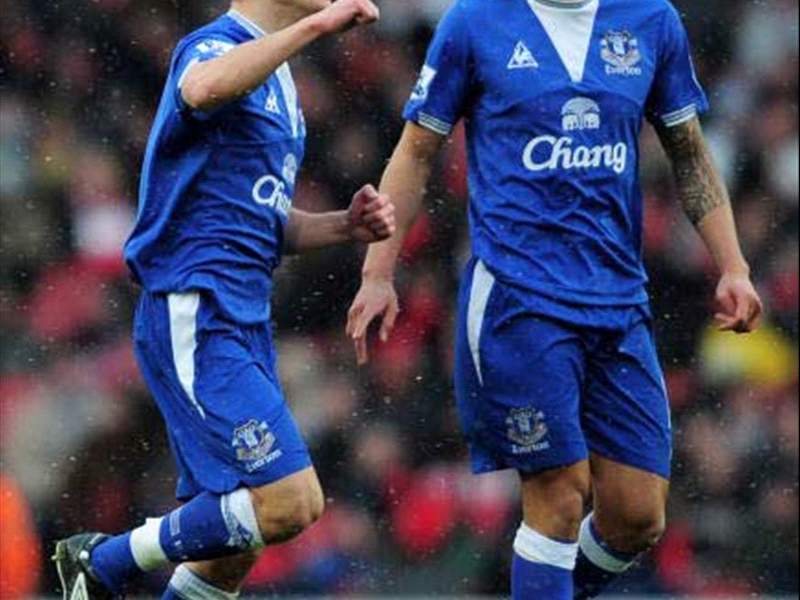 ARSENAL

Almunia: 6 -
Not a goalkeeper who inspires confidence in his defenders. Made a hash of a throw out to Sagna late in the first half which left his team-mate exposed. Did well to deny Vaughan a third goal late on.

Sagna: 6.5 -
Clobbered by Pienaar after Almunia's poor throw out in the first half. He charged forward with menace in a decent display.

Vermaelen: 6.5 -
Took an early knock which took him a while to recover from. Had a chance late on which was brilliantly blocked by Neville in the danger area.

Gallas: 6 -
An action packed day for the defender who was out-jumped by the smallest man on the pitch for Everton's opening goal. Nearly scored himself shortly afterwards and appeared to pull up with an injury but played on for the remainder.

Traore: 5.5 -
Lost his balance and positioning too often as he was tormented by Donovan all afternoon.

Diaby: 6.5 -
Created Rosicky's last gasp equalizer with a galloping run into the heart of the Everton half.

Nasri 6: -
A quiet afternoon from the Frenchman who was restricted by a well organized Everton side who denied him space. Did play a beautiful ball through to Eduardo in the first half but the striker had strayed into an offside position.

Denilson: 7 -
Will claim the goal although it clearly came off Osman. Went close with a shot in the 70th minute before being stretchered off after collapsing with nobody around him.

Ramsey: 5.5 -
A disappointing day from the youngster who was subdued and unable to replace his display against West Ham last weekend.

Arshavin: 6.5 -
Involved in the build up play for Arsenal's opening goal he dropped deeper to see more of the ball as the game wore on.

Eduardo: 6.5 -
Set up Denilson for his goal and went on a jinking run when he broke into the box and appealed for a penalty in the first half. Quiet in the second 45 minutes like most of the rest of his side.
Substitutes
Rosicky: 6 -
Had a huge slice of luck for his goal as he tried to adapt to the pace of the game after coming on.
Vela: 6 -
Not on long enough to make a real impression.


Merida: - N/A

EVERTON

Howard: 6.5 -
Powerless for Arsenal's two deflected goals in a reasonable display where he was less tested than his opposite number.

Baines: 7 -
His dramatic acrobatic clearance denied Gallas a certain goal in the first half. Used his left foot to good effect from set-pieces.

Heitinga: 7.5 -
Strong and assured in his tackling in the Everton penalty area. His brave block denied Arshavin in the dying stages when it looked like his side were on course for a famous victory but it wasn't to be.

Neville: 7.5 -
Relished playing against Arsenal like he used to do in his Man Utd days. Neville's long throws caused trouble in the Arsenal defense and he made a superb double block as his side were holding on.

Neill: 6.5 -
Seemed to suffer a lack of communication with his goalkeeper and was unlucky that his body deflected Rosicky's late late equaliser.

Donovan: 8 -
An excellent performance from the on-loan American. Delivered a corner kick which even his best buddy David Beckham would have been proud of for Everton's first goal. Held the ball up well and had the measure of Traore.

Cahill: 7.5 -
Always aggressive and committed he dropped back to help his side out. Went on a great run in the second half which deserved better while his deft pass set up Everton's second.

Pienaar: 7.5 -
Took his goal beautifully as he chipped Almunia with a classy finish and fizzed with intent throughout.

Osman: 7 -
The smallest man on the pitch rose best to nod the toffees first goal. Scored at both ends as he got in the way of Denilson's strike.

Fellaini: 7.5 -
Curbed his natural attacking instincts to take up a more defensive role where he was crisp in his tackling and put manners on Eduardo with one particular cruncher.

Saha: 6.5 -
Had the ball in the back on the net early on which was disallowed and looked lively in the first half. Faded later on and still continues to stray offside far too often.
Substitutes
Bilyaletdinov: 6.5 -
Replaced Donavan and assumed his role of giving Traore grief.

Vaugan: 5.5 -
Could and indeed should have done better with his opportunity to make it three when he was in an identical position to Pienaar's goal.
Patrick Reilly, Goal.com
For the latest news and updates from Goal.com, follow our Twitter account!