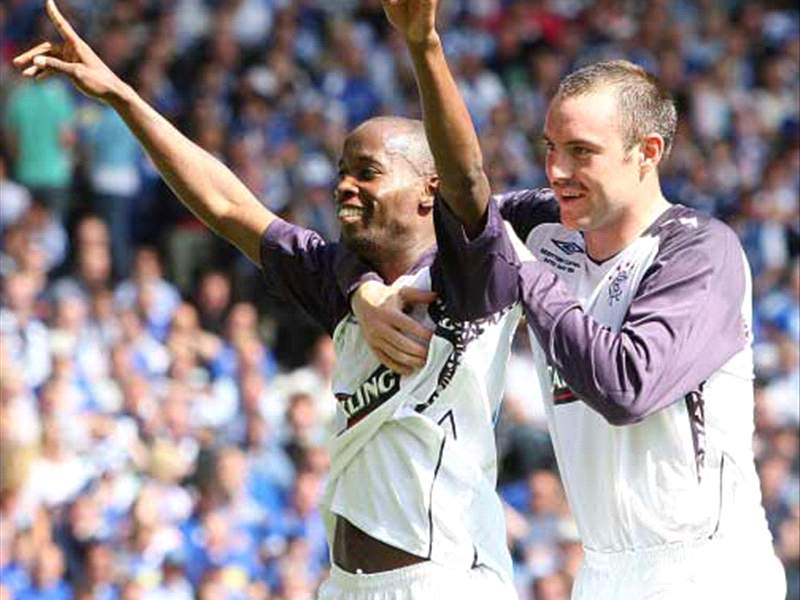 By Matthew Braine
Beasley scored his first goal since the 2008 Scottish Cup final on Tuesday as Rangers thrashed Dundee United 3-0. The winger opened his scoring account with a beautiful 20-yard strike in the 26th minute which gave Gers the 1-0 lead. Beasley then assisted on the third goal when he cut back a nice ball for Kenny Miller, who slotted home easily in the 75th.
It was more of the same on Saturday as Rangers destroyed Motherwell 6-1 at the Ibrox. Beasley started once again and provided another dose of scoring and giving. The U.S. international scored the fifth goal for Rangers when he put in a short strike in the 84th minute. Just four minutes later he turned provider when he laid one off for Kyle Lafferty, who put the ball through the 'keeper's legs.
This is quite a turn around for Beasley. Last season saw him battle injuries and feature only minimally for Rangers, and this season started even worse as he was omitted often. However, Beasley has started four straight games and has appeared in eight consecutive for the Glasgow outfit. During that time he has scored twice and dished out four assists. Rangers are also 6-2 during that span.
On another note, Landon Donovan will join Everton on loan come January. After poor spells with Bayer Leverkusen and Bayern Munich, this may be the Galaxy star's last chance to prove his mettle overseas.

Premiership: Tim Howard, Everton.

vs. BATE Borisov, 0-1, (DNP)
vs. Birmingham, 1-1, (90 minutes, 0 saves, 1 goal conceded)
For the first time in a long time, Howard did not start for Everton, letting Carlo Nash get the nod. With the Toffees already through to the knockout stages, Everton fielded a much younger side and were beaten. Everton drew Sporting Lisbon in the Europa League draw and will begin their tie in February. On Sunday, Everton dominated Birmingham but could only muster a 1-1 draw. Howard wasn't even forced into a save, as the visitors only uncorked six shots all day, but was beaten in the 22nd minute by Sebastian Larsson. Everton have struggled so far this season and, although their European play has been solid, they sit just two points from the relegation zone.
Up Next: Saturday, away to Sunderland.
Anton Peterlin and Cody Arnoux, Everton.
The Reserves don't play again until January 5 against Hull.
Brad Friedel, Aston Villa

vs. Sunderland, 0-2, (90 minutes, 2 saves, 0 goals conceded)
vs. Stoke City, 1-0, (90 minutes, 0 saves, 0 goals conceded)
Friedel didn't have to put much work in on Tuesday as Villa ran off with a two-goal win courtesy of James Milner and Emile Heskey. The Black Cats were certainly aggressive during the match but could not find the net, only unleashing two shots on goal, each of which was saved by the burly American. Saturday was more of the same for Friedel as Stoke couldn't seem to hit the target against Villa. John Carew came on and scored a late winner for the Villains and you'd be hard-pressed to find an easier pair of clean sheets like Friedel had last week. Aston Villa now own a two point lead over fifth-place Spurs and sit nervously in the final Champions League spot.
Up Next: Sunday, away to Arsenal.
Brad Guzan, Aston Villa
Guzan backed up Friedel last week.
Clint Dempsey, Fulham

vs. FC Basel, 2-3, (20 minutes)
vs. Manchester United, 3-0, (90 minutes, 1 assist)
Dempsey came on midway through the second half on Wednesday and set up the eventual game winner in the 77th minute. Fulham, leading 2-1 and needing a win to advance to the knockout stages of the Europa League, grabbed the winning goal when Dempsey chipped a great ball to Stephen Kelly to put in a cross that Zoltan Gera slotted into the net. Fulham drew Shakhtar Donetsk in the next round and will play the first tie in February. On Saturday, Fulham shocked Manchester United at Craven Cottage, thrashing the champions 3-0. Dempsey was very active and nearly set up an early goal, but the eventual try was saved. However, he set up the second goal of the match when he sent a short ball to Bobby Zamora, who torpedoed one in.
Up Next: Saturday, home against Tottenham.
Eddie Johnson, Fulham
Johnson did not appear for Fulham last week.
Jonathan Spector, West Ham

vs. Bolton, 3-1, (DNP)
vs. Chelsea, 1-1, (DNP)
Spector was on the bench but did not get on as the Hammers lost to Bolton Tuesday. On Saturday, West Ham earned an impressive, if not improbable, 1-1 draw against Chelsea. Spector was not involved as he remained on the pine. With the draw, the Hammers remain one point out of the league's bottom, currently occupied by Portsmouth.
Up Next: Saturday, home against Portsmouth.
Marcus Hahnemann, Wolverhampton

vs. Manchester United, 3-0, (90 minutes, 7 saves, 3 goals conceded)
vs. Burnley, 2-0, (90 minutes, 5 saves, 0 goals conceded)
Mick McCarthy fielded a very poor side for Tuesday's contest against Manchester United, basically handing the hosts a victory from the first kick. Hahnemann was blistered from the start and the visitors didn't have much of a chance to recover. Hahnemann played well on Sunday, netting a clean sheet to hold up Burnley at home. Wolves received goals from Kevin Doyle and Nenad Milijas to catapult up to 12th position in the table.
Up Next: Saturday, away to Liverpool.
Jozy Altidore, Hull City

vs. Arsenal, 3-0, (DNP)
Altidore was curiously left out of Hull's squad for Saturday's crushing defeat in London. Chalk it up as an aberration as he had been getting steady playing time up until this point.
Up Next: Sunday, home against Manchester United.

Championship Round-Up:

Jay DeMerit, Watford
DeMerit played the full 90 minutes on Saturday but fell 2-1 at Peterborough United.
Up Next: Saturday, home for Nottingham Forest.

Frank Simek, Sheffield Wednesday
Simek came on for the final 36 minutes on Saturday but the Owls were already trailing 2-0 at that point. Wednesday went on to lose to Swansea City by that exact score line and have now lost five straight league fixtures, dropping them into the bottom three.
Up Next: Saturday, home for Newcastle.

League One:

Jemal Johnson, Milton Keynes Dons
Johnson was not involved in Tuesday's 4-1 win over Hereford United. The win moves the Dons into the Southern Section final of the Johnstone's Paint Trophy tournament where they'll play Southampton. On Saturday, the Dons fell 0-1 against Brentford. Johnson was on the bench but did notsee pitch time.
Up Next: Saturday, home for Stockport County.
Mike Grella, Leeds United
Grella got the start on Tuesday and helped set up the first goal as Leeds defeated Accrington Stanley 2-0 to advance in the Johnstone's Paint Trophy tournament. Leeds will play Carlisle United in January in the Northern Section final. Leeds defeated Southampton 1-0 on Saturday, but Grella did not get off the bench.
Up Next: Tuesday, home against Hartlepool United.
Jon-Paul Pittman, Wycombe Wanderers
Pittman came on for the final 37 minutes and helped Wycombe earn a 2-2 draw against Oldham.
Up Next: Saturday, away to Yeovil Town.

League Two:

Eric Lichaj, Lincoln City
Lincoln's match with Hereford was postponed after freezing conditions made the pitch unplayable.
Up Next: Saturday, home for Chesterfield.
Seb Harris, Northampton Town
Saturday's contest was postponed due to an unplayable pitch. Blame it on the snow as it froze sections of the field overnight.
Up Next: Saturday, home against Dag & Red.

Meanwhile Up In Scotland…

DaMarcus Beasley and Maurice Edu, Rangers
(See above)
Up Next: Sunday, away to Hibernian.
Matthew Braine writes the Americans in the UK piece every Monday. Contact him with your questions or comments at
matthew.braine@hotmail.com
For more on Americans abroad, visit Goal.com's dedicated page