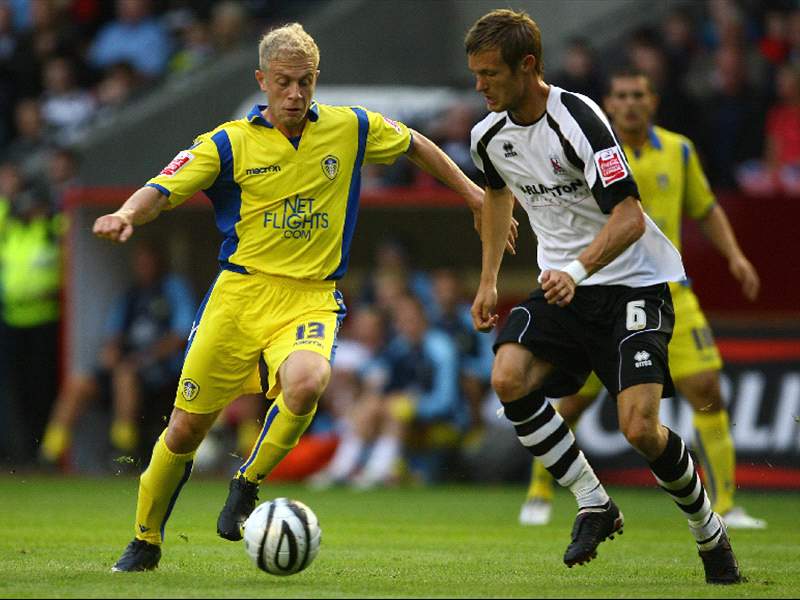 By Matthew Braine
Mike Grella only played 14 minutes on Tuesday and wasn't introduced until the 106th minute during extra time against lowly Kettering Town. Yet the underused Duke product immediately made his presence known, scoring the winning goal in the 108th minute and another just eight minutes later as Leeds definitively dominated the second period of extra time to send the visitors away 5-1.
Leeds had been tied 1-1 going into the extra 30 minute session, a replay fixture that Leeds couldn't seem to shake. Grella finally put the hosts ahead for good when Leigh Bromby set up the striker. He added his second after Tresor Kandol headed one in. Finally, Grella set up Jermaine Beckford, who scored the fifth and final goal of the match.
With the victory, Leeds progress to the third round of the competition but will face a mountain in Manchester United. Grella has now scored three of his four goals this season in FA Cup matches.

Premiership:

Tim Howard, Everton.
vs. Chelsea, 3-3, (90 minutes, 4 saves, 3 goals conceded)
Everton notched a vital draw at Chelsea on Saturday, tallying three goals, all in wacky fashion. Their first goal came when Petr Cech's attempted save saw the ball go off his back and into goal. Yakubu's strike was put it after the ball rolled off Ricardo Carvalho and onto the striker's boot. Finally, facing a 3-2 deficit, Everton grabbed the equalizer when Didier Drogba attempted to clear the ball with a header, only to have it bounce off Louis Saha's back and into the net. On the flip side, all of Chelsea's goals were quite nice, as both of Drogba's strikes were expertly placed, while Nicholas Anelka's goal was pure class. Howard had very little chance of stopping any of the three goals and played okay on the day.
Up Next: Thursday, home for BATE Borisov, and Sunday, home for Birmingham.
Anton Peterlin and Cody Arnoux, Everton.
The Reserves don't play again until January 5 against Hull.
Brad Friedel, Aston Villa
vs. Manchester United, 0-1, (90 minutes, 4 saves, 0 goals conceded)
Villa grabbed an impressive victory at Old Trafford on Saturday, their first since 1983, as Gabriel Agbonlahor's first half strike proved to be enough to defeat the hosts. Friedel was sharp throughout the contest, although he only needed to make a handful of saves due to several Manchester miscues. With the victory, the Villains move into the top four of the Premiership.
Up Next: Tuesday, away to Sunderland, and Saturday, home for Stoke City.
Brad Guzan, Aston Villa
Guzan played the back-up role on Saturday.

Clint Dempsey, Fulham
vs. Burnley, 1-1, (90 minutes)
Dempsey played a good match on Saturday but the visitors were undone by a Wade Elliot strike in the 60th minute, leaving Fulham with only a share of the points at Turf Moor. Early on, it was the American who set up Erik Nevland with a golden opportunity but the Norwegian's strike was saved. Dempsey tried a long drive later in the first half that nearly hit the back of the net; however, it was Bobby Zamora who gave Fulham the lead in the 50th minute. Ultimately, the Cottagers could not produce a winner despite a Dempsey header being cleared off the line just after they opened the scoring through Zamora.
Up Next: Wednesday, away to FC Basel, and Saturday, home for Manchester United.
Eddie Johnson, Fulham
Johnson did not appear for Fulham last week.
Jonathan Spector, West Ham
vs. Birmingham, 1-0, (DNP)
Spector was on the bench but did not get on as Lee Bowyer's second half strike earned the hosts a 1-0 win over the Hammers. The London club is in the relegation zone and, although there are plenty of matches left, news that former star striker Dean Ashton will have to retire is certainly not going to boost team morale.
Up Next: Saturday, away to Birmingham.
Marcus Hahnemann, Wolverhampton
vs. Tottenham,0-1, (90 minutes, 7 saves, 0 goals conceded)
Hahnemann kept his first clean sheet of his Premiership season, blanking Spurs and helping Wolves earn their first victory at White Hart Lane since 1973. The keeper was solid throughout, stopping Jermain Defoe several times along with the late stop of a Tom Huddlestone attempt.
Up Next: Tuesday, away to Manchester United, and Sunday, home for Burnley.
Jozy Altidore, Hull City

vs. Blackburn, 0-0, (24 minutes)
Altidore came on as a second half substitute and made an impact quickly, drawing what looked to be a clear penalty inside the box. However, the referee penalized Altidore for diving, robbing the Tigers a chance at a winner.
Up Next: Saturday, away to Arsenal.

Championship Round-Up:

Jay DeMerit, Watford
On Monday, DeMerit came on as a second half substitute and helped inspire Watford to a 3-1 win. Knotted at 1-1 come halftime, the hosts dominated the second stanza to grab a needed win. Saturday, DeMerit made his first start since August on Saturday but could not stop Derby from grabbing a late win through a set piece header.
Up Next: Saturday, away to Peterborough United.
Frank Simek, Sheffield Wednesday
Simek was not involved in either of the Owls matches last week, both losses. First, Wednesday dropped a 1-0 decision at Doncaster before falling 3-0 at Leicester City. The Owls are in the relegation zone after dropping their last four fixtures.
Up Next: Saturday, home for Swansea City.

League One:

Jemal Johnson, Milton Keynes Dons
Johnson, still a bit banged up, was not included in the side for Saturday's loss at Leyton Orient.
Up Next: Tuesday, away to Hereford United (JPT) and Saturday, home for Brentford.
Mike Grella, Leeds United
Grella did not get on for Saturday's 0-0 draw with Brentford.
Up Next: Tuesday, home for Accrington Stanley (JPT) and Saturday, home for Southampton.
Jon-Paul Pittman, Wycombe Wanderers
Pittman came on for the last 10 minutes of Saturday's contest at Carlisle but could not get either of his shots in the net as the visitors fell 1-0.
Up Next: Saturday, home for Oldham Athletic.
League Two:

Eric Lichaj, Lincoln City
Lichaj started and played the full 90 minutes as Lincoln fell 1-3 at home to Rochdale.
Up Next: Friday, away to Hereford United.
Seb Harris, Northampton Town
Harris, the 22-year-old product out of Michigan, has made two appearances for Northampton this season, both as a substitute. The striker was on the bench during Saturday's 1-1 draw against Port Vale but looks to be on the verge of some playing time.
Up Next: Saturday, away to Darlington.

Meanwhile Up In Scotland…

DaMarcus Beasley and Maurice Edu, Rangers
Beasley got the start on Wednesday but only played the first half as Sevilla knocked off Rangers 1-0. The Scottish outfit finished their campaign without a single victory in six group matches. On Saturday, things were a bit brighter for both club and player as Beasley started and played 73 minutes as Rangers easily defeated St. Johnstone 3-0. Beasley provided the assist for the first goal as he fed Kris Boyd to open up the scoring within the first minute. Beasley was continually active during the match, involving himself in nearly every attack, while having a hand in every goal. He also had a few great kicks blocked away from goal.
Up Next: Tuesday, away to Dundee United, and Saturday home for Motherwell.
Matthew Braine writes the Americans in the UK piece every Monday. Contact him with your questions or comments at
matthew.braine@hotmail.com
For more on Americans abroad, visit Goal.com's dedicated page