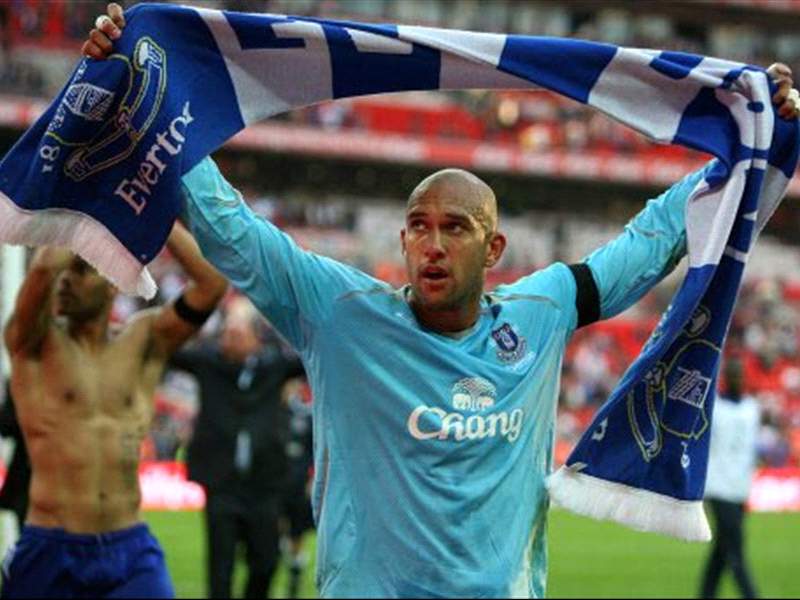 By Matthew Braine
Everton were certainly not favored going into Sunday's contest with Tottenham and, after Spurs went up 2-0 early in the second half, things looked particularly bleak. However, Louis Saha and Tim Cahill tallied within the last 12 minutes to even the score line, before a dreaded penalty kick was awarded two minutes into stoppage time. Defender Tony Hibbert brought down Wilson Palacios, allowing Jermain Defoe a chance to net the winner from the spot. The shot was poorly placed directly at Howard, who made no mistakes handling the save en route to preserving a quality draw at home.
Howard made a handful of fine saves outside of his penalty heroics. He twice denied Defoe earlier in the match before repelling Peter Crouch's strong try. Earlier in the week, Howard kept a clean sheet as Everton progressed into the knockout stage of the Europa league with a 1-0 win over ARK Athens. The stopper made nine saves in some rough and rainy conditions.
The Toffees had raced out early through Diniyar Bilyaletdinov, who scored after six minutes. Everton controlled the match but Howard faced an onslaught late, rallying to make a few nice saves.
Premiership: Tim Howard, Everton.

Vs. AEK Athens, 0-1, (90 minutes, 9 saves, 0 goals conceded)
Vs. Tottenham, 2-2, (90 minutes, 6 saves, 2 goals conceded)
(See above.)
Up Next: Saturday, away to Chelsea.
Anton Peterlin and Cody Arnoux, Everton.
The fixture against Burnley was postponed due to a waterlogged pitch. The Reserves don't play again until January 5 against Hull.
Brad Friedel, Aston Villa

Vs. Portsmouth, 2-4, (DNP)
Vs. Hull City, 3-0, (90 minutes, 9 saves, 0 goals conceded)
Friedel was mostly a spectator on Saturday as Villa ate up Hull easily 3-0. Hull didn't even force a save from Friedel as their attack never really got on track. The Villains sit just one point out of fourth place, on 26 points in the fifth position.
Up Next: Saturday, away to Manchester United.
Brad Guzan, Aston Villa
Vs. Portsmouth, 2-4, (90 minutes, 7 saves, 2 goals conceded)
Guzan got the Carling Cup start on Tuesday and helped Villa advance to the semifinal round with a victory. The Villains went down early after an own goal from Stiliyan Petrov but responded with three unanswered strikes. Guzan did well to supplant Friedel in goal and has allowed just two goals in his three starts Carling Cup starts this year.
Clint Dempsey, Fulham

Vs. CSKA Sofia, 1-0, (30 minutes)
Vs. Sunderland, 1-0, (90 minutes)
Fulham still have a chance of reaching of the knockout stage of the Europa league as they beat CSKA on Thursday. Dempsey came on as a second half sub but didn't do too much. They'll have to beat FC Basel next week in order to advance. On Sunday, Bobby Zamora scored an early winner to give Fulham three points. Dempsey had a few nice chances during the contest but did not convert.
Up Next: Saturday, away to Burnley.
Eddie Johnson, Fulham
Johnson did not appear for Fulham last week.
Jonathan Spector, West Ham
Vs. Manchester United, 0-4, (90 minutes)
The Hammers got destroyed by Manchester United on Saturday, losing by four goals. Spector had trouble handling United's high powered attack and ultimately the rest of the squad wasn't up to task either.
Up Next: Saturday, away to Birmingham.
Marcus Hahnemann, Wolverhampton
Vs. Bolton, 2-1, (90 minutes, 7 saves, 1 goal conceded)
Don't look now, but Hahnemann is back to racking up saves in the EPL. Wolves won their first game in eight on Saturday, thanks in large part to Hahnemann's strong performance in goal. The 'keeper stopped long range efforts from Matt Taylor and Ivan Klasnic before denying a close range try from Taylor. Johan Elmander beat Hahnemann late, but the defensive stalwart held off a potential equalizer from Klasnic, giving Wolves the win.
Up Next: Saturday, away to Tottenham.
Jozy Altidore, Hull City
Vs. Aston Villa, 3-0, (54 minutes)
Altidore, along with the rest of his teammates, was uninspiring on Saturday as the Tigers fell 3-0 at Villa Park. The former New York Red Bull made a few attempts at goal but struggled as the lone striker.
Up Next: Saturday, home against Blackburn.

Championship Round-Up:

Jay DeMerit, Watford
DeMerit was dressed and on the bench for Saturday's contest with Newcastle but did not get on as Watford fell 2-0.
Up Next: Monday, home against QPR and Saturday, home against Derby County.
Frank Simek, Sheffield Wednesday
Simek was not involved in Saturday's 0-2 loss to Reading.
Up Next: Tuesday, away to Doncaster Rovers and Saturday, away to Leicester City.
League One: Jemal Johnson, Milton Keynes Dons
Johnson has been a bit banged up recently and was not involved in the Dons' 3-2 loss against Millwall or the 2-2 draw with Yeovil Town. The clubs has slipped further out of promotion contention recently and now sit in ninth place.
Up Next: Saturday, away to Leyton Orient.
Mike Grella, Leeds United
Grella only played four minutes last week, coming on as a substitute during Leeds' 2-0 win over Oldham. He was active but didn't do enough to get on the pitch during the club's 2-2 draw with Huddersfield Town.
Up Next: Tuesday, home against Kettering Town (FA Cup) and Saturday, away to Brentford.

Jon-Paul Pittman, Wycombe Wanderers
Pittman didn't get off the bench during Wycombe's 1-0 loss at Southampton but came on late during the Stockport County contest and helped Wanderers grab a 2-1 win.
Up Next: Saturday, away to Carlisle United.

League Two:

Eric Lichaj, Lincoln City
Lichaj started and played the full 90 minutes in both of last week's games. First, Lincoln City lost 1-2 to Port Vale but on Saturday; then, Lichaj helped the club earn a clean sheet and a 0-0 draw with Crewe Alexandria.

Up Next: Saturday, home against Rochdale.

Meanwhile Up In Scotland…

DaMarcus Beasley and Maurice Edu, Rangers
Beasley played the final 28 minutes on Saturday and drew a penalty just four minutes into his stint when he was brought down in the box. Kenny Miller converted the spot kick as Rangers padded their lead and went on to win 3-1. This is encouraging playing time for Beasley and the fact that he made a big impact is even better going forward.
Up Next: Wednesday, away to Sevilla (Champions League) and Saturday, home against St. Johnstone. Matthew Braine writes the Americans in the UK piece every Monday. Contact him with your questions or comments at
matthew.braine@hotmail.com
For more on Americans abroad, visit Goal.com's dedicated page