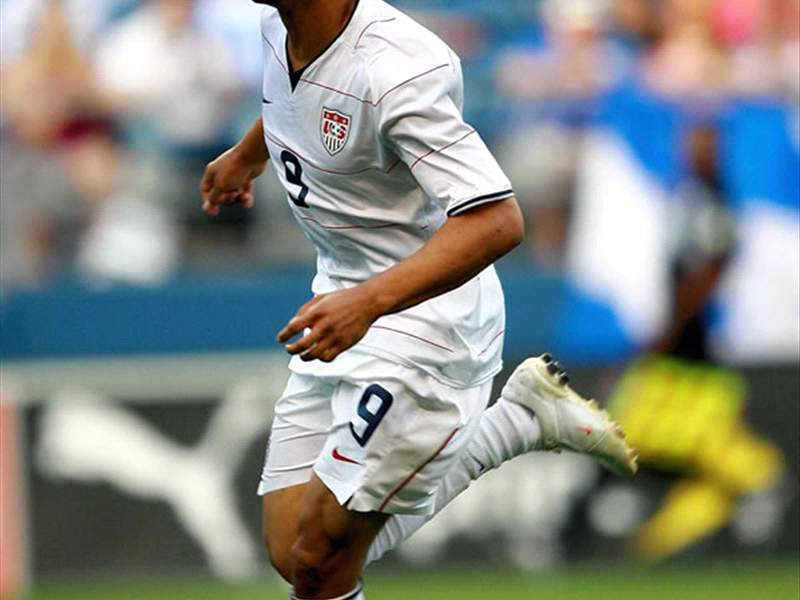 The official word has come down today that Charlie Davies is headed to France to join Ligue 1 side Sochaux. The striker has been impressive with the U.S. National Team this summer and has now secured a move to one of the top leagues in Europe.
"I'm really looking forward to the opportunity," Davies said in a press conference ahead of the Gold Cup match with Haiti on Saturday. "It's pretty much the same situation as when I went to Hammarby. They want me to step in right away and really help the team."
Davies has proven to be a very efficient striker in his time with Hammarby, netting 21 times in 56 matches, and will now get to try his hand against stiffer competition.
"I was able to score a lot of goals," Davies said of his time in Sweden. "They were able to come out and see me. They were very impressed with the way I played and I think they're also impressed with my speed."
The 23-year-old also spoke exclusively to Goal.com and clarified his situation with his new team as it stands right now.
"I haven't spoken to the coach," he said. "I've only spoken to the sporting director a couple of times. He's expressed his happiness in signing me and how important I will be for the team and how they want to see me develop into a big time player. He said hopefully he wants to sell me on to PSG or Marseille later in my career. They want to use me as a striker and keep continue doing the things that I have been doing. They want to develop me further with my first touch and holding up the ball and becoming a more well rounded striker."
At the press conference U.S. National Team coach Bob Bradley also spoke about Davies and his maturation as a player.
"He's matured a lot in the last few years," Bradley said. "You can start to see improvement in the way he goes about being a professional. You start to see good improvement in terms of his thinking on the field, moving, knowing how to combine with his teammates.
"Maturation is a big part of it. When a player makes a decision to leave school and go to Europe. You're not always sure what you're in store for. But along the way you start to get a sense of how you need to train every day, what the games are like, how you need to handle things in order to be on the field and be a regular and be somebody that the team counts on. I think there's a process and I think that's helped Charlie a lot."
Davies should sign his contract with the club next week, but with everything already in place it seems as though there is no chance of the deal falling through. Davies is following in the footsteps of fellow U.S. National team members like Carlos Bocanegra, and Oguchi Onyewu who have all seen at least some time in France's Ligue 1.
Allen Ramsey, Goal.com
With reporting from Goal.com Magazine editor Greg Lalas.
For more on American players in Europe visit Goal.com's Americans Abroad page.