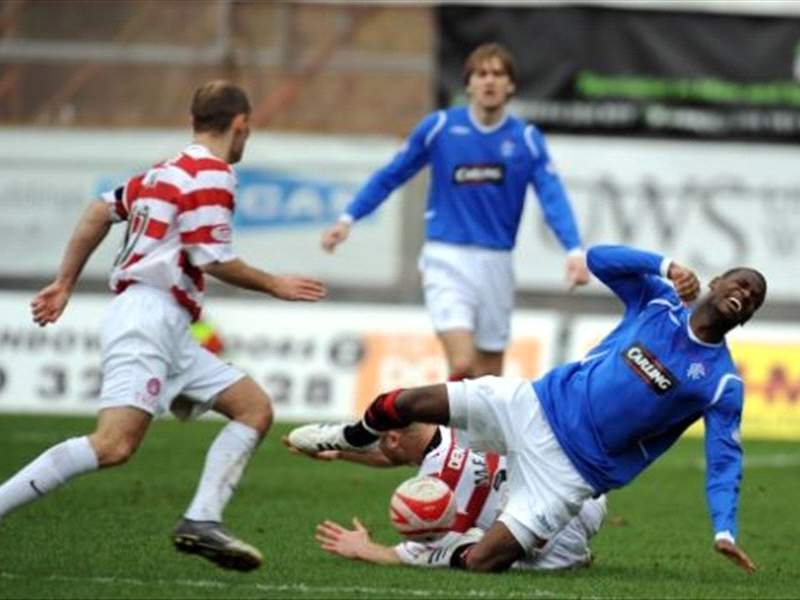 By Matthew Braine
After recapping the American accomplishments during the 2008/09 Premiership campaign last week, we'll now focus on the players in Scotland and other English leagues.
Scottish Premier League:

Maurice Edu, Rangers
16 Games, 2 Goals.
While Edu got off to a slow start for Rangers, he came up extremely strong over the final two months of the season and helped the club steal the SPL title from Celtic in the process. The former Toronto FC star began the season playing for the reserves while his American teammate DaMarcus Beasley struggled for consistent playing time. However, the roles reversed late in the season as Beasley's time was curtailed by inconsistency and injuries while Edu started nine of the final 10 matches for the club. He scored two goals during that span and both, coincidentally, wound up being eventual match winners. They came against St. Mirren on April 8 and on April 19 against Hibernian. The midfielder did not miss a minute of time during his two month run and was instrumental in helping Rangers win eight of their final nine Premier League fixtures. Rangers also took home to Scottish Cup, but Edu was not included in the side due to a niggling injury. It's hard to imagine Edu not beginning next season as regular first team player after finishing this season on such a high.
DaMarcus Beasley, Rangers
12 Games, 1 Assist.
Beasley had a dreadful second season with Rangers. After providing six goals and four assists in 20 appearances last season, Beasley's production was barely visible this time around, as injuries and spotty play derailed his playing time and eventually his role altogether. Although Beasley is still a capable player, reports indicate that the winger is not in the club's long term plans and despite Rangers' prestigious history and reputation, Beasley will surely choose playing time over empty trophies. While it's possible that Beasley could regain a role with Rangers, don't be surprised to see the 27-year-old back in the Netherlands where he scored 17 goals over two seasons for PSV Eindhoven between 2004-2006.
Championship:

Marcus Hahnemann, Reading
35 Appearances, 16 Clean Sheets.
It was a sad ending to an even more depressing campaign for Hahnemann as he was released from the squad following Reading's exit from the Championship playoffs at the hands of Burnley. The 'keeper kept 16 clean sheets for the Royals despite missing nearly three months with an injury suffered against Blackpool on December 9. Hahnemann allowed just seven goals over his final nine appearances for the club, but the Royals went goalless in five of those contests and were handled easily in the playoffs. The defensive stalwart had some brilliant showing during the season including two clean sheets in the closing weeks of the season. He blanked both Derby County and Norwich with nine and seven save performances respectively. The 36-year-old also recorded 13 saves in a clean sheet victory over Championship title winners Wolverhampton in September and put up a virtuoso 10 save performance during a 0-0 draw with Queens Park Rangers. Hahnemann played over seven years and made over 300 appearances for Reading and helped lead the club to a 2006 Championship League title. There is no doubt that he will catch on with another English club.
Eddie Johnson, Cardiff City
33 Games, 2 Goals, 4 Assists.
Johnson was loaned to Cardiff from Fulham before the start of the season and, although he had some ugly performances, Johnson also had some brilliant ones and became sort of a folk hero by the end of the campaign. The striker improved as the season strolled along and when he finally notched his first English goal on March 7 against Doncaster Rovers, the fans at Ninian Park went berserk. Johnson also tallied on April 8 against Derby County. Both goals were scored during Cardiff victories. Although the former Kansas City Wizard came off the bench for the majority of the season and only logged a handful of accomplishments, he still managed to cop the "Magic Moment" award for his first goal in British football. He was also a close runner-up to Jay Bothroyd in the Cardiff City Media Department Player of the Year Award race which is decided by text votes from supporters. Johnson is expected back at Fulham for next season and they'll need him, as the Cottagers will embark on their own European adventure in the newly dubbed Europa League.
Jay DeMerit, Watford
37 Games.
DeMerit really had a tough season. He nursed nagging injuries and yet, still managed to play in most of the squad's matches while proving to be a quality defender. Watford finished in 13th place, right in the middle of the pack, which is fitting as they had a rather dull and average campaign. Despite a subpar year, the captain still managed to take home the Club Ambassador of the Year Award for his work in the community, which is an especially noteworthy prize for a foreigner.
Frank Simek, Sheffield Wednesday
6 Games.
Devastating and pesky injuries crippled Simek's campaign as he only made six appearances for the Owls all season. The defender, whose squad finished 12th, will hope to put this year's bad dream behind him next season. Although he had a quiet and frustrating season, it's important to remember that Simek was rumored to be heading to a Premiership club before the start of the 2008/09 season, so the talent and drive is there. Now, he just needs his body to cooperate.
League One:

Zak Whitbread, Millwall
44 Games, 1 Goal, 1 Assist.
Whitbread was a defensive dynamo all season and helped lead Millwall to the brink of the Championship, but after defeating Leeds in the first round of the playoffs, Scunthorpe United was able to rise above and claim the final promotion spot. The 25-year-old helped preserve 13 clean sheets for the club and even scored a winning goal in an FA Cup fixture on January 13 when he struck home an 86th minute winner against Crewe Alexandra. However, in the end, time was fleeting for Millwall and despite a courageous battle, they fell 2-3 to Scunthorpe in the promotion finals riding a Matthew Sparrow hat-trick. Whitbread is rumored to be inciting interest from Rangers and Sunderland, but at this time that's all it is, a rumor. However, it's clear that Whitbread's talents would surely be useful at a higher level than League One.
Jemal Johnson, MK Dons
37 Games, 6 Goals, 10 Assists.
Although Johnson's playing time dwindled over the last few months of the season, when he was in the squad, he was very effective. The New Jersey native had a seven match run early in the season in which he scored four goals and dished out five assists, resulting in five Dons victories. One of those contests was a December 20 fixture against Leeds United and boy did Johnson come to play as he created every goal during the 3-1 win. On January 31, Johnson notched a double and provided an assist during a 3-5 win at Cheltenham Town. The Dons were defeated on penalties during the first round of the promotion playoffs after finishing the regular season in third place. Sadly, Johnson got the Marcus Hahnemann treatment from MK Dons as he was also released at the end of the season. Reports indicate that both club and player are at fault for not being able to strike a new deal but, nevertheless, the gifted striker will be looking for new work next season. During his two seasons with the club, Johnson amassed 15 goals and 18 assists. At just 24-years-old, his future is the still bright and he should catch on with another squad.
Mike Grella, Leeds United
12 Games.
Grella burst onto the scene in a reserves fixture back in January when the former Duke University All-American scored a hat-trick for Leeds. The striker went on to continue his scoring habits for the reserves while also seeing first team action as a substitute. Although Grella did not score during his appearances for the club, he was always available and thrown into the fire down the stretch as the manager clearly had confidence in the New York native. Leeds finished fourth during the season and fell to Millwall in the promotion playoffs, but with a young and strong core, they should make another run at promotion next season. Expect Grella to a key cog in the attack during the upcoming campaign as his eye for goal is first class.
Discuss Americans playing abroad in the Goal.com Forums.
Matthew Braine's feature "Americans in the UK" appears every Monday on Goal.com. He can be reached at matthew.braine@hotmail.com