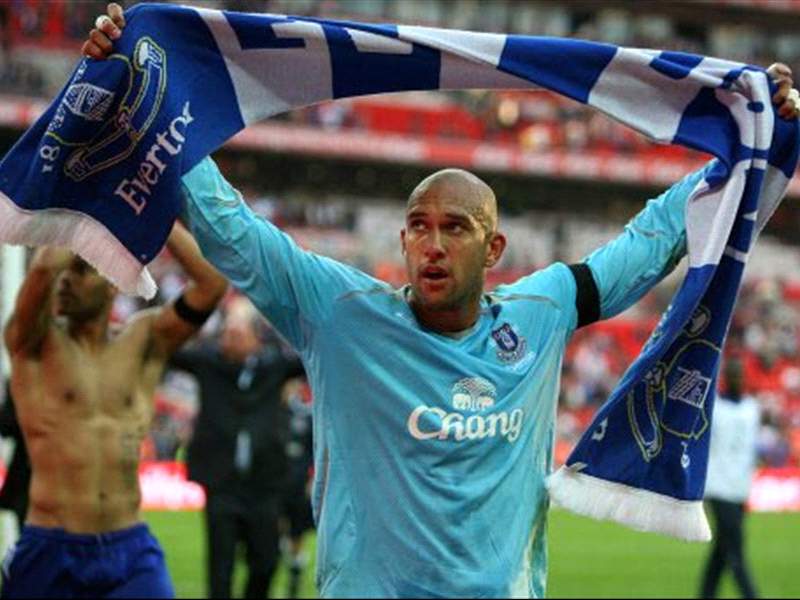 By Matthew Braine
Everton were clearly not the favorites going into Sunday's semifinal against league leaders Manchester United. However, Alex Ferguson opted to go with some of his younger and inexperienced players and the Toffees were able to weather the storm through injury and extra time until a penalty shootout became the final decider.
After Tim Cahill missed the opening kick for Everton by blasting his shot over the bar, Tim Howard came up huge by saving a weak shot from Dimitar Berbatov using only his legs. Leighton Baines then gave the Toffees a 1-0 advantage before Rio Ferdinand stepped up looking to even the score. However, the American stopper was well up to the task, blocking a strong shot from the world class defender. Phil Neville and James Vaughn added two more while Nemanja Vidic and Anderson tallied for United. It all came down to England International Phil Jagielka and the defender did not hesitate, blasting the winning strike past Ben Foster to send the Merseyside club into the FA Cup finals for the first time in 14 years.
Howard's clutch saves cannot be touted enough. He thoroughly outplayed his counterpart and certainly stung Manchester United fans who remember him making key saves for them just four years ago. His outstanding performance gives him the opportunity to win another FA Cup winners medal. The 'keeper became the first American to accomplish such a feat when he started in goal for the 2004 Manchester United team that won the FA Cup.
Everton last won the FA Cup in 1995 when they toppled United 1-0. They'll face Chelsea at Wembley next month.

Premiership:

Tim Howard, Everton
vs. Manchester United (FA Cup), 0-0 (4-2 on Penalties) 90 minutes, 0 goals conceded in open play, 5 saves.
(See Above)
Up Next: Wednesday, away to Chelsea and Saturday, home to Manchester City.
Brad Friedel, Aston Villa.
vs. West Ham United, 1-1, 90 minutes, 1 goal conceded, 5 saves.
The Champions League hopes that looked so promising just two months ago now look bleak for Villa, who dropped two crucial points at home to West Ham on Saturday. After Emile Heskey gave the hosts an early lead, the Villains held strong, fighting off several attacks from the visitors. Friedel was sharp late when he made a great stop of a Luis Boa Morte shot but the breakthrough finally arrived in the 85th minute. With just five minutes remaining, Diego Tristan headed in the equalizing goal by steering in a Kieron Dyer shot that was always going wide of the net. Villa now sit seven points behind Arsenal for fourth place and don't look like the European threat that everyone was buzzing about back around the New Year.
Up next: Saturday, away to Bolton.

Brad Guzan and Eric Lichaj, Aston Villa
Guzan backed up Friedel on Saturday while Lichaj remained idle as the Villa Reserves don't resume play until later this month.

Clint Dempsey, Fulham
vs. Middlesbrough, 0-0, 90 minutes.
On a day when the Fulham attack remained stagnate at times, 'keeper Mark Schwarzer came up huge, stopping key shots down the stretch to give the Cottagers a respectable draw on the road. Dempsey had a chance to steal a late victory but his 83rd minute effort went just wide.
Up next: Saturday, home to Stoke.
Jonathan Spector, West Ham
vs. Aston Villa, 1-1, DNP
Spector, still recovering from that scary concussion two weeks ago, did not suit up for the Hammers on Saturday. With five matches remaining and seven points back of sixth place Everton, the London club has a chance at Europe but they'll need a major slip up from the Toffees in order to secure that spot.
Up next: Saturday, home to Chelsea.

Championship Round-Up:

Marcus Hahnemann, Reading
Reading continued their winless streak last week, grabbing two draws. First, on Monday, after staking a 0-2 lead over Blackpool, Hahnemann could not stop Keith Southern or Dudley Campbell as they fought back to split the points at home. Then, on Saturday, Hahnemann made eight stop but the Royals once again could not get on the score sheet as they drew 0-0 with Barnsley. The Royals have not won since March 17th when they defeated Doncaster Rovers 0-1. They are in danger of losing a playoff spot as they sit just three points ahead of seventh place Swansea City.

Eddie Johnson, Cardiff
Johnson was a late substitute in both games last week, coming on for Jay Bothroyd in both contests. The Bluebirds won 3-1 on Monday when they hosted Burnley but were shockingly pummeled on Saturday, losing 6-0 at Preston North End. And the answer to "were there any red cards" is no. This was an old fashioned beat down. Johnson did not score or contribute too much in either contest.
Jay DeMerit, Watford
The Hornets dropped six points this week, losing both games to Norwich City and Birmingham. An early own goal paralyzed Watford on Monday as they lost all confidence and ultimately fell 2-0 at Norwich. On Saturday, it was Cameron Jerome who broke the Hornets hearts with a 73rd minute winner.
Frank Simek, Sheffield Wednesday
Simek was not dressed for Monday's 3-2 loss at QPR but was on the bench for Saturday's 2-0 win over Southampton. The defender did not come on and this season is surely one that Simek would like to forget as he has played is just six contests all year.

Meanwhile Up In Scotland…

DaMarcus Beasley and Maurice Edu, Rangers
vs. Hibernian, 2-3, Edu played 90 minutes, 1 goal. Beasley DNP.
A week after opening his Scottish scoring account for Rangers, Edu doubled his season total by putting away Hibernian on Sunday. The Glasgow outfit had staked a 1-2 lead in the second half but in the 73rd minute they sealed the victory when Edu pounced on Kenny Miller's blocked effort and slotted home Rangers third strike of the day. John Rankin made it interesting when he halved the deficit six minutes from time but Rangers confidently held on for the win. With the Scottish Cup semifinals coming up this weekend it will be interesting to see whether the confident American continues to start on such a big stage.
Up next: Saturday, home to St. Mirren (Scottish Cup)
Pub Talk:
** As many MLS fans must already know, Southampton defender
Kyle Davies
transferred to Real Salt Lake last week. The American wasn't really given any first team action and his play on the Reserves squad had been limited lately as well.
** American winger
Ryan Guy
played well for St. Pat's FC on Friday as his club defeated Drogheda United 2-1. St. Pat's now sit in sixth place, five points back of Eircom League leaders Bohemians. St. Pat's have finished second the last two years and aren't off to the best start as it's been feast or famine with four wins and four losses from their first eight.
** Glen Cove, New York native
Mike Grella
continues to play well off the bench for Leeds United. The League One club signed the striker in January. Grella has scored five goals for the Reserves including one hat-trick against Barnsley and provided a few assists as well. The 2008 All-American from Duke University, who has appeared in nine first team games this campaign, is signed with the club until the end of the next season.
** Millwall's
Zak Whitbread
continues to impress. The League One outfit sits in fourth position and with automatic promotion virtually out of the question; they'll be playing in the playoffs next month to move back up to the Championship. Whitbread has started 36 contests this campaign, scoring one goal while holding a huge presence in the back line. Millwall has allowed the fifth fewest goals in League One this year but rank just 10th in scoring, making Whitbread's play that much more vital.
Discuss Americans playing abroad in the
Goal.com Forums
.
Matthew Braine's feature "Americans in the UK" appears every Monday on Goal.com. He can be reached at matthew.braine@hotmail.com