Recently converted fans of the Canadian national team may not have heard of Tam Nsaliwa, but if it was up to him, they would.
Nsaliwa has taken an enforced hiatus from the international game after representing Canada numerous times over the span of nearly a decade. Since 2008, he hasn't been able to don the Maple Leaf due to legal issues, but that may have been the least of his footballing struggles over the past five years.
The 31-year-old has, after establishing himself as a solid professional in his late teens and early 20's, bounced around from club to club in recent years.
In a series of e-mails to Goal.com, the Edmontonian laid out his professional ordeal in detail.
"I'd say it has been the toughest part of my life," Nsaliwa said of his club situations over the past half-decade. "Both personally and professionally given that the two usually go hand in hand. My situation with Betis literally crushed me, but there were countless other things that happened before I even got to Betis that were tearing at me as a soccer player and a person."
The "situation with Betis" refers to a brief, tumultuous time he spent at Spanish outfit Real Betis. It was just one of the many stops the midfielder has made on his eye-opening journey through European football.
But for Nsaliwa, it was the culmination of a long, frustrating road that started during what was arguably his most successful stint as a pro footballer. He was at Greek side AEK Athens for three years starting in 2007, with memorable performances both in Europe and domestically highlighting his time there.
His play had earned him another contract with AEK, but Nsaliwa decided against committing to another term in the increasingly unstable world of Greek football, and he says it was a decision that set off the roller-coaster of events that would define the next several years of his life.
"The team asked me to sign a contract extension at the end of the prior season [2008-09] which I refused based on the continued instability at the club," he said, referring to financial problems and executive turnover that plagued the team at the time. "So I was already aware that I would have to work extra to get playing time.
"I had accomplished to force myself into the starting line up barring a couple lengthy injuries, and started the last [three] competitive games of that half of the season before the [Christmas] break. But, from the first day back after the [Christmas] break, I was no longer even training with the team - rather, alone with 1-2 other players and a conditioning coach for the next [two] months."
Nsaliwa says he found out through a representative why he was no longer in AEK's plans despite earning an earlier offer for a contract extension, although he wouldn't go into further detail.
"H
onesty I don't think you would believe me if I told you the reason in the first place, but I lived with it," he said. "Fact being, it was a political choice that had little or nothing to do with me, but I was the scapegoat.


"Still, I went to work every day, and did what I had to do because I knew I had no choice."
Frustrated, Nsaliwa looked to go on loan, and he had arranged a deal with a Norwegian club when he says he was informed by AEK that the move would not happen.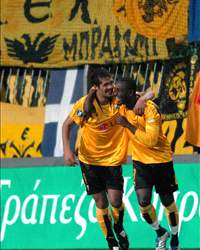 "The general manager at the club told me the money the Norwegian team wanted for me was too little for a player of my calibre, which I found amusing considering they were pissing that calibre away on the sideline. I told them they have the choice to let me go for cheap or let me rot on the sidelines and get nothing in the end since my contract was running out."
Nsaliwa was incredulous with the response from AEK.
"They asked me to play again!"
He added: "They told me they were happy with my work ethic and happy I didn't cause problems within the team and so on."
So after two months of training away from the squad, Nsaliwa was faced with the prospect of jumping straight back into first-team action. It was a situation that made him uncomfortable, and he admitted to using a slight injury as a way out.
That was the final straw at AEK, and when it became clear that neither side would benefit from the stand-off, it was agreed that Nsaliwa would be allowed to go on loan at Norwegian club Lillestrom.
With that move came further problems.
"The agreement was that I was there to get my playing time, help the team and move on to teams that were hopefully ready to come watch me while I was there - one namely, Red Bull Salzburg," Nsaliwa said of his time in Norway -- a five-month stint in early 2010. "After starting a few games, helping the team improve in calibre and the standings, proving myself as an asset, my playing time was basically cut for the rest of my loan period, pending I signed an extension to stay at the club.
"Of course they didn't tell me that, but when you help a team win [two] games in a row after playing [four] in a row to ties, then being the only player replaced in the line up thus no longer playing, yet the coach, general manager and president all ask you to consider signing the extension offer, it's obvious what's happening."
To Nsaliwa, the loan deal was becoming more of a problem than anticipated. He maintained that despite the added complication of now dealing with two clubs instead of just one, he still made the right choice.
"My problem is I'm way too proud of a person and I can't stand it when people try to take advantage of me or my situations. And I was well aware of the fact that [because] I didn't get much playing time in Greece, [it] put me in a bad light considering now I am also not getting much playing time in a "lesser" team that I chose to go to on loan to.
"But I had already made it a point to fight against that kind of oppression especially after dealing with what I had just dealt with in Greece so I stuck with my choice to leave at all costs."
He said Red Bull Salzburg agreed to take him in on trial even though he had not been able to showcase himself to his own satisfaction in Norway.
"I went [to Salzburg] for the week, played very well in the friendly at the end of the training camp and left overly confident that things would work out," Nsaliwa said "I even remember being dropped off at the airport and a club rep telling me he was sure we would be seeing each other again shortly, only to find out the coach decided to buy a player from the Dutch national team that his assistant had worked with when he coached in Holland, where they all were from.
"At that point it felt like football as I knew it was over already."
Even with the latest setback, Nsaliwa managed to take advantage of some connections made while in Athens -- one of the few positives he speaks of from his time with AEK. His old coach in Greece, former Barcelona boss Serra Ferrer, was in the midst of a takeover at RCD Mallorca.
Nsaliwa says Ferrer had expressed interest in bringing him over to the Spanish club.
"[Ferrer] informed me about his plans to try and take over presidency at Mallorca and that he would keep me in mind when that time arrived. At that point I asked him if he would open a line of communication with my manager at the time, who happened to manage some friends of mine as well."
Eventually, Ferrer's efforts would prove fruitful, as he was part of a group that assumed control at Mallorca. And while it didn't work out exactly as Nsaliwa had hoped -- he didn't join Ferrer's new club -- it still appeared to be a positive development for the frustrated midfielder.
"I didn't get the call I anticipated regarding Mallorca, but he did orchestrate the final recommendation that put me in Betis Sevilla, so [I'm] forever grateful to him for that," Nsaliwa said.
Happy to finally be free of his AEK contract and seemingly set to make a dream move to Spain, Nsaliwa could only breathe a sigh of relief that his ordeal was seemingly over after nearly a year of bouncing around Europe.
However, it would turn out that his footballing tribulations were far from complete.
"In the end I went to sign at Betis, and [it] all was pending a medical examination that showed my heart is a bit larger in actual size than normal," Nsaliwa said. "Given the recent sudden deaths of players in Europe, the case was treated with high caution but in the end, my heart was deemed fine."
Medically cleared, Nsaliwa said he ran into other resistance from Betis officials.
"The official claim was a minor 'electric charge' in my ankle was enough for the club to want to back track on fulfilling our contractual agreements," Nsaliwa said. "But the non official reason is that the club had gone under a front office reconstruction during the time period they were reviewing my physical condition and the people that were favourable to signing me no longer played a role at the club.
"We took them to court and it turned out this was something I soon found was normal with Betis and other players in the past."
Worse for Nsaliwa was his feeling of redemption, achieved when he thought he had a deal with Betis, was shattered. It felt like the end of a lifelong dream for the player.
"The reason this was the straw that broke the camel's back was because I felt like had this worked out, it would have been the ultimate middle finger to all the people and teams that basically tried to screw me," he said. "A chance for me to basically take all that foolish pride and believe it was all done in the grand scheme of some great success story.
"But things like this happen to a lot of players out here though and it never ends that good. You will never hear their stories either though, so this isn't just about me."
Feeling defeated, Nsaliwa considered hanging up his boots. Although he felt he had good reason to feel slighted, he also had a sense of ownership over the mess that surrounded him.
Then 28 years old, he had to take a step back.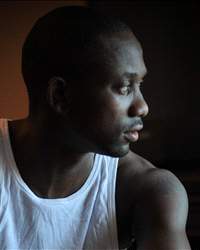 "By this point, I was pretty much disillusioned with pro soccer," he said. "I took a half a season off. Picked up rapping and was turning down some decent offers because I was thinking of myself as the player I felt I was and no longer aware about being the player I currently am with the profile and reputation I allowed myself to have and receive over the last year."
The time off had both good and bad effects on Nsaliwa's psyche, as he got caught up in the negative political aspects of the professional game while also losing sight of the playing side. When he regained the motivation to play again, it led him to small Spanish side SD Ponferradina, where he lasted for just five months.
"I consumed myself with collecting debts against people that I felt crossed me instead of just focusing on starting fresh with my career and rebuilding what I was on my way to," he said. "In the end, it led to bad choices, with Ponferradina being one of them.
"But I learned a lot about football there so in the end, I still believe that everything happens for a reason."
Another six months went by after Nsaliwa's stint with Ponferradina, and in February 2012 he joined Esbjerg fB. He made six league appearances at the Danish club, after which he had to look for another team.
This time it wasn't political, though.
"I have never been on a club that did not ask me to stay with them at the time I left, with the exception of [Esbjerg]," he stated.
Fortunately for Nsaliwa, the wait to latch on to another team wasn't as long, as he joined Greek side AO Kavala four months after leaving Denmark.
"After a long time without playing, again, I had no choice but to start literally from the bottom and try to work my way up again," he said. "On the field it went well; in all competitions [I] managed to get myself a few goals and assists."
But while the playing side seemed to take care of itself, an ugly reality for many current-day footballers revealed itself to Nsaliwa in quick fashion.
"It started to go south fast for the team and that climaxed when they didn't pay salaries for a three-month period," he said. "Long story short, I used my rights as a player to claim freedom from the club and was fortunate enough to find a new team in Turkey to try and continue my journey back into the good part of soccer out here in Europe.
"All in all, its just another court case for me in the end."
Despite the many setbacks he's endured in recent years, Nsaliwa looks at his latest opportunity -- at Turkish second tier side Bucaspor -- with the same eagerness as previous ones.
"It's always nice at the start of a new journey with a new team and key is to keep that fresh feeling as long as possible with good performances and training," he said. "In the end, time will tell how things turn out but obviously I'm just focused on making the best of this opportunity like any other."
One thing he won't be doing is playing for the Canadian national team again. Born in Malawi, Nsaliwa had to give up his Canadian citizenship in 2007 in order to gain a German passport that allowed him to work without restriction anywhere in Europe.
Without actually living in Canada, he doesn't qualify for citizenship in Canada as he was born elsewhere, thus putting him in permanent limbo under FIFA's rules despite being cap-tied to the Maple Leaf.
It was an unfortunate side-effect of European work regulations that Nsaliwa tried to work around, to no avail.
"After six years, three lawyers, three applications and some fees I wish I could just take back, I had to accept that there won't be a happy end to this story either," Nsaliwa said of the protracted legal battle that he engaged in with hopes of regaining his Canadian status.
"Also considering the current state of my personal career it makes more sense to just concentrate on that first before even pondering any more possibilities with the national team," he added. "I'm still very close to all the players I played with, so it makes it even harder to hear the stories and watch the games, but it's been so long now, that I actually have moved on from the matter.
"Now I'm officially just a fan and former player of the team. Nothing more."
Nsaliwa had amassed 13 caps for the national side, including appearances in the FIFA Confederations Cup and CONCACAF Gold Cup. He last featured for Canada in a 3-2 friendly loss to Brazil in 2008.
While Nsaliwa is no longer officially a Canadian, one aspect of North American culture has remained in his life. Once a rapper by hobby, he has ramped up his musical efforts recently, even returning to Edmonton to record his first album.
The Canadian ties don't end there, however, as Nsaliwa -- who goes simply by his first name when pursuing his musical interests -- managed to get Toronto rap veteran Choclair to appear on his latest track, a song called "
Brand New
."
"A current friend of mine BMoney Grenier - who is actually the biggest single reason I've been able to progress so rapidly musically - had just finished working with Choclair on a project," Nsaliwa explained. "He had an instrumental I heard that had no artists on it, just his hook that is the now the song 'Brand New.' I got excited when I heard it, wrote something to it very fast and told him I had this vision to get Choclair and Kardinal [Offishall] on it so it can be my 'big splash' into being a rapper here in Canada."
Nsaliwa explained that Grenier convinced Choclair to agree to the project, which in itself was a victory for a budding rap artist with very little exposure in the industry.
"I made a couple inquiries into getting Kardinal that didn't bring back much, but I left the idea alone quickly since I also was really happy with the way the song turned out with Choclair alone. I figure there can be another time to work with other Canadian rappers I admire like Kardi and so on, but for now I'm really grateful that Choclair was willing and able to put himself on a song with a nobody has-been soccer player that he'd never heard of before."
While hip hop has provided a positive outlet for Nsaliwa amid a turbulent period in his life, he's realistic about his goals in his burgeoning side career. Plus, he's still focused on getting the most out of his other occupation while he still can.
After that, who knows?
"[Rap is] either something you do strictly out of passion or with the means to tour and make money on the road from the people who chose to support you and this genre of music personally," he said. "[I'll] try to find avenues to continue rapping after soccer since it actually has become a passion of mine now and I feel I have a lot of meaningful messages and stories to pass on through the music.
"So, hopefully this really is just the start of something 'Brand New' for me."
You can also check out his videos at his YouTube channel.