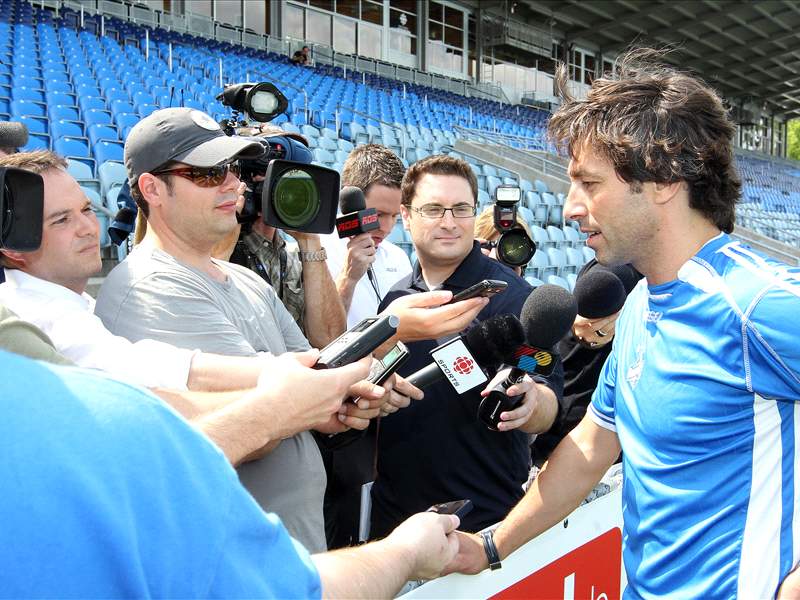 Following yet another loss this past weekend - Montreal's seventh in 12 games - the Impact announced on Tuesday that head coach Marc Does Santos had resigned from the club.
"I've accepted Marc's resignation because the team is having a difficult and unacceptable sequence," said club president Joey Saputo. "This is too important of a year to let it go like this. From the start of the season, I said it was important to finish our journey in second division on a positive note in order to start MLS on a high. Our goal today hasn't changed, we want to make the playoffs and get as far as possible."
Until the Impact finds a new coach, the club's technical director, Nick De Santis, will temporarily be taking the reins. De Santis already coached Montreal between 2004 and 2008, when he won the championship once and was a coach of the year finalist on three occasions. He has a record of 69 wins, 29 losses and 30 ties.
Assistant coaches Mauro Biello, Gil Orriols-Jansana and Youssef Dahha will remain with the team.
"Following Marc's departure and after analyzing our current situation as a club, this is our best short-term option," said Saputo. "Additionally, being with the team every day, Nick will get the chance to evaluate the group. I am confident that our coaches will straighten up the situation. I want to thank Marc for his services over the last five years with the club. I wish him the best of luck in his future endeavors."
One of the qualities of De Santis' tenure as head coach was Montreal's home field prowess. He set the record for ten home shootouts in one season and also for starting the season with a ten home game undefeated streak.
"What we need to do tomorrow is to protect our home. Montreal was always one of the toughest places to play and it needs to be like that again," said De Santis of the Puerto Rico Islanders visiting. "We can't hide the fact that there is a bit of tension and a lack of confidence in the team right now, but our players need to realize the strength they have and bring it. They must enjoy playing. I want them to succeed and to help them improve."
With a win at home against the Puerto Rico Islanders on Wednesday, Montreal can begin closing the gap on FC Tampa Bay, which is four points ahead of the Impact and sits in the sixth and final playoff spot.
De Santis also hinted that the new coach will come sooner rather than later, for if the Impact want to continue to make plans for next season, a new coach has to be signed.
"Talking about MLS, we have to look at it. It is a totally different beast and we are preparing for that," De Santis said. "We are looking at potential players, its only normal that once we confirm our head coach it becomes a lot easier for upper management to start looking towards players. I want to make sure that I have a vision that the coach has and that we work together to build this team."
Given Montreal's negative performance so far this season and given the fact that the Impact will need to add quite a substantial amount of new blood for next year, the Impact organization will certainly have their work cut out for them in the coming months.
Player News:
Ali Gerba is back from injury and will suit up against the Islanders.
Goalkeeper Bill Gaudette (ankle) and Maxime Crépeau (knee), defenders Nevio Pizzolitto (hip) and Richard Pelletier (thigh), as well as forwards Reda Agourram (groin) and Pierre-Rudolph Mayard (knee) are still injured.
Follow NICK SABETTI on


Check out Goal.com's newfangled Canada page for full-fledged CONCACAF coverage and join Goal.com's

page.