A strange dichotomy between America's two major professional soccer leagues is shedding new light on social media, fan interactivity, and their relation to the bottom line.
Women's Professional Soccer is miles ahead of Major League Soccer when it comes to social media and fan interactivity. It's a trouncing to be sure: WPS has nearly 246,000 Twitter followers in comparison to just over 24,000 for MLS. The official WPS website contains links to Twitter accounts for teams, players, sponsors and front office officials for both individual teams and the league. The MLS website contains, umm....stadium guides. WPS has a fantasy challenge for fans run directly through its official website with weekly and yearly prizes. MLS has, umm.....some neat pictures to look at!
Want more? WPS recently hosted a social media roundtable, with representatives from many big names in social media like Digg and YouTube. There, they discussed how to enhance the fan experience and generate awareness of the one-year-old league through the use of social media. WPS also recently introduced a plan to live stream one game per week online and directly to iPhones. MLS has a plan to reach its fans too: charge users $40 to watch games online for an entire season.
Clearly, MLS could learn a few things from their sister league when it comes to engaging fans.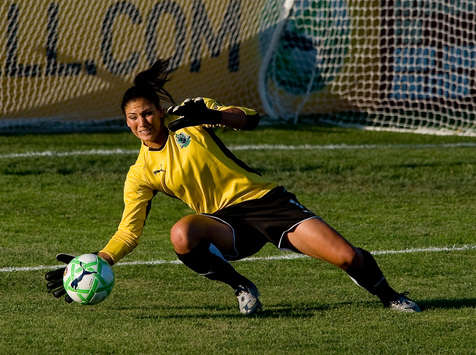 But, then there's this: MLS attendance is up significantly. The league is averaging 18,334 for its first 29 games, up 19.9 percent from 15,285 from the comparable period last year. Meanwhile, social media buzzsaw WPS is struggling at the box office: attendance for last weekend's games averaged only 3,086 - the lowest for weekend play since the league launched in March 2009.
In addition, television ratings for WPS are minuscule, and the Los Angeles Sol - the league's flagship franchise featuring its biggest star Marta - folded this winter after just one season.
Since its inception, WPS has been heavily focused on being fan friendly and reaching the Facebook/Twitter generation. Though it will certainly be pleased with the success of these endeavors, it must be somewhat bittersweet given their struggles in other areas. It also raises a pressing question: Is it all worth it?
To be fair, the surge in MLS attendance may have more than a little to do with the upcoming World Cup and its resulting exposure for soccer, and in particular, men's soccer.
Still, WPS currently has an inverse relationship between attendance and social media prowess, and it's worth delving into. One theory: WPS is actually giving fans too much access, reducing the necessity to actually attend games in person.
One stark difference I've noticed between the WPS and MLS Twitter accounts is when comparing in-game activity. While the MLS feed is conspicuously quiet during weekend matches, the WPS feed is abuzz with activity, tweeting lineups, game updates, links to webcasts, photos, and more.
From a fan's perspective, following the WPS Twitter during matches offers an alternative to actually attending said matches. Sure, it's not the experience of being at the game, but at the same time, it's cheaper, more informative, and allows a fan to still feel connected - whether in front of a computer, or out and about on a smart phone.
Another theory: the breathless efforts by WPS to be fan-friendly and interactive may cost them some credibility. Since the league started just over a year ago, its focus has been one thing: access, access and more access. Players and league officials are encouraged to interact with fans as much as possible via Twitter, Facebook, blogs and other social networks. Most of this is good, but at what point does it cross the line and make the game a mere sideshow?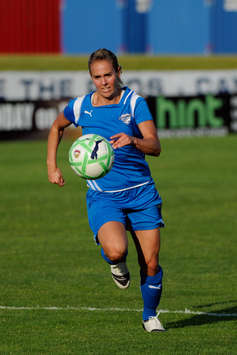 The answer: banish in-game tweets. WPS allows players to tweet during games, specifically at halftime (Marta doesn't have an iPhone on the field with her). To me, this is where the league is undermining itself. A player's focus during a game should be singular: to win the game. Introducing other elements, like Twitter, into the fray can cause certain players to lose focus. On the field, certain players could be thinking up an interesting tweet for halftime rather than, you know, playing the game.
In the locker room, again, the game needs to be the only focus. Sure, the players could be tweeting about the game, but they're also checking computers and cell-phones at the same time. It would be only natural to sneak a quick peek at their email or check the news.
Ultimately, for WPS, it's not going to be about having the most extensive online presence, but rather, using this presence now that they have it.
For example, currently, there is no way to make money directly from having large numbers of Twitter followers. There has been plenty of buzz in the last month about promoted tweets - Twitter's new advertising plan - but ultimately, money is only exchanged between the advertisers and Twitter, leaving the twitterers themselves out.
What WPS needs to do then, is be engaging: interacting with fans and media directly on Twitter, actively and aggressively courting media exposure in their home cities, promoting sponsors on Facebook and Twitter, and creating interactive events and contests for fans, like their new foray into fantasy soccer.
Although, they may be struggling at the gate currently, I still believe the league's social media and fan interaction strategy is sound, and more importantly, will lead to profitability down the line. Despite the low attendance figures thus far, season ticket sales were actually up 20% heading into the season.
Despite being a decade-and-a-half younger than MLS, WPS has already wildly outperformed its counterpart in online brand awareness. As its audience continues to become more web savvy, I firmly believe this awareness will translate to more profitability in the form of better attendance, higher TV ratings and better paying sponsors.
With all this in mind, MLS commissioner Don Garber: you have a phone call on line one, it's WPS commissioner Tonya Antonucci and she wants to talk about her league's online media strategy.
I suggest you take it.
Seth Vertelney is a regular contributor to Goal.com. You can follow him on twitter.


For more on Major League Soccer, visit Goal.com's MLS page and join Goal.com USA's Facebook fan page!