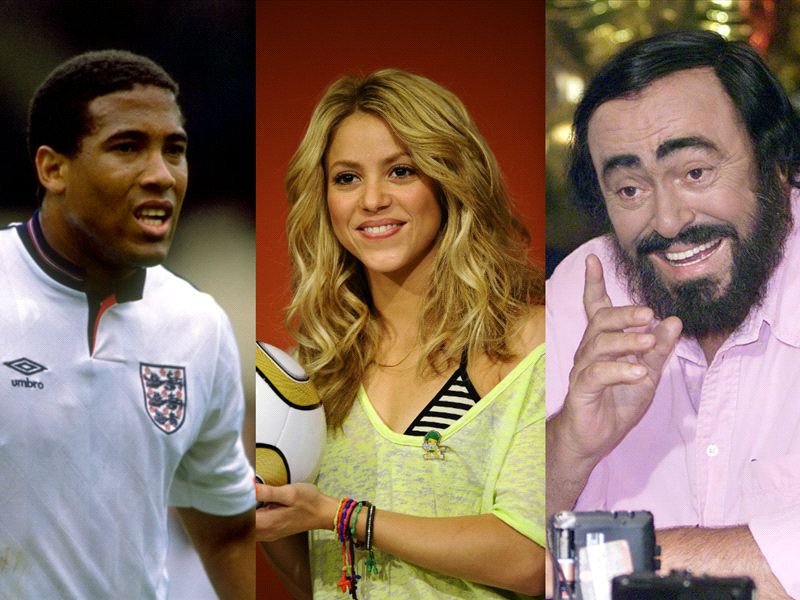 ---
NEW ORDER - 'WORLD IN MOTION'

---
Perhaps John Barnes' greatest moment in an England shirt was his impressive rap in this fantastic England World Cup song in 1990. The tune inspired the Three Lions all the way to the semifinals.
---
LUCIANO PAVAROTTI - 'NESSUN DORMA'
---
Luciano Pavarotti's rendition of the operatic epic is an all-time footballing classic and was recently covered by Andrea Bocelli to mark Leicester City's Premier League title success.
---
LIGHTNING SEEDS - 'THREE LIONS'

---
British comedians Frank Skinner and David Baddiel teamed up with the Lightning Seeds for this feel-good song ahead of Euro '96 – it was so popular that Germany's players sang it during their victory celebrations.
---
SHAKIRA - 'WAKA WAKA'

---
An incredibly catchy song and one of the most watched YouTube videos of all time, even if having the white Shakira sing an African anthem is more than a little jarring.
---
GERRY & THE PACEMAKERS - 'YOU'LL NEVER WALK ALONE'

---
Originally from the 1945 musical Carousel, this tear-jerking song soon became inseparable from football as a crowd chant at clubs such as Liverpool, Celtic and Borussia Dortmund.
---
RICKY MARTIN - 'THE CUP OF LIFE'

---
Your personal music tastes will dictate whether you see Ricky Martin's official song for the 1998 World Cup as a catchy classic or a cringeworthy clanger.
---
VILLAGE PEOPLE - 'FAR AWAY IN AMERICA'

---
A contender for the worst World Cup song ever – and certainly the most cringeworthy attempt at dancing by a group of footballers. Germany deserved to be embarrassed on the pitch at USA '94 for this effort!
---
DENMARK TEAM - 'RE-SEPP-TEN'

---
Denmark's 1986 World Cup song, featuring Dodo and the Dodos and the legendary Michael Laudrup and Preben Elkjaer, was a smash hit back home.
---
BENNATO & NANNINI - 'NOTTI MAGICHE'

---
The official song of Italia '90, this beautiful track by Edoardo Bennato and Gianna Nannini is considered by many as the greatest World Cup tune of all time.
---
RODRIGO BUENO - 'LA MANO DE DIOS'

---
The most famous song about Diego Maradona. Performed by cuarteto music legend Rodrigo Bueno, this song is regarded as a dance classic in Argentina and tells the story of the former No. 10's rise to greatness. Bueno tragically died in a car accident in 2000.
---
ANDY CAMERON - 'ALLY'S TARTAN ARMY'

---
"We'll really shake them up, when we win the World Cup, because Scotland are the greatest football team!" Scotland's trip to Argentina in 1978 proved to be a disaster but that team cheered us all up with its World Cup song!
---
DEL AMITRI - 'DON'T COME HOME TOO SOON'

---
In total contrast, Scotland's song for France '98 was roundly criticized for being too negative. In truth, the tone is quite apt, as Scotland have never got past the group stage of a major tournament.
---
ZICO & JUNIOR - 'VOA, CANARINHO, VOA'

---
"Voa, Canarinho, Voa," which translates as "Fly, Little Canaries, Fly," was sung by stars Zico and Junior and how it did fly in 1982. Brazil produced some of the most entertaining football ever seen at a World Cup.
---
GAZZA - 'FOG ON THE TYNE'

---
In yet another classic song from 1990, England's golden boy Paul Gascoigne recorded a remake of Geordie rock band Lindisfarne's 1972 hit.
---
ARSENAL FC - 'HOT STUFF'

---
Arsenal 1998 double winners not only delighted fans on the pitch but also produced great music off it with a remake of the Donna Summer classic "Hot Stuff" prior to the FA Cup final.
---
THE CRYSTALS - 'GLAD ALL OVER'

---
Crystal Palace's cheerleaders performed a scantily clad, wet 'n' wild version of the club's 1990 FA Cup final anthem a couple of years ago.
---
DOC BROWN - 'GLAD ALL OVER AGAIN'

---
Alternatively, this rap homage ahead of Crystal Palace's extra-time FA Cup final defeat to Manchester United is actually considerably better than the cheesy original cover.
---
CHRISTY MOORE - 'JOXER GOES TO STUTTGART'

---
Ireland shook Europe in 1988 at their first ever international tournament as it defeated England and was just minutes away from eliminating the eventual champion, the Netherlands. This song sums up the crazy journey.
---
FREEPIX REVOLUTION - 'GALETTE SAUCISSE JE T'AIME'
---
A truly awful song, but the meaning behind it is brilliant. Originally sung by Rennes fans to celebrate the local delicacy galette saucisse, it has a cheeky go at the culinary traditions of the other Breton and northwestern sides in France, who are Rennes' rivals.