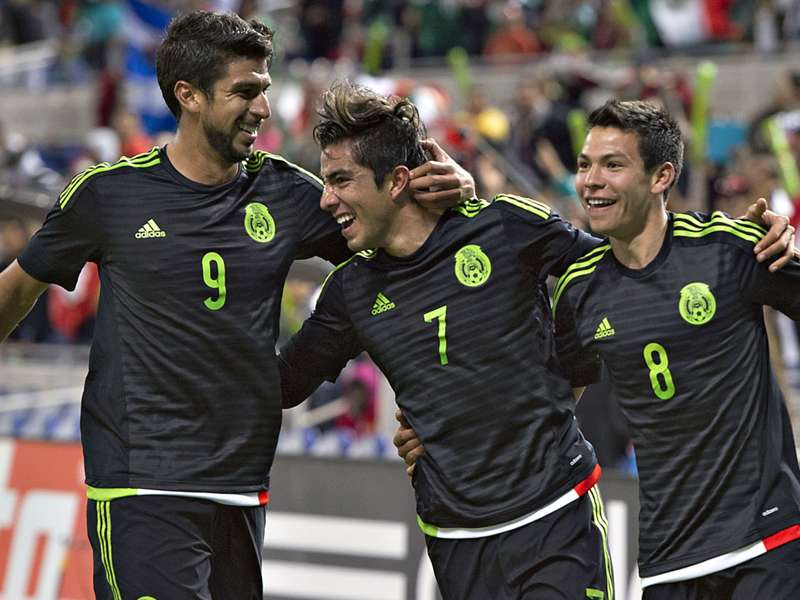 The biggest surprise in Mexico 's provisional roster is that there's no surprise.
Juan Carlos Osorio has shown a predilection for a quirky move here or a strange call-up there, but he did nothing unusual with his 40-man Copa America roster.
The gang's all here: Chicharito, Andres Guardado, Hector Herrera, Hector Moreno. All of Mexico's stars and the players who helped El Tri to the Gold Cup last summer will be back in action, barring injury. Also on the squad are younger players, guys like Hirving Lozano and Orbelin Pineda who have shown in Liga MX, the U-20 side and in their chances with the senior team that they're ready for the big lights that will be on the stage that is the Copa America.
That young duo plus defender Carlos Salcedo and midfielder Rodolfo Pizarro may yet be cut from the full list, depending on how Osorio and U-23 coach Raul "Potro" Gutierrez choose to approach the summer's Olympics. The Copa America is important to Mexico. The federation says its goal is to finish in the top three, but defending the Olympic gold medal is also a priority, and the young stars could end up heading to Brazil this summer.
If those players are cut, it might make Mexico a marginally less talented team but only by small margins. Each of those players have seen time with the senior side, but there are other players at the same positions who can step in and do the same job. Salcedo is unlikely to start at center back and Pizarro and Pineda will struggle to get into a talented midfield. Lozano has a unique grouping of talents, but Jesus "Tecatito" Corona and Jurgen Damm both give Mexico menacing options out wide.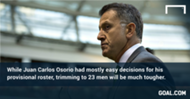 That depth that Osorio has, the ability to not have to reach to a woefully out-of-form player or a rising star who is totally untested shows how comfortable the Colombian tactician is with his team. It's a group that, regardless of age, has experience in international soccer. That's why this roster, the first provisional list Osorio ever has put together as a national team manager, might not have been agonizing for him to assemble.
You have to stretch to find a snub. Alan Pulido, who has scored a few goals with Olympiacos in Greece? Maybe, but he hasn't made an appearance for Mexico since 2014. Tigres center back Hugo Ayala? Osorio can point to recent showings for the Liga MX side as evidence the center back has slipped. They're not incredibly difficult decisions to make.
That will change later this month when Osorio has to take this list from 40 down to 23. The Olympics and if players are allowed to double-dip will have a large bearing on what the group Mexico takes to the United States will look like. So too will how Osorio sees each player. Many who typically play in the midfield at the club level are listed as forwards on the national team roster. That sometimes can be a clerical or federation error, but in Osorio's 4-3-3, the three forwards, especially the wide players, have often been culled from that group.
The Dos Santos brothers also are intriguing. Gio is on a tear with the LA Galaxy, while Jona is back on the field with Villarreal. Neither has featured yet under Osorio. Will their talents win over the manager and earn them a spot on the final team?
Making these cuts will be much more difficult than putting together the provisional. No matter what Osorio ends up with, though, he'll have a squad that has a blend of big-tournament experience and electric youth, a squad in which he can feel comfortable putting any of the 23 players out on the field against South America's best.
Here's Goal 's best guess at what the final 23 looks like:

Goalkeepers: Alfredo Talavera (Toluca), Guillermo Ochoa (Malaga), Alejandro Palacios (Pumas)
Defenders: Paul Aguilar (America), Israel Jimenez (Tigres), Diego Reyes (Real Sociedad), Hector Moreno (PSV), Jorge Torres Nilo (Tigres), Miguel Layun (Porto), Rafa Marquez (Atlas), Nestor Araujo (Santos)
Midfielders: Jose Juan Vazquez (Leon), Hector Herrera (Porto), Andres Guardado (PSV), Jonathan dos Santos (Villarreal), Carlos Pena (Chivas), Giovani dos Santos (LA Galaxy)
Forwards : Hirving Lozano (Pachuca), Carlos Vela (Real Sociedad), Jesus Corona (Porto), Javier Aquino (Tigres), Javier "Chicharito" Hernandez (Bayer Leverkusen), Raul Jimenez (Benfica)