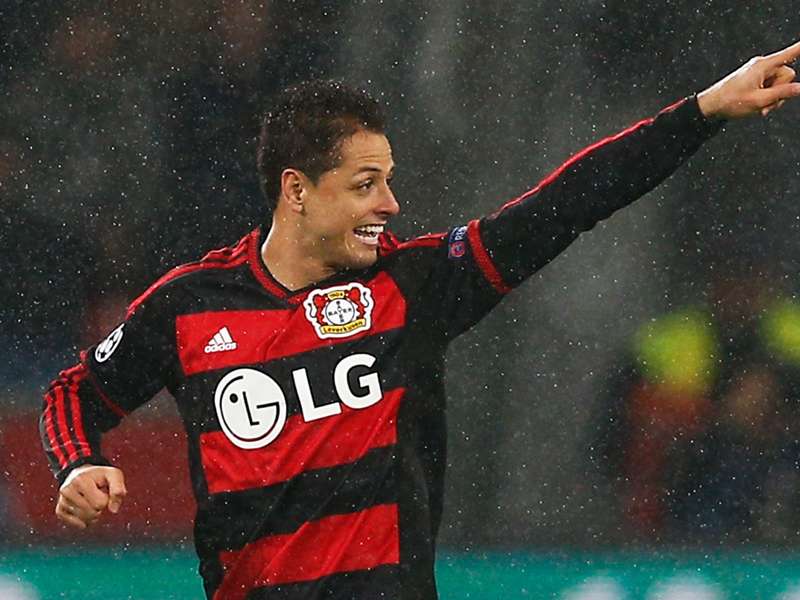 Juan Carlos Osorio, the new Mexican national team manager, would have seen the goals anyway. How could he have missed them? As soon as Javier "Chicharito" Hernandez, El Tri's favorite son, scored twice in the first half of Bayer Leverkusen's Champions League draw with Roma, social media lit up. You couldn't turn anywhere without seeing a Vine, a gif or a video of the goals.
But Osorio saw them in person. There's something to be said for seeing something live. Watching a goal from the stadium and remembering the roar of the crowd, the smell in the air, maybe the drink you were drinking, cements a memory much more than the 100th Vine you've seen that day. The new Mexico boss is doing a tour of Europe, meeting with and observing his players there, and it couldn't have started much better.
The meticulous Osoiro already knew what he had in Chicharito, no doubt he's already scouted dozens of the Guadalajara native's matches, but just in case the forward showcased exactly what you get when you put Chicharito on the pitch.
The first goal, an early penalty, doesn't seem too remarkable but shows the 27-year-old's calmness under pressure and ability from the spot with his cool conversion. The second is classic Chicharito. Somehow, the forward squirrels himself past the Roma back line and gets the ball totally alone. His first shot isn't a great effort, being blocked by Wojciech Szczesny, but there he his to put the rebound right back into the net and give his club a 2-0 lead.
In this play, he showed off his strengths - getting into the right place, playing off defenders' shoulders, making run after run after run, and having the persistence to follow up any shot. He also showed some of his weaknesses, namely his finishing when he gets into the one-on-one situations he has a unique knack for discovering. He floated around a bit, winning a few headers from goal kicks and other long balls. He also missed a header when the match was at 2-1 that could have been quite influential in what ended up being
In the second half, he continued to be a menace for Leverkusen, drawing a number of fouls and dropping back to provide an outlet for players needing somewhere to play the ball. But Chicharito's final involvement in the match saw him dart past his defender on the counterattack with a difficult opportunity, but an opportunity nevertheless, sent wide of Szczesny's goal.
That's how it goes for Chicharito, and really all players. There are moments of excellence and also moments of supreme frustration. The challenge for all of Chicharito's managers has been to draw this kind of performance, where the excellence surpasses the frustration, out of him with any consistency. He never seems to lack motivation for El Tri but sometimes lacks finesse. The fact that he came out firing in front of Osorio will be good news both to the his new international coach and fans of the Mexican team.
Overall, it was a trademark Chicharito showing, and Osorio now knows where Chicharito is at. His place in future El Tri squads was never in much doubt, but the strong showing will give the manager no concern about starting the forward when the manager makes his Mexico debut in November. He knows what Chicharito can do, and perhaps what he can't, but he will be well aware of what to expect.