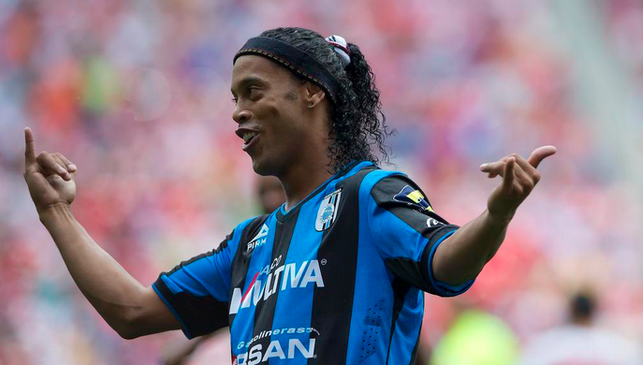 Queretaro's Brazilian star Ronaldinho played his first match in almost two months on Wednesday, with at least five fans storming the pitch asking for his autograph.
The 34-year-old was returning to action after an extended offseason break and went the full 90 minutes in his team's 1-0 loss away to San Luis in the Copa MX.
In the 73rd minute, the first person entered the pitch and Ronaldinho signed his Barcelona shirt, but when three others breached security straight after, the former Atletico Minero playmaker didn't look at all happy.
The referee had to stop the game on two occasions to restore order and ask fans not to come on the field.
San Luis versus Queretaro is considered a clasico due to the proximity of the two cities and, with the Ronaldinho factor added in, the Estadio Alfonso Lastras Ramirez was full for the game, with security clearly lacking.
Ronaldinho looked like he is short of match fitness and is unlikely to start this weekend for Queretaro on the road against Pachuca in the Liga MX.

The Brazilian came back from his winter break on Dec. 26 – three weeks after the squad started preseason - and then asked the club for special permission to go back to Brazil to resolve some "personal problems."
He posted a photo on social networks on Jan. 1 wishing his followers a happy new year whilst back in Brazil.
FELIZ ANO NOVO!! . HAPPY NEW YEAR!! . FELIZ AÑO NUEVO!! .