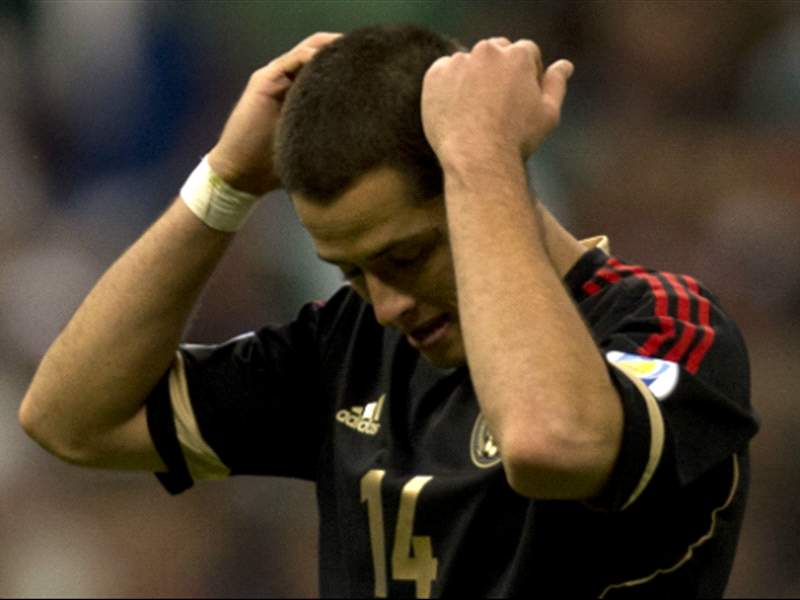 MEXICO CITY -- On another night, it could all have been very different for Mexico against the United States.
A decision to award a penalty for what looked a rash shove by Michael Bradley on Javier 'Chicharito' Hernandez inside 15 minutes could've changed the game. If Mexico had gone one goal up at that point, the United States would've been forced out of its shell and El Tri could've exploited the space. We would've seen a game much more to the home side's liking.
In total, Mexico had 19 shots, compared to just one from the USA, highlighting the dominance El Tri showed. It was difficult to remember the United States really threatening from open play, with debutant center back Diego Reyes and his partner Hector Moreno rarely tested.
Mexico had the United States on the back foot for most the game, with Javier Aquino ripping past DaMarcus Beasley with ease in the first half and, but for better finishing, it would've been difficult to argue that El Tri didn't deserve to go into halftime leading by one or two goals.
But as time ticked on, the crowd got gradually restless and the United States less ambitious going forward, it became evident that it wasn't Mexico's night.
Maurice Edu took Aquino's legs from beneath him in a rash challenge 15 minutes from time in what looked on TV replays to be a stonewall penalty, but the referee wasn't for giving it. Aquino had to leave the field with an injury shortly after.
So let's put all this in perspective. Jose Manuel 'Chepo' de la Torre is right in suggesting that refereeing decisions aren't going Mexico's way at present. The Mexican soccer federation (FMF) has already complained to FIFA, but the worry is that it could backfire.
It would be foolish to suggest that there aren't other causes for concern for De le Torre. Like it or not, he's now entering a period in his career as Mexico boss where the vultures are starting to circle. If that World Cup qualification is put seriously in doubt, there could be major repercussions about his future employment status.
Two 0-0 home draws are worrying in a region where away trips are notoriously difficult to negotiate. The pressure is on him now like never before in his coaching career.
Most pressing is the need for the coach to come up with a solution for teams intent on playing defensive, counter-attacking soccer when in Mexico.
One option is trying out a more adventurous midfield partnership than Carlos Salcido and Jesus Zavala. Another is switching up the formation to try and keep the opposition second-guessing.
Whatever Chepo thinks the solution is, time is starting to run out. Though it's not time to give up hope in Chepo's side just yet, the alarm bells are starting to ring.
What El Tri and Chepo could really do with in the June qualifiers is a bit of Lady Luck, who has deserted them this past week.
Follow TOM MARSHALL on

or shoot him an

email