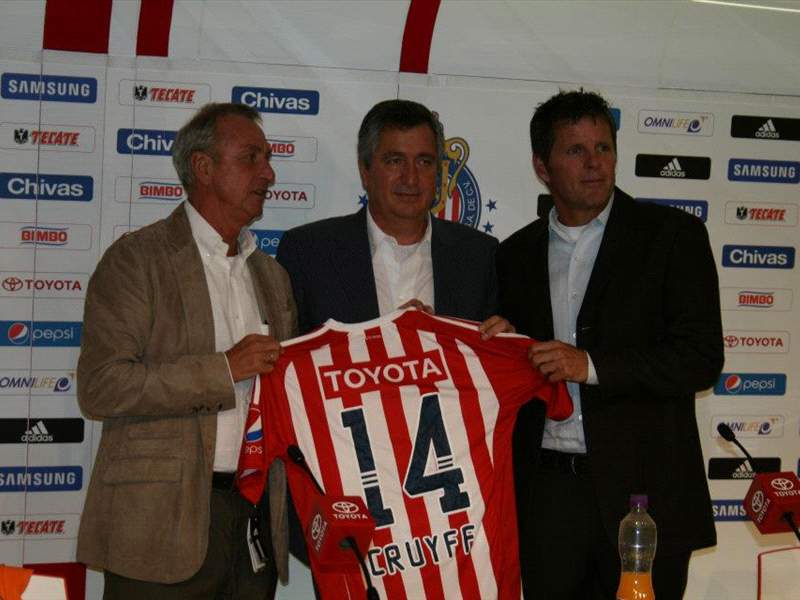 Back in February, when Chivas contracted Johann Cruyff, I commented to a colleague that if Chivas had patience, this project could end up putting Guadalajara among the top clubs in the world.
That, it turned out, would have been wishful thinking from a Chivas standpoint.
But I wasn't quite that naïve. I also told that colleague how I thought things would turn out: in disaster. The reasons? Too many to name here, but lets start with egos and a lack of patience.
Of course I wasn't the only one to figure that the monstrous egos involved would collide and be bruised, knowing that Chivas had never demonstrated the patience under Jorge Vergara to sit wait out a project that would take the time this one required.
Don't put all the blame for this failure on Vergara just yet, though. There's plenty to go around.
The upside was that Chivas has the sort of youth talent production capacities that only the top academy teams in the world - the likes of Barcelona, Juventus and Arsenal -- enjoy. With patience and a plan that makes sense, the club could be in position to stock itself to the rafters with world class talent in a few years.
Cruyff had the capacity and understanding of how to do that, as well as the knowledge of how to build a system into which those pieces can fit.
But that was apparently never the plan. Instead the Guadalajara institution set out to do what most other Liga MX teams do, change the parts after every four month season, and buy the best talent available on the open market at any price.
It was a strange plan coming from Cruyff and his Dutch do-boy John Van't Schip. It's little wonder Vergara lost patience as quickly as could be predicted. He can pay a Mexican retread coach a fraction of the price to carry out that strategy.
The culmination came Sunday night, an hour before Tijuana - a club with a long term vision if there ever was one - was crowned champion in Mexico. At Chivas, Cruyff was out. His protege Van't Schip was to stay on, though for how long is anyone's guess. Rumors are that Chivas was already in the market for a new coach as of Monday morning.
This has to be a frustrating development for Chivas fans -- at least the ones that are left. On the one hand, Cruyff never seemed fully dedicated to the project. His barnstorming tours, and Van't Schip's laughable lack of knowledge of the organization and Mexican soccer and even geography - were never very convincing.
On the other hand, ditching the "project" after just nine months does nothing to remedy the feeling that this is a franchise going nowhere fast under Vergara.
The result this season wasn't great - Chivas backed into the playoffs and lost in the first round. But the Goats had a better season than Santos, Tigres, Pachuca and Pumas, among others - strong clubs all of which missed out on the Liguilla entirely. Certainly there was space to wait around and see how things turned out in the next tournament.
Instead, it's back to the drawing board in Guadalajara, set most likely to pluck a recycled coach from the Liga MX unemployed coaching pool, tear down what's been built over the last year by dealing players like Jorge Enriquez and Marco Fabian, most likely overspend on the Mexican flavor of the month, and then hope.
Even if Cruyff and Van't Schip in the end weren't the right men for the job - I'd argue that they never were - dumping them without giving it a chance to work is still the wrong choice, given the time and resources invested.
If there's one lasting legacy of the brief Cruyff era in Guadalajara, it will be the controversial revelation made by the Dutchman a few months back that Chivas, over the last 40 years, has in reality not been a special franchise.
Today, that assertion rings truer than ever. There's little to separate this club in soccer terms from an Atlante or a Pumas. With America and Toluca working their ways back to the top, Chivas likely won't even have the most championships argument to fall back on for long when making its case for greatness.
And with no particular direction or project to speak of as of this week, Chivas is once again a team headed nowhere in particular - just as it was in January, before the Cruyff era began. What Guadalajara has become, though, is arguably the most mismanaged team in Mexico. That's hardly the reputation the proud franchise deserves.


Follow BRENT LATHAM on