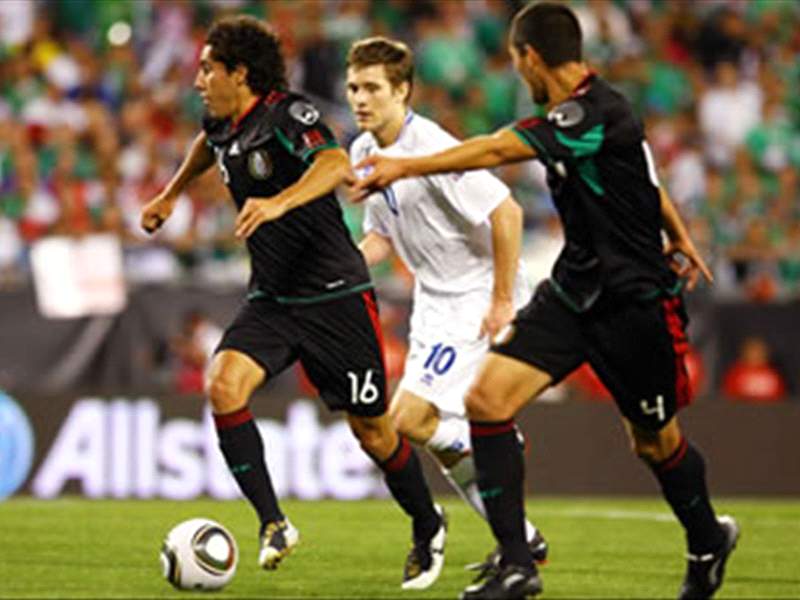 Mexico started May with a sporadic American tour that included games against an Ecuadorian B team, a Senegal team that arrived at Chicago O'Hare International Airport at 5:00 a.m. to play that same day at 8:00 p.m., and an Angola team coached by Frenchman Hervé Renard, who warned the French nationals by stating to L'equipe, a French newspaper, that Andres Guardado is a player with a great vision and is someone to be reckoned with.
To culminate its preparation on the western hemisphere, Mexico played a good bye game against Marcelo Bielsa's Chile in front of a joyous Estadio Azteca, colored green. After Alberto Medina's remarkable left footed shot that went to the far right of Luis Antonio Marin's goal, Mexico obtained a stint of joy, and confidence perpetrated Estadio Azteca. Fans cheered, and after the game, family and loved ones went to give their maximum support to El Tri's players.
Days later, Mexico arrived at Herzogenaurach, Germany, a small town, where rain and unfamiliar cold weather welcomed El Tri with open arms. It is here where Javier Aguirre, alongside his coaching staff, will try to ensemble the best Mexico that will inaugurate the World Cup against Alberto Parreira's South Africa, but first El Vasco and Mexico will play three elite preparation games against England, Holland, and Italy. It will also play Gambia, a team that might possess similarities with a style of play similar to that of the South Africans.
Are the Golden Generation players, those who won the U-17 World Cup in 2005, which include Efrain Juarez, Carlos Vela, Giovani Dos Santos, and Hector Moreno, ready to take that step that will finally put them amongst the elite players in the world?
After the game against Angola in Houston, Efrain Juarez declared with an obvious, "Yes," to the notion that knowing Vela, Gio, and Moreno and having spent time with them in the camp of 2005 should allow them to cope with the pressures of representing the national team.
Juarez had a brief, but unlucky time in Europe after the 2005 championship, but Vela, Gio, and Moreno in the last year have tried to solidify their European experiences. These four players, who were coached by Jesus Ramirez in 2005, show a common trait and that is no fear to fail.
A lot of pressure will be put on Gio and Vela, who became a dream-like tandem in Peru. Mexico wants to see that again, and the stage is set for South Africa to show it. Juarez has won his spot in the squad with a lot of heart, thanks to his runs on the right flank Mexico got victories against the US at Azteca, and Costa Rica at Ricardo Saprissa Stadium. Moreno is regarded as one of the premium defenders of the Erevedise.
England, Holland, and Italy are opponents that will require for this Golden Generation to show off that "no fear to fail". Good showings against these teams should boost considerably these youngsters' confidence.
Is the promising, inspiring, charismatic Javier "Chicharito" Hernandez ready to become the owner of Mexico's number nine position?
Coming to the England game at Wembley Stadium, Chicharito has a stat playing against him – he has not scored an official goal since March 27, 2010. But contrary to that stat, he became the first Mexican born player to sign a contract with Manchester United.
He is a kid that is a living a dream, but fortunately possesses a strong mentality that should allow him to take on these new challenges in his life. He is competing for the starting position against a veteran like Guillermo Franco, who already played a World Cup, a Champions League, and a Premier League.
Aguirre will opt for the Chicharito option; he will start in one or more of these three elite preparation games. If Chicharito responds to the goal-scoring expectations playing against defenders such as John Terry, Fabio Cannavaro, and John Heitinga, he will win Aguirre and Carillo's trust.
After concluding a season with FC Barcelona, in which Rafael Marquez was not a fundamental piece and has lost speed, where will Aguirre positioned the man who former Mexican coach, Ricardo LaVolpe, regards as the best Mexican player to play in Europe after winning another title with Los Cules last weekend?
Aguirre has on his hands one of the best Mexican defensive legions in history which include World Cup experience players: Carlos Salcido, Ricardo Osorio, Francisco "El Maza" Rodriguez, and Rafa Marquez. The list is completed by Jonny Magallon, Hector Moreno, Paul Aguilar, Efrain Juarez and probable cut, Jorge Torres Nilo.
El Maza impressed the Mexican crowd with a great showing against Chile. Osorio played a lot of games at the center defense position during the qualifiers and showed a lot of leadership. And Moreno, cannot be left out he is a player that will get the chance to showcase in these three games what he has learned in the Dutch League.
This leaves Aguirre with the possibility to play Marquez on the midfield. Marquez is owner of an enviable touch, which could give Mexico a great option to open up the game for the attackers. This position might also allow Marquez to feel less pressured and avoid those desperate fouls like the one at Columbus against the US, or the childish hand ball against Portugal four years ago in Germany. Marquez is aware that this is his last chance to do history with El Tri.
What do Adolfo "El Bofo" Bautista and Cuauhtemoc Blanco have to do to prove that they are Mexico's different players?
Blanco will be the oldest player to play on a field position. Bautista will be disputing his first World Cup. After the ravenous boo's from Mexico's crowd at Estadio Azteca, it looked like Bautista's options to attend the World Cup were dead, but it was not the case, after Aguirre told the media that he admired Bautista's reaction to the fans' displeasure.
Blanco and Bautista are players who are characterized by a peculiar ability – they are players that can be unheard of throughout the 90 minutes of a game, but can become the protagonists of that game, which they are unheard of, with one simple pass or one shot on target. They are Mexico's different players and need to once and for all show that against Italy, Holland, and England.

Will Guillermo Ochoa become Aguirre's first goalie option?
Ochoa's first exposure to fire came June 27, 2007 when Hugo Sanchez' Mexico played against Dunga's Brazil, and El Tri won with a convincing 2-0. Ochoa showed to Mexico that he was capable to guard Mexico's goal by blocking all of Robinho's shots. Almost three years later, Ochoa will be set on one of soccer's biggest stages, Wembley, and this time his job will be to block Wayne Rooney's shots. Luis Michel might see action against Italy or Holland, and most likely Oscar "El Conejo" Perez will get his chance against Gambia. Ochoa will have no margin of error, and he knows it because he wants to start June 11.

Nayib Moran covers Mexican football for Goal.com.

Visit Goal.com's Mexico page for more coverage of Mexican football.