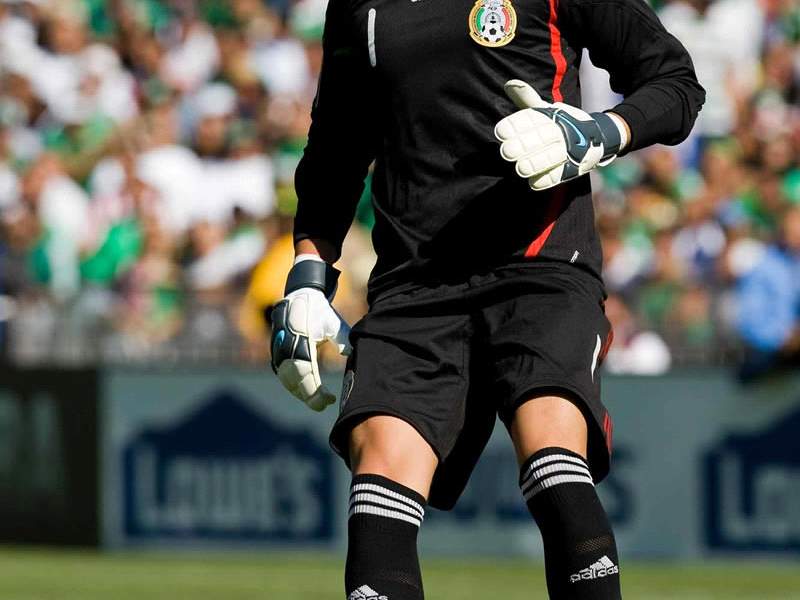 By Luis BuenoWho:
Mexico vs. Colombia
What:
International friendly
Where:
Cotton Bowl, Dallas
When:
Wednesday, Sept. 30, 8:30 p.m. ET
TV:
Telemundo
For a change, Mexico will play a game that means nothing towards a tournament or World Cup qualifying. Mexico will meet Colombia at the Cotton Bowl in Dallas in El Tri's first friendly since before the Gold Cup.
Since the match does not fall on an international fixture date, Mexico and Colombia each selected a squad of mostly domestic-based players as only one player based in Europe was called in to either team.
Still, Mexico and Colombia will do battle nevertheless.
Mix Of Young And Old
Mexico manager Javier Aguirre's roster does not feature many of the young players who have been an integral part of the team's turnaround. Players such as Efrain Juarez, Israel Castro and Miguel Sabah, for instance, were not called in. Perhaps that has to do more with those players' standing on the team than anything else.
Edgar Pacheco | Talented Atlas youngster trying to get first minutes with Tricolor.

Regardless, Aguirre took the opportunity to call up youngsters such as Hugo Ayala, Edgar Pacheco, Javier Hernandez and Enrique Esqueda as well as Jonathan Dos Santos, who has many fans and media members salivating at the chance of seeing him play for the national team.
It is not likely these players will see much, if any, time in the final qualifiers but they are on Aguirre's radar nonetheless.

Braulio Luna | Welcome back, Braulio. Now go and remind Aguirre why he called you back.


One veteran who has not seem much time for El Tri in several years is Braulio Luna. A veteran of the 1998 and 2002 World Cups, Luna's grit and determination are as strong now as they've ever been and he has deservedly been called back to the team.
Whether Luna can stick around at his age, though, remains to be seen. But Luna, who turned 35 earlier this month, can take solace in knowing that Aguirre took 35-year-old Alberto Garcia Aspe to the World Cup in 2002.

Colombia's Chances

Colombia have not qualified for a World Cup since 1998 but the South Americans could change that soon. Colombia are still alive, albeit barely, in the running for a World Cup 2010 spot. Colombia sit two points out of fifth-place Argentina in CONMEBOL. Colombia's final two qualifiers are not easy as Chile visits followed by a trip to Paraguay. Still, six points could vault Colombia to a fifth-place finish, which would then be good enough for a two-leg playoff against a CONCACAF team for a World Cup.

Carlos Darwin Quintero | Quintero hoping to terrorize league rivals.

It's not the easiest or most straightforward route but Colombia have a pulse nonetheless. Of the roster manager Eduardo Lara selected eight players from the squad that lost to Colombia 3-1 on Sept. 9, including starting 'keeper Agustin Julio and Teofilio Gutierrez of Atletico Junior. Gutierrez, though, was sent off and won't be able to play against Chile on Oct. 10.

Colombia have two players on their roster who play in Mexico: Carlos Darwin Quintero of Santos Laguna and Vladimir Marin of Toluca.

Cotton Pickin' Venue

The last time Mexico played in Dallas, El Tri drew more than 80,000 and thrashed Haiti 4-0 in a Gold Cup quarterfinal doubleheader. This time around, the game will also be part of a doubleheader as New England-FC Dallas will play the first match of the night.

However, the venue has changed. Instead of playing at Cowboys Stadium, the game will be at the Cotton Bowl. The Cotton Bowl played host to six World Cup games in 1994, including Brazil's 3-2 quarterfinal win over the Netherlands and Germany's 3-2 group-stage thriller against South Korea.
Dallas Burn (which was renamed FC Dallas) began play in 1996 with Hugo Sanchez on its roster and called the Cotton Bowl home until Pizza Hut Park opened in 2005 nearby Frisco, though, the stadium has sat mostly silent in terms of soccer.
Pizza Hut Park | Played host to Mexico games before, but will sit quietly on Wednesday.

Pizza Hut Park plays host to FC Dallas as well as InterLiga games and Tricolor matches. While 80,000 probably won't turn out to watch Mexico-Colombia, the match would easily have sold out the 20,500-seat Pizza Hut Park.

Projected Starting Lineups

Mexico: Guillermo Ochoa; Jose Antonio Garcia, Jonny Magallon, Edgar Dueñas, Oscar Rojas; Edgar Pacheco, Gerardo Torrado, Jonathon Dos Santos, Nestor Calderon; Juan Carlos Cacho, Javier Hernandez.

Colombia: Agustin Julio; Alexis Hernandez, Humberto Mendoza, Andres Gonzalez, Luis Nuñez; Dorlan Pabon, Christian Marrugo, Giovanni Hernandez, Giovanni Moreno; Jackson Martinez, Teofilio Gutierrez.

Goal.com Prediction: Mexico 2, Colombia 1.

Luis Bueno is Goal.com's Mexico editor.

For more coverage of the Mexican national team, visit Goal.com.