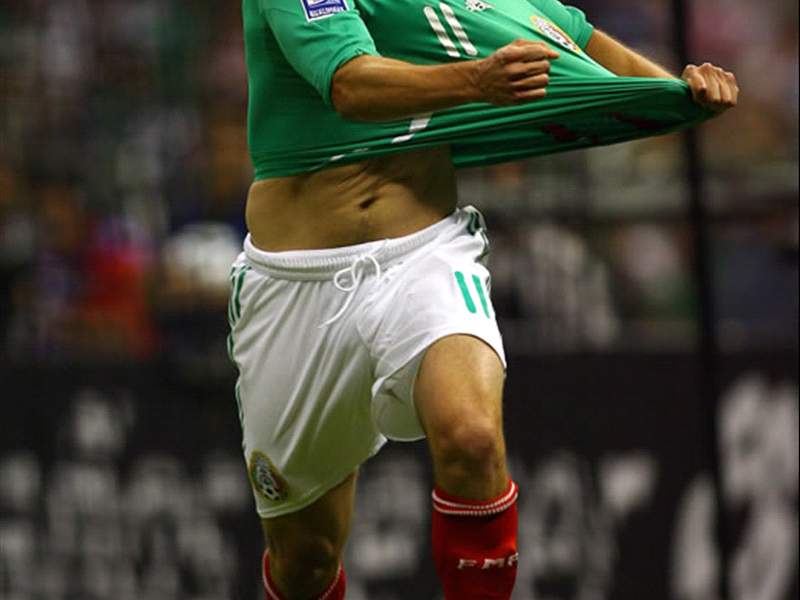 Mexico

Guillermo Ochoa 8
- Controlled what came to him. He wasn't troubled too much.
Jose Antonio "Gringo" Castro 8
- Seemed to try harder this game, and although there were a few slip up he performed well and had a perfect touch for his goal.
Jonny Magallón 8
- A few shaky moments but managed to come out and take control.
Fausto Pinto 8
- Pinto did well on his side and helped stop the U.S. attacks, and provided the assist for Franco
Juan Carlos Valenzuela 7
- He was caught a few times by the U.S. players, but tremendously improved for the second half.
Efrain Juárez 7.5
- Did pretty well, but was one of the quieter of the Mexican side.
Gerardo Torrado 8
- Held the midfield for Mexico. Also stepped up for the penalty and performed his captain duties well.
Israel Castro 7.5
- A good performance by Castro, did his job to help the team to victory.
Alberto Medina 7
- Provided good runs, helped create many opportunities, but should have been more daring with chances that he had.
Miguel Sabah 7.5
- Played well, and was up top trying to score.
Givoani Dos Santos 9
- Popped up all over the place and kept away from the U.S. player to create many chances, and score as well.
Substitutes
Carlos Vela 8
- Played well, scored a goal, set up a goal. He looked heaps better than in the previous game and had more confidence during the game. It was a great 45 minutess for the Arsenal youngster.
Guillermo Franco 7.5
- Was quiet when he first came on, but grew and scored a goal to cap his performance.
Carlos Esquivel
- N/A
United StatesTroy Perkins 4.5
- Helpless to stop penalty kick; had some good saves when Mexico first took lead but performance went downhill once flood gates opened.
Jay Heaps 3.5
- Glaring weak spot on otherwise solid backline. Put himself in terrible position on penalty, deserved second yellow late in game. Horrendous performance.
Chad Marshall 6
- Mostly a fine performance by Marshall; made Alberto Medina look poor when Medina attacked his side. Helpless to stop swarming attackers once offense pushed forward.
Clarence Goodson 6
- Like Marshall, Goodson did well in central defense. Goals came after U.S. had to push forward and abandon its game plan.
Heath Pearce 6
- Decent performance; did not add much to attack.
Robbie Rogers 6.5
- Could have opened scoring early in second half but was unlucky to see left-footed shot sail just high over crossbar.
Stuart Holden 6.5
- Quite dangerous with the ball; had a long-distance attempt that sailed just wide of goal. Americans' best player on the field.
Logan Pause 5
- Silly yellow card in first half. Once Mexico went ahead, was rendered useless and replaced.
Kyle Beckerman 5
- Lot of movement for RSL midfielder but failed to distribute the ball.
Brian Ching 5.5
- Held ball, banged bodies and tried to spread play around, but wasn't overly effective in any area.
Davy Arnaud 5
- Ineffective outing. Held ball several times in or near Mexican penalty area and did nothing.
Substitutes
Kenny Cooper 5
- Left with little time to do much of anything.
Santino Quaranta 5
- Offensive-minded substitute added little to the attack.
Sam Cronin N/A
- Doubtful anyone but Cronin's family cared about his inclusion in the 88th minute.
Andrea Martinez and Luis Bueno, Goal.com

Visit Goal.com daily for more
coverage of the Mexican Primera Division
.

Want more from Goal.com delivered right to your door? Introducing "Goal.com Magazine."
Subscribe now
!