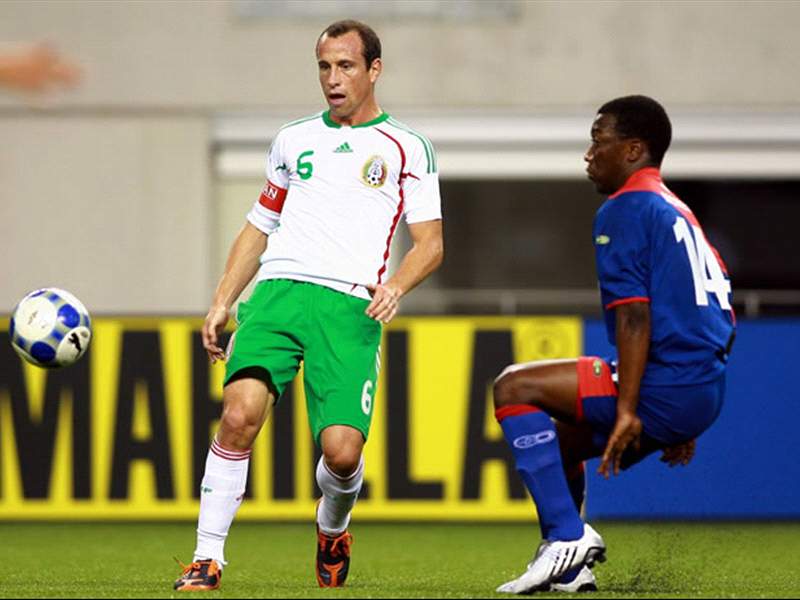 Costa RicaKeilor Navas 6.5
- Did well until Guillermo Franco lined up his late shot. Redeemed himself in extra time. Looked unsure of himself in penalties.
Harold Wallace 6.5
- Strong effort from veteran defender; only blemish was lack of help offensively.
Dario Delgado 5.5
- Shaky game; Mexico attacked often down portion of the backline.
Freddy Fernandez 5.5
- Did solid enough job but his handball was atrocious. Costa Rica were lucky Miguel Sabah's PK was soft.
Dennis Marhsall 7
- Did not deserve yellow card; otherwise had a strong game in the back for Costa Rica.
Celso Borges 7
- Another strong effort from Borges, only thing missing was goal during regulation.
Cristian Oviedo 6
- Did well to break apart Mexican attacks but had a poor booking in the second half.
Armando Alonso 6.5
- Strong two-way effort; got taken out a bit early but was tactical move by manager Kenton.
Andy Herron 6
- Did well to create some chances but his finishing was off.
Alvaro Saborio 7
- Put himself in dangerous positions; had excellent headed pass to Ledezma that led to late equalizer.
Pablo Brenes 6
- Active and mobile but didn't really create much for his team.
Substitutes

Froylan Ledezma 7
- Unbelievable goal near the death sent game into extra time, but Ledezma let team down in penalties.
Warren Granados 6.5
- Good effort as late second-half sub; tested Ochoa from distance, but also gave away a bad foul in second half of extra time.
Mexico

Guillermo Ochoa 8
- Wasn't truly at fault for goal as defense hung him out to dry. Splendid save of Ledezma in penalties.
Efrain Juarez 6.5
- Booking was just; escaped a second yellow for bad push on Saborio.
Juan Carlos Valenzuela 5
- Horrendous display of marking on Tico's equalizer.
Jonny Magallon 7
- Not too much to complain about Magallon's effort on Thursday.
Fausto Pinto 6.5
- Removed for tactical change, not because of subpar play.
Israel Castro 6
- Was a thorn in Tico's side; could have done better with few looks he had.
Gerardo Torrado 6
- Costly yellow early in match; hot-tempered Torrado toyed often with a secodn booking.
Pablo Berrera 5.5
- Had a few moments of danger but nothing substantial.
Alberto Medina 6.5
- Created down the left flank but effectiveness wore off as game wore on.
Giovani Dos Santos 7
- Was a handful for Costa Rica's defense to handle; with better finishing skills from teammates, Gio could have had a few assists.
Miguel Sabah 4.5
- Poor effort; soft penalty was terrible missed opportunity.
SubstitutesJose Antonio "Gringo" Castro 6.5
- Did well along the flank as second-half substitute.
Carlos Vela 5
- Showed quite a bit of rust. Still was able to get decisive goal in penalties but that alone shouldn't compensate for overall performance.
Guillermo Franco 7.5
- Fit in nicely almost from the moment he stepped onto the field; potent shot left Navas with little chance to stop it.
Luis Bueno, Goal.com

Visit Goal.com daily for more
coverage of the Mexican National Team
.

Want more from Goal.com delivered right to your door? Introducing "Goal.com Magazine."
Subscribe now
!