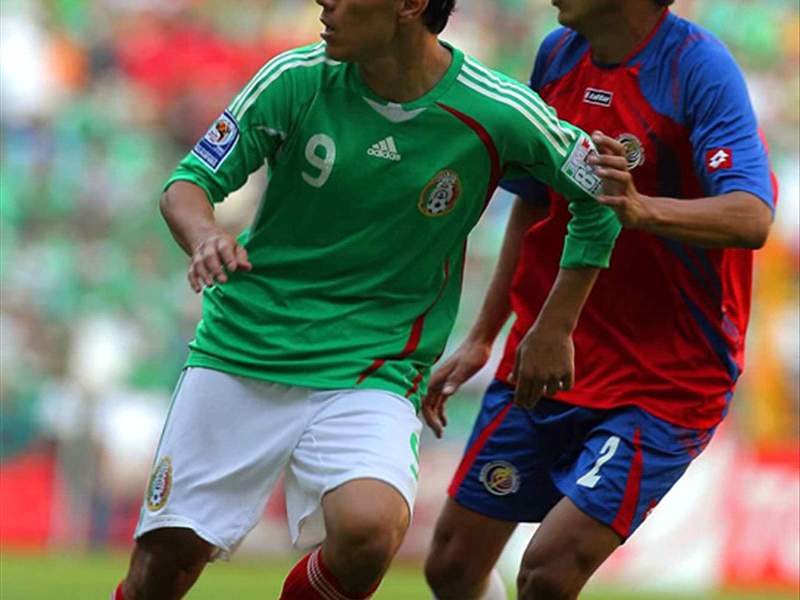 Who:
Mexico vs. Costa Rica
What:
Gold Cup Semifinal
When:
10 p.m. ET, Thursday, July 23
Where:
Soldier Field, Chicago
TV:
Univision
For the second time in as many Gold Cups, Mexico and Costa Rica will meet in the knockout rounds. In 2007, Mexico eliminated Costa Rica 1-0 in an card-filled affair in Houston's Reliant Stadium. Costa Rica will be out for revenge against a Mexican side that has improved as the tournament has gone on.
Maximizing The Offensive Production
Much maligned during their first two games, Mexico's attack has come to life in their last two Gold Cup matches. Mexico clinched the group title with a 2-0 win over Guadeloupe and knocked Haiti out of the tournament with a 4-0 thrashing in the quarterfinal. Mexican league veteran Miguel Sabah has been a key part to the attack as he has scored a tournament-high four goals.
Giovani Dos Santos is also helping key El Tri's attack as the Under-17 world champion has started flashing some of the potential he had long since been tagged with. Carlos Vela, though, has been injured and has seen just one match thus far while Guillermo Franco has also appeared just once. With Vela and Franco available, Mexico's attack is not only productive but deep entering this match.
Costa Rican Evolution
On July 3, Costa Rica opened the Gold Cup with a 2-1 defeat to El Salvador. A win over Jamaica preceded a 2-2 tie with Canada that, had results gone a different way in the El Salvador-Jamaica game, would not have been enough to have sent Los Ticos through to the group stage. Perhaps having felt such a close brush with elimination, Costa Rica stepped up their play in the quarterfinal round. Los Ticos demolished Guadeloupe 5-1 and were the most impressive of any of the four semifinalists in the previous round.
Tico stars Alvaro Saborio and Walter Centeno have not disappointed as Saborio has scored two goals while Centeno has provided an invaluable presence in the midfield. Costa Rica, though, are rather deep as Celso Borges has struck twice from the midfield and veteran Andy Herron has also scored a pair of goals. Costa Rica may also be dangerous apart from their deep and talented squad. Los Ticos have yet to win a Gold Cup, and the 11th edition of the tournament may finally be enough of a drought for Costa Ricans to feel pressure to win the confederation championship for the first time.
Mexico's First-Rate Exam
Mexico have not had the toughest path to the semifinal phase. Consider their opponents: Nicaragua, who failed to reach the second round of World Cup qualifying, having been bounced by a fellow baseball-loving nation in the Netherlands Antilles; Panama, who lost in the second round of qualifying to El Salvador; Guadeloupe, who is to France what Puerto Rico is to the United States – a territory; and Haiti, the lone opponent to reach the semifinal phase of qualifying.
While Mexico have improved, this team has yet to play a first-rate opponent. Even in preparation, Mexico faced Guatemala, who did not qualify for the Gold Cup or the Hexagonal, and Venezuela, a mid-table South American side who sent a team of youngsters to face El Tri. Aside from the pressures of the semifinal round, Mexico will face a difficult opponent who has a score to settle.
Projected Starting LineupMexico:
Guillermo Ochoa; Efrain Juarez, Jonny Magallon, Ismael Rodriguez, Fausto Pinto; Alberto Medina, Israel Castro, Gerardo Torrado, Carlos Esquivel; Miguel Sabah, Giovani Dos Santos.
Costa Rica:
Keilor Navas; Harold Wallace, Freddy Fernandez, Dennis Marshall, Dario Delgado; Esteban Sirias, Celso Borges, Cristian Oviedo, Armando Alonso; Alvaro Saborio, Andy Herron.
Goal.com Prediction


Costa Rica 2, Mexico 1.
Goal.com

Visit Goal.com daily for more
coverage of the Mexican National Team
.

Want more from Goal.com delivered right to your door? Introducing "Goal.com Magazine."
Subscribe now
!