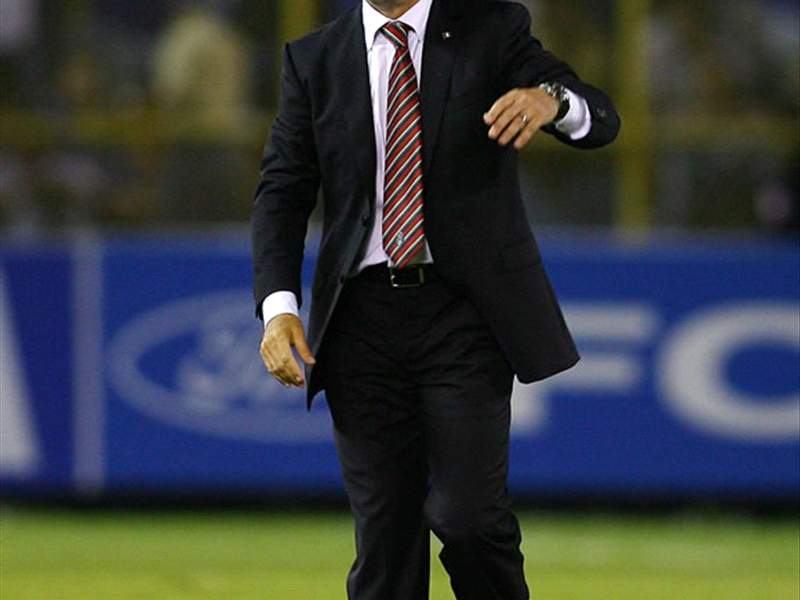 Mexico manager Javier Aguirre riled up more than just a few Panamanians with his kick to Ricardo Phillips during the Gold Cup group stage.
Aguirre drew the ire of the Mexican media as critics lashed out against the national team coach. His obvious display of indiscipline led to fears that Mexico as whole are without discipline, and suddenly Aguirre's ideals were questioned. Aguirre's subsequent three-match ban for the incident led to further fears that Aguirre was spiraling out of control - and taking El Tri with him.
While the team showed a lot during their 2-0 victory over Guadeloupe, Mexico need one more strong showing for Aguirre to put the kicking incident behind him. A win over Haiti would allow Aguirre to serve out his three-match ban in the Gold Cup. And while the kicking incident will linger, its side effects would be confined to this tournament and would not have any direct affect on Mexico's most important game of 2009.
Aguirre's kick was downright awful. Possibly a product of the immense pressure and criticism Aguirre has faced as Tricolor manager, Aguirre let his frustrations boil over. As Phillips dribbled past him, Aguirre kicked at the player. In what seemed like a moment of madness, Aguirre raised his foot and struck Phillips. If Aguirre was going for the ball, his aim was terrible as his foot made contact with Phillips near the player's midsection, far away from the ball.
Three matches was a just punishment and the ensuing fallout was also deserved. Aguirre was supposed to have taken Mexico back to 2001, when he instantly restored faith and prestige in a sinking Mexico side. Instead, Aguirre threatened to further plummet Mexico and sink their hopes amidst a time of transition for Mexico. And the confidence Aguirre exuded was also in jeopardy of evaporating. For if Hugo Sanchez and Sven-Goran Eriksson had lost the faith of Mexico's owners and media, how could a coach who kicks opposing players on the sidelines restore it, no matter what he's done in the past?
Still, all could be a bad memory should Mexico beat Haiti. A win would put Mexico in the semifinals and would erase the affects of the kick within the Gold Cup. The kick would be a story until the semifinal match, upon which the result would take precedence and the kicking incident would be a sidenote.
For the players, though, the incident is already a thing of the past.
"We've never been worried. The outside things, we don't even pay attention to them," Mexico's Guillermo Ochoa said after Sunday's win over Guadeloupe. "We analyze the games and we always try to manage games, control the possession, things like that."
Ochoa said the team has been able to focus on everything inside the field and not let what happens outside of it. While that may hold true now, if Aguirre will not be available for the United States the incident will take on new life. Aguirre was hired to help Mexico qualify for the World Cup, and if an incident such as this keeps Aguirre from accomplishing that task it will be beyond upsetting.
Without Aguirre on the sidelines against the United States, the team could suffer. Not having Aguirre around would be yet another challenge for Mexico to overcome. Media scrutiny over the incident would be a topic of conversation - and a chance for Aguirre's critics to pile on. The in-game management of Mexico's game against the United States would also fall to Mario Carrillo and Manuel Vidrio, assistants who helped Mexico to a win over Guadeloupe.
"Javier wasn't there but there were others who were there, who guided the team," defender Jonny Magallon said after Sunday's game. "Carrillo was there and it was the same. We always work with three coaches on the field anyway."
But beating a Caribbean island in the Gold Cup is one thing - guiding Mexico to success in a World Cup qualifier is something else.

Luis Bueno is Goal.com's Mexico editor.Goal.com

Visit Goal.com daily for more
coverage of the Mexican National Team
.

Want more from Goal.com delivered right to your door? Introducing "Goal.com Magazine."
Subscribe now
!